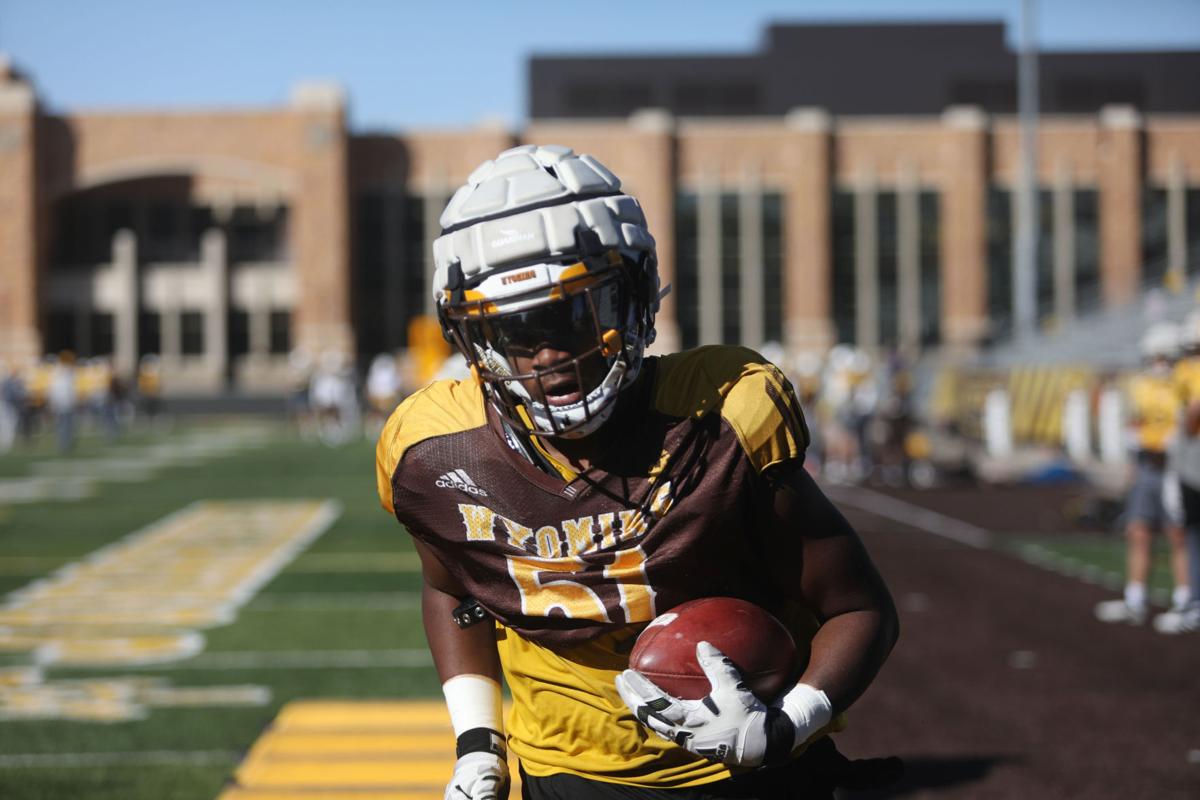 LARAMIE — In all likelihood, the earliest the University of Wyoming is going to be able to play competitive football again is the spring.
But UW's athletic director isn't sold on that happening either.
"I'm not going to tell you I'm confident it will happen," Burman told the Star-Tribune in a phone interview Wednesday.
A spring season is what teams in the Mountain West and many other Football Bowl Subdivision conferences are at least eyeing after their leagues postponed fall sports indefinitely. Burman has opinions on how he thinks it will need to look for UW and the rest of the Mountain West's 11 football members to realistically pull off two seasons in a calendar year amid the coronavirus pandemic, which include shortening both the spring and fall seasons next year.
University presidents will have their input as will local health officials and the pandemic itself, which will make the discussion about playing spring football moot if there's not a downturn in the number of COVID-19 cases nationally in the coming months. America has more than 5.1 million confirmed cases, according to the latest data from Johns Hopkins University.
Burman said another collective voice at UW will also have a say as to whether or not football is played in the spring, one that isn't always heard when decisions that have millions of dollars riding on them are being made: The players.
"I think student-athletes have to voice their opinion on this once they understand what the options are," Burman said. "If they are uncomfortable playing eight games in the spring and maybe turning around and playing a 10-game fall, then I think the spring is in trouble. I think they should have a voice, and they will have a voice at Wyoming. (UW football) coach (Craig) Bohl will listen to them. I will listen to them."
While Burman didn't completely dismiss the idea of UW playing independently this fall, finding enough games to make it worthwhile and then getting approval from the Mountain West to go rogue for a year makes that scenario a longshot at best. If a spring season happened, Burman said UW will give players the option to opt out and still honor their scholarships if the decision is made out of health concerns related to COVID-19.
Burman said he wasn't sure if the school would keep players on scholarship for the spring season if they opted out because they weren't comfortable playing two seasons within months of each other, though he acknowledged the uniqueness of that possibility.
"If COVID-19 wasn't an issue … then I'd have to think about it in that case," Burman said. "You've signed up to play. But since we are asking you to play two modified seasons in a short window, there probably needs to be some flexibility."
It's why in order to realistically stack a spring season on top of another season next fall, Burman suggested an eight-game conference schedule instead of 12 games. A couple of games, he said, would also need to be trimmed from the fall schedule in 2021 in order to allow more recovery time for players between seasons.
"You have to be sensitive to kids and the fact you're playing," Burman said. "You would eliminate spring football (practice), which is contact. But you're adding games, which is greater contact."
Burman said there's been some talk among Mountain West administrators but "no real detail" as to what a spring season might look like, though there is the understanding the weather that comes with the region's peak winter months will make it difficult to play games in states like Wyoming, Colorado and Utah early in the year. There's also the unknown of whether or not the Mountain West schools would be able to salvage any television revenue in the spring from CBS Sports and FOX, which entered a lucrative six-year, $270-million media rights agreement with the league on July 1.
"The television partners, we don't know what their interest is in (a spring season)," Burman said. "We'd have to review our contracts."
Short of the country getting the outbreak under control or even a vaccine becoming widely available sooner rather than later, Burman has serious doubts about spring football becoming a reality. But UW fully intends to include the players' voices in the conversations.
"My view is the kids need to have a seat at the table for the discussion," Burman said.
Follow UW athletics beat writer Davis Potter on Twitter at @DavisEPotter.
Concerned about COVID-19?
Sign up now to get the most recent coronavirus headlines and other important local and national news sent to your email inbox daily.