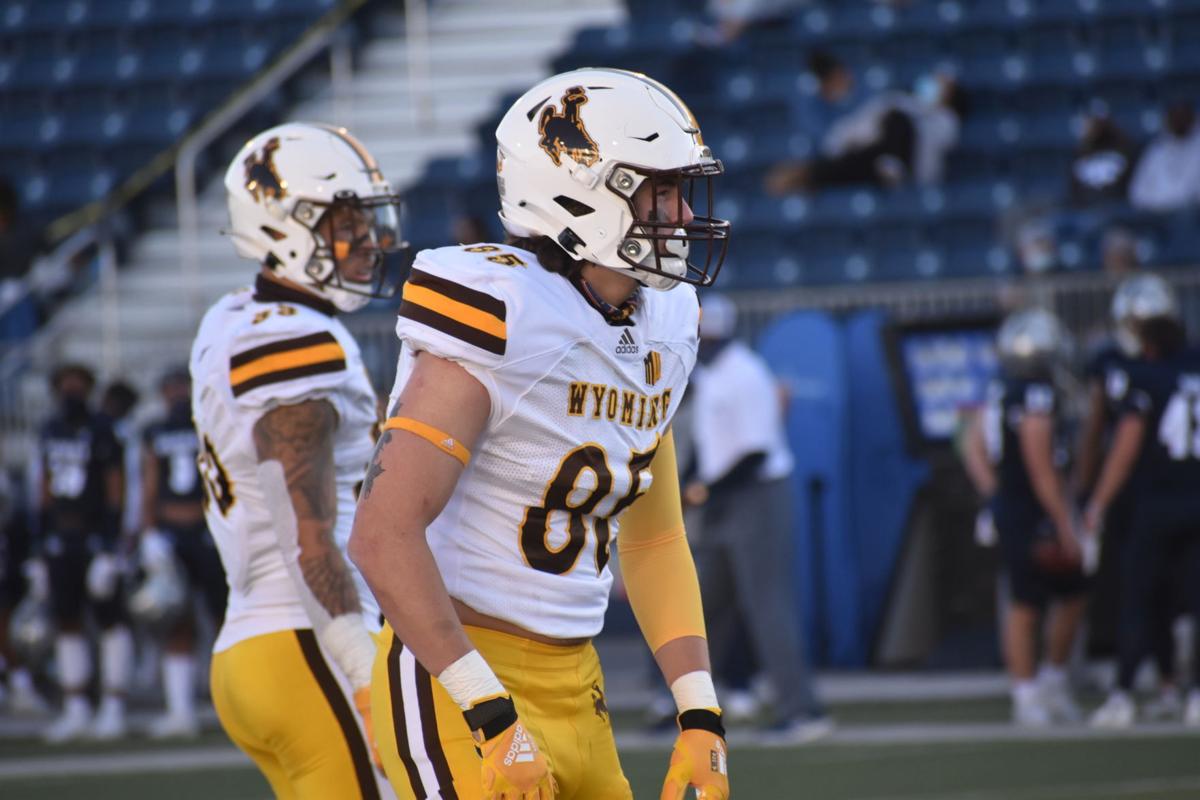 LARAMIE — A Wyoming football player was arrested on suspicion of domestic assault shortly before being suspended from the team earlier this week, though the alleged victim claims the situation is a misunderstanding.
Cameron Smith was booked into the Albany County Detention Center on Monday morning. Smith was also charged with false identification, according to the jail log.
Smith posted bond and was released at 12:37 p.m. Monday, a detention center deputy told the Star-Tribune. A freshman defensive end for the Cowboys, Smith was suspended by UW coach Craig Bohl later that afternoon.
"Coach Bohl nor anyone from University of Wyoming Athletics will have any further comment regarding the suspension," the school said in a statement.
The alleged incident between Smith and his girlfriend, Lauren Condry, occurred at approximately 8:27 Monday morning in Smith's dorm room at White Hall, primarily a freshman dorm on the University of Wyoming campus. According to a complaint filed in Albany County Circuit Court, university police officer Mark Doherty made the arrest after "subject (Smith) pushed his girlfriend on the bed several times. Also held her when she wanted to leave."
Smith declined to comment when reached by phone Wednesday, but Condry gave the Star-Tribune her version of what happened.
Condry, a former UW student who now attends cosmetology school in Fort Collins, Colorado, was in town visiting Smith when what Condry described as a "small argument" broke out between them. Things escalated, but Condry said Smith never directed any of his anger toward her and didn't physically harm her.
"Cam has been going through a lot with his family right now, which obviously I know that's not an excuse for as angry as he did get," Condry said in a phone interview Wednesday. "He did punch his closet, he was very angry, and he was throwing stuff around. But he never hurt me."
Condry and Smith attended Legend High School together in suburban Denver. Condry, who's a year older, said Smith has never done anything to physically harm her in the two and a half years they've been dating and that his actions toward her Monday were "never aggressive."
"I trust him," she said. "We're best friends. I'm not scared of him in any way."
Condry admitted she was "freaking out" seeing how angry Smith was and that she did tell police he pushed her on the bed, but Condry said Smith was trying to calm her down after seeing how upset she was getting. And any notion that Smith was trying to keep her in his room against her will is false, Condry said, because she had already left once.
"I was like, 'OK, this is probably a good time. I should probably just leave.' I was like, 'I'll let you calm down,'" she said. "I took my stuff, got halfway down the stairs, realized I left my phone, came back and that's when he was freaking out. And that's when the cops came.
"That's the only reason why I was still there because I couldn't find my phone anywhere. It wasn't because he was holding me there. I could've easily left if I had my phone in my hand and I felt like I have my phone and I can leave."
Condry said she still isn't sure who called campus police, but she said she pleaded for a citation not to be written.
"When (the officer) told me what he was doing, I balled my eyes out. I begged him for 20 minutes," Condry said. "I was like, 'Please do not do this. This is not needed. I'm perfectly fine. I am not scared.'
"I feel like the cops misconstrued what I said, and I feel like they took it a lot more serious than I meant it. I was super overwhelmed. I barely even could just remember what happened because it all happened so fast."
Smith's initial court appearance is scheduled for Dec. 22, according to court documents. Domestic assault is a misdemeanor in Wyoming punishable by imprisonment of up to six months in jail, a fine of no more than $750 or both if convicted.