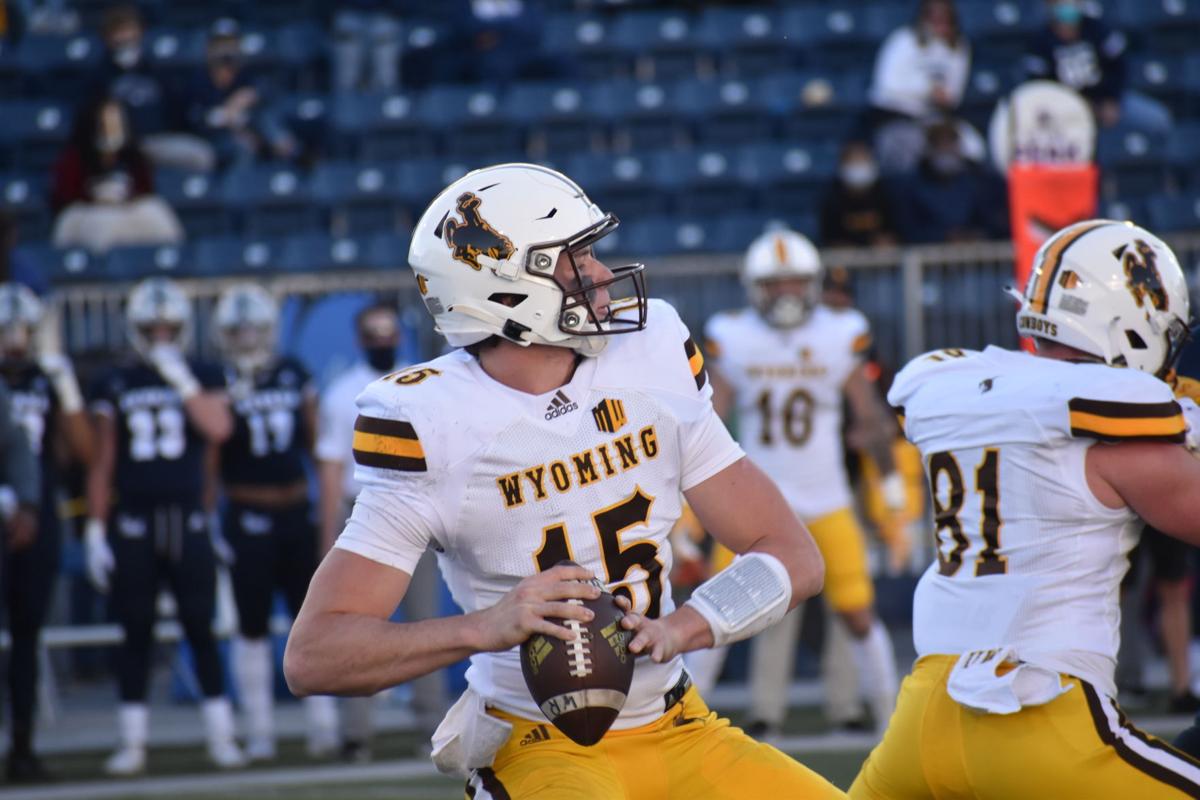 LARAMIE — As Wyoming awaits final word on exactly what the healing process for one quarterback will require, another is preparing for his first shot as the primary option behind center.
Levi Williams is stepping into the starting role in place of Sean Chambers, a spot on the depth chart the redshirt freshman figures to hold for a while if not for the rest of the season following yet another injury to Chambers. Williams isn't completely green, having played in three games with one start last season, but there's plenty of room for improvement for the offense and its new full-time signal caller after the Cowboys struggled to muster much of anything before exploding for 25 points in the final 15 minutes of regulation in Saturday's 37-34 overtime loss at Nevada.
"We thought he did a good job," UW coach Craig Bohl said of Williams. "However, there were some plays he left out there on the field. He's going to need to improve, and we think that he can. This week, practice will be important."
The plan for the Cowboys this season was always to play Chambers and Williams in some fashion, and UW went into its opener with the first half scripted for both quarterbacks. But that went out the window just three plays in when Chambers was tackled underneath the weight of Nevada defensive tackle Dom Peterson, causing a high ankle sprain and a fracture of Chambers' left fibula.
"Obviously it was a surprise," Williams said. "I need to be ready when my number is called. That's a big thing Coach Bohl preaches on, and I felt like I was. I just didn't feel like I played my best, especially the first half. Left a lot of things out on the table."
Williams' 45-yard toss to Isaiah Neyor late in the first quarter was the only highlight for an offense that struggled to find its footing and a quarterback that struggled to find his touch in the passing game. The 6-foot-5, 240-pound Williams ran for 40 yards on 10 carries but completed just four of his other 10 passes in the first two quarters as the Cowboys mustered just 106 total yards in the first half and didn't convert a third down until just a few minutes left before the break.
Nevada held its biggest lead at 28-6 late in the third quarter when UW flipped a switch, answering with three consecutive touchdown drives. Williams completed 11 of his final 20 passes to finish 16 of 31 through the air for 227 yards, including a 22-yard touchdown toss to Gunner Gentry early in the fourth quarter.
"It should've been like that the whole game," Williams said.
When the Cowboys had to have it, Williams also led them on an 11-play, 74-yard drive starting at their own 1-yard line to set up John Hoyland's 42-yard tying field goal at the end of the regulation. But UW needed it because of an interception Williams threw deep in his own territory to gift the Wolf Pack the go-ahead points with 3:26 remaining.
The good news for the Cowboys is there won't have to be a significant shift in playcalling with Williams at the controls. Chambers, who's averaged 6 yards per carry for his career, is arguably the most dynamic runner in the Mountain West at his position, but Williams averaged 60 yards a game on the ground last season and had rushing touchdowns of 21 and 8 yards Saturday, showing he's capable of executing designed runs too.
And with an entire week to prepare for a game Williams knows he'll be starting from the jump — albeit a day earlier than usual with the Cowboys playing Friday — Bohl said he has higher expectations for Williams' performance when Hawaii visits War Memorial Stadium for UW's home opener this week.
"(Offensive coordinator Brent) Vigen will do a great job in the game plan dialing up good plays, but we anticipate Levi playing better this next week," Bohl said.
Said Williams, "We're really looking to make a statement in this game offensively and helping the defense out."
As for Chambers, Bohl said doctors are still determining whether he will need to undergo surgery, which, if so, would almost certainly end his season prematurely for the third straight season. Chambers had surgery to repair a broken fibula in his right leg in 2018 and missed the final five games last season with a knee injury.
The Cowboys are hoping that won't be the case for their final seven games this season.
"We're going to have him drink a lot of milk," Bohl said. "Hopefully he'll have a bunch of calcium and he's going to get on the mend soon. We're disappointed for him. He was having a great fall (camp), and so we're in hopes to have him back."
Chambers' injury has also cut into UW's depth at the position, leaving Bohl unsure who will serve as Williams' backup Friday. It will be either true freshman Gavin Beerup or freshman walk-on Hank Gibbs, both of whom have been cleared to practice after being unavailable in recent weeks.
Bohl said both youngsters would be evaluated during practice Monday before making a decision.
Follow UW athletics beat writer Davis Potter on Twitter at @DavisEPotter.