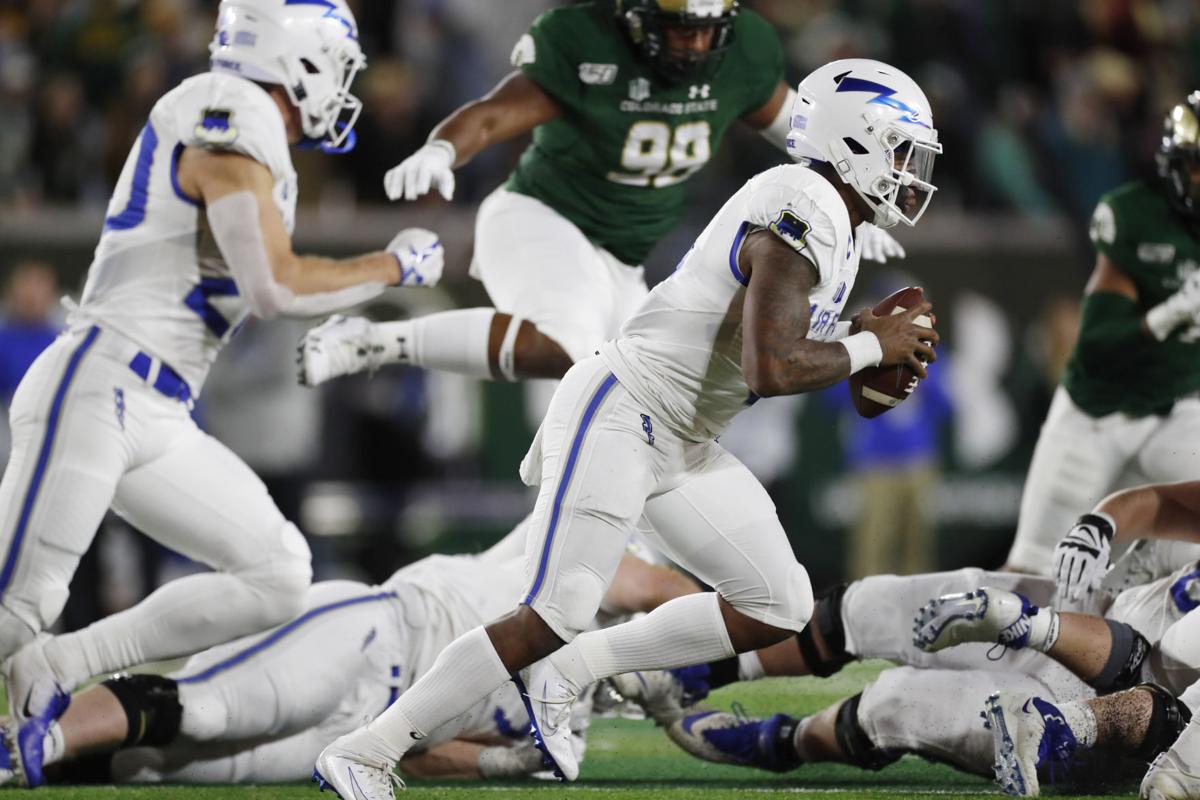 Brent Briggeman covers Air Force for The Gazette in Colorado Springs, Colorado. We caught up with him to talk about the Falcons ahead of Saturday's game.
Davis Potter: Air Force is getting some votes in the Associated Press poll this week. Have the Falcons surprised you with the kind of season they're having?
Brent Briggeman: No, I figured this was going to be the year. You could see last year, so many of those losses were close. I know they were 5-7, but they could've easily had eight or nine wins. And then they brought pretty much everybody back. They lost very few key guys, and then they have the right quarterback. So when you have those elements in place, you kind of figured this was going to be one of these seasons.
DP: The triple option is the first thing that comes to mind when you mention Air Force, but the defense has been one of the nation's best. What's made that group so good this season?
BB: I think the biggest thing is the front seven. It's just a lot more talented. I don't know if that's a product of the coaching. I think it's really a product of their recruiting. And then also some policies that have allowed guys like Mosese Fifita, the nose tackle, to be 330 pounds. They used to test you a lot more as you went along as a cadet. You had to reach certain benchmarks each year. Now they wait until graduation to test you. So you can bulk up and get a little bit bigger. That's helped a lot. Fifita has kind of secured the middle just with his ability and size, and then you have somebody like Jordan Jackson, a defensive end who's an all-Mountain West type of player. And then the linebackers are really good. So I think that front seven is a legit Mountain West front seven. A lot of years, they were left to kind of outscheme you and outquick you. This year, they can just kind of play normal football.
DP: What's their approach defensively?
BB: They bring a lot of pressure, and they still play a lot of man-to-man on the outside. They have pretty good corners, but it's a very active defense. They're going to give you different looks. But like I said, they've always been built on pressure by bringing the guys they have up front and then bringing linebackers. They're just being creative in how they do it, but they do trust a lot of their man coverage just knowing that the pressure will prevent that from biting them too often. But they're still susceptible to big passing plays.
You have free articles remaining.
DP: It's strange seeing Air Force spread receivers out and even go to the shotgun occasionally. How much has the Falcons' option offense evolved under Troy Calhoun over the years?
BB: A lot. They don't use shotgun much. They're pretty much under center, but Mike Thiessen has been the offensive coordinator for pretty much as long as (Air Force coach Troy) Calhoun has been here. Those two have worked together a long time. They utilize so many different formations and looks, but it all gets back to running the option. But they do it from all kinds of looks and mostly under center. It's a talent thing. They've got legit speed with Kadin Remsberg at tailback. And then a legitimate arm with Donald Hammond. If he were just a drop-back passer, he would fit in a lot of offenses around the league because he's got that kind of arm talent. It's a lot of scheme, but it's also having the right guys.
DP: How does this year's backfield at Air Force complement each other?
BB: They're kind of perfect for their spots. The fullback position is loaded. The big, emerging player is Timothy Jackson. He's just been really elusive. He's a much different style of runner than they've had at that position. He can make moves, he can make you miss, but he's a still a big, strong man to play fullback. Then he's spelled by Taven Birdow, who's a more traditional big, bruising type of fullback. They've got the fullback position with two very complementary runners. And Remsberg at tailback, he's a speedster. He was a sprinter in high school. A 4.4 type of guy. And you've got Hammond, who isn't really known for his speed. But he can run, and he knows how to find those soft spots. So you've got the edge covered with Remsberg, you've got Hammond to find those soft spots right off the line and then you've got the fullbacks to either bruise up the middle or kind of weave in and out through the middle.
DP: Has Hammond been a more effective passer this season?
BB: He hadn't been, but I think a lot of that was an injury. He had an ankle or something that hurt him early and then he hurt his shoulder at Hawaii, which is why he missed pretty much that entire game. And Mike Schmidt came in and had a game for the ages for a third-string quarterback. But since he's been back, he's been running the option fine, but he just hadn't been as effective as a thrower. And now that he's healthy, you could see that at the end of the Colorado State game. He was 4 of 5 in the fourth quarter with two touchdowns. Then they go to New Mexico, and once the running game started getting effective, the safeties started cheating up and those passes were there. And he was on the money with all of his throws.
DP: So is there a weakness to this Air Force team that you think Wyoming could exploit?
BB: The formula to beating them has been to stop the fullback. They didn't get the fullback going at all at Navy. They struggled with yards per carry at Boise. Against Army, it was just a different game. When they can't run up the middle, everything else isn't as effective. And obviously Wyoming is built to stop the run, so it's going to be really interesting in that regard. And then I don't think Wyoming is really a team to beat them on the edges with deep passes, but again, that's one place just every year they are a little bit susceptible to because they have good corners, but they don't have NFL type of talent on the edges on defense.
This interview was edited and condensed for clarity.
Follow UW athletics beat writer Davis Potter on Twitter @DavisEPotter