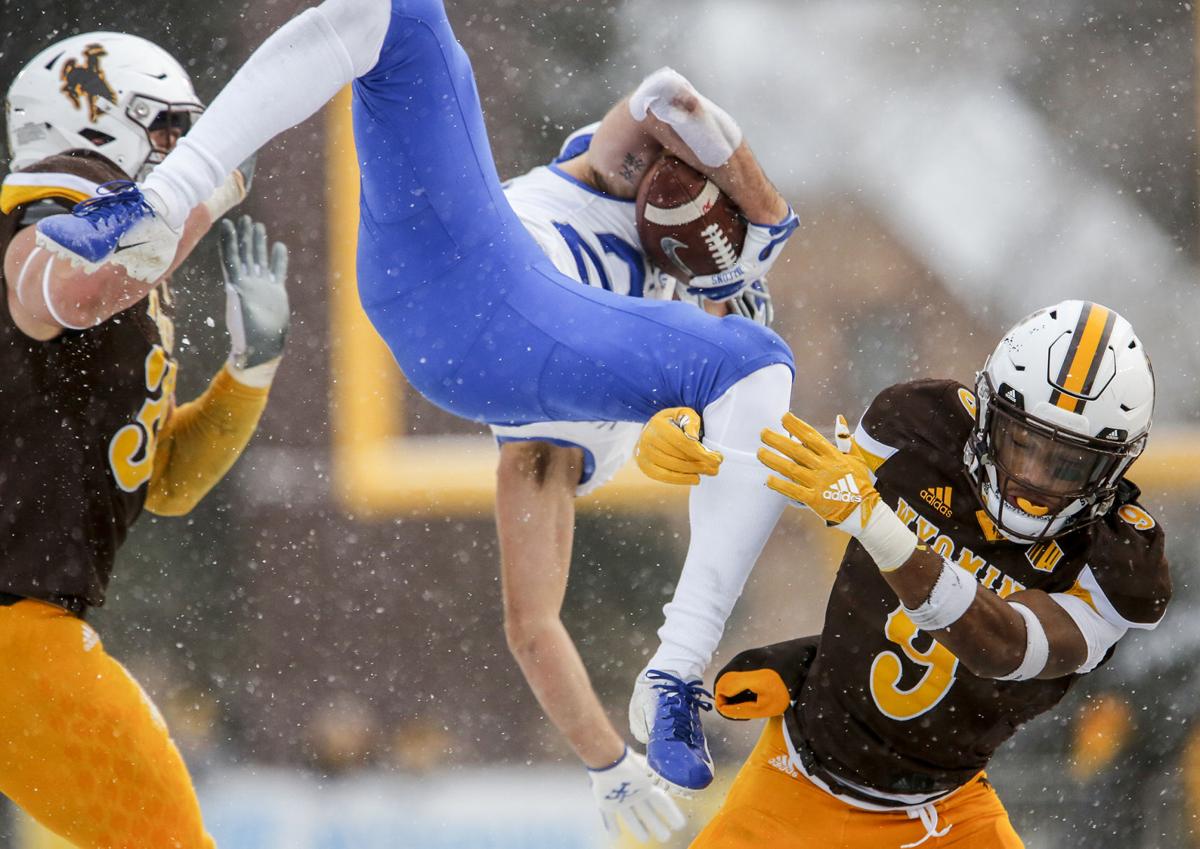 Wyoming played Air Force in 40 consecutive seasons before the Falcons canceled last year's matchup in Laramie due to COVID-19 issues.
Since the previous meeting – the Cowboys' 20-6 loss on Nov. 30, 2019 – UW finished the abbreviated 2020 campaign 2-4 without and is off to a 4-0 start with starting quarterback Sean Chambers healthy again.
Air Force, which was 3-3 last season, is 4-1 overall and 1-1 in the Mountain West entering Saturday's game at Falcon Stadium (5 p.m., CBS Sports Network).
Troy Calhoun has the nation's top rushing attack and the conference's top scoring defense. The Falcons, who joined the WAC in 1980 when the streak of playing UW annually began, will not be leaving the Mountain West and putting the Pokes in the rear-view mirror at this time.
The Casper Star-Tribune caught up with sports department alumnus Paul Klee, now a columnist at the Denver Gazette, to get his perspective ahead of the latest Air Force-UW game:
Ryan Thorburn: The American Athletic Conference's attempt to add a western wing with Air Force, Boise State, Colorado State and San Diego State fell apart late last week when the schools decided to remain in the Mountain West. Why do you think Air Force was reportedly the most interested in possibly leaving the MWC for a move to the AAC?
Paul Klee: They got confused and thought "AAC" was "ACC"? Just kidding. The Falcons had to believe other moves out of the MWC were imminent. And those big Texas markets are significant in Air Force recruiting, not to mention alumni bases. The move sure made a lot of sense to me, at least. I respect the heck out of the tradition and rivalries, but the Mountain West right now is something people outside the region watch when nobody else is on TV. Needs some buzz, bad. The AAC would be an upgrade for Air Force. And pretty awkward since the Mountain West office is maybe 10 minutes from the academy
RT: There is not a traveling trophy for the Air Force-Wyoming series, and Troy Calhoun has stopped short of publicly labeling the game a rivalry like counterpart Craig Bohl did this week. How do Calhoun's players and the Falcon fan base view the Cowboys?
PK: For Air Force there's the Army/Navy games and everybody else. I'm sure there's some small stuff with other programs, but nothing compares to the Commander-in-Chief's games. Once in a while we get lucky and things escalate to Dave Christensen calling Troy Calhoun a "fly boy." Come on, that was fun. Based on my experience Wyoming fans dislike Air Force more than Air Force folks dislike Wyoming.
RT: This appears to be a vintage Air Force offense, which leads the FBS in rushing (367.4 yards per game) and is second in time of possession (37:31). How good are these guys at running Calhoun's triple option?
PK: Really good. Really, really good. It's terribly hard to stop. Two things about that running game. One, Calhoun's gone out of his way to compliment offensive line coach Steed Lobotzki. They graduated a couple studs in Nolan Laufenberg and Parker Ferguson, two NFL guys, and the offensive line hasn't skipped a beat. People know about Haaziq Daniels and Brad Roberts, but the guy who changes things is sophomore Micah Davis. He's fast-fast and they line him up all over the place. Keep an eye on that guy.
RT: The Falcons' defense has also been strong this season with one exception: The 49-45 loss to Utah State. What happened against the Aggies?
PK: It's a great question. Since the Utah State game, Air Force has sounded like me after leaving Casper in 2004: What the heck was I thinking? Why would you ever leave God's country? The Utah State game was a total defensive collapse. The Falcons had over 600 yards of offense and a double-digit lead in the fourth quarter and couldn't stop a parked car. It was bizarre, too, because otherwise the defense has lived up to expectations. They just didn't tackle. That was what happened. They blew that one.
RT: Air Force and Wyoming are a combined 8-1, but the schedules have been pretty weak to date for both. Can one or both of these teams contend for the MWC title and how do you see Saturday's matchup playing out at Falcon Stadium?
PK: Air Force wins 30-20. Truth is, I don't have a good gauge on Wyoming. Only saw the Northern Illinois game. From what I read in the best sports section around -- the Casper Star-Tribune's -- this game will tell a lot about this Pokes team. I think this Air Force team is good and the Utah State game was kind of fluky. But then Wyoming gets its revenge in men's basketball and Jeff Linder agrees to meet you and me to float the North Platte and fish streamers in the spring. Everybody wins!
Follow UW beat writer Ryan Thorburn on Twitter @By_RyanThorburn