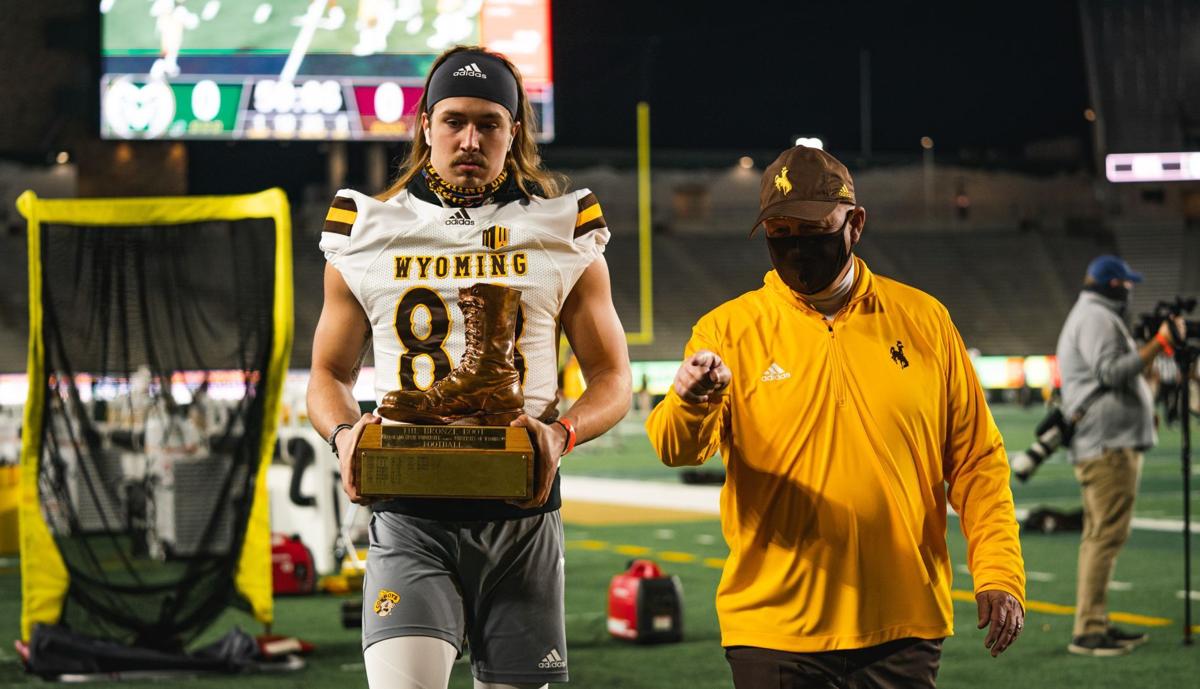 LARAMIE — Two of Wyoming's starting linemen are making progress toward their return to the field.
Senior defensive end Garrett Crall has returned to practice while right guard Logan Harris was recently cleared to do so, UW coach Craig Bohl said. Whether either one plays against UNLV on Friday remains to be seen, but being able to go through practice is a positive sign for two players who haven't been able to in a while.
Crall has yet to play this season as he continues to work his way back from offseason foot surgery, but the Cowboys' most experienced defensive lineman returned to practice last week. Bohl said it's still somewhat doubtful Crall will be ready to make his season debut against the Rebels, but he added Crall moved around "really well" during Sunday's non-contact practice.
UW's updated depth chart still lists Victor Jones and redshirt freshman Jaylen Pate as the starting ends, but Bohl said the position is fluid. Crall has played in 38 career games with 24 starts the last two seasons.
"We'll see what happens with Garrett Crall," Bohl said. "He just started to practice."
As for Harris, Bohl revealed the senior from Torrington has been dealing with a bout of mononucleosis, which kept him out of UW's last game against Colorado State on Nov. 5. Bohl said Harris lost "quite a bit" of weight as a result but has gained most of it back.
Harris was cleared to return to practice Monday. Bohl said Harris wouldn't get a ton of reps in his first practice back as the Cowboys plan to slowly work him back into the mix.
"I would venture to say he'll make the trip to Vegas though," Bohl said of the possibility of Harris being available against UNLV.
Sophomore Zach Watts got the start in place of Harris against CSU and is again listed atop the depth chart at right guard this week.
Freshman alone as QB2
UW's backup quarterback had been listed as an OR on the depth chart between sophomore Ryan Marquez and true freshman Gavin Beerup.
That's not the case anymore.
Beerup was listed alone as Levi Williams' backup on the updated depth chart Monday. The 6-foot-5, 190-pounder has yet to take a collegiate snap, but Bohl said Beerup earned the nod with the progress he's made since being able to regularly participate in practice.
"He wasn't able to do much (in fall camp), and a lot of that had to do with because he was quarantining," Bohl said. "He had tested positive with COVID. So it's been several weeks now.
"(Offensive coordinator and quarterbacks coach Brent) Vigen has done a good job with him. He's certainly not as far along as what we'd like to have, but he's certainly shown really nice capabilities to be a good quarterback. So we've been running him with the twos."
Beerup signed with UW last year as a three-star recruit out of St. Bonaventure High (California).
Freshman WR out
Freshman receiver Alex Brown is dealing with an injury and won't be available for Friday's game.
Brown was missing from the updated depth chart Monday after being listed behind Dontae Crow and Gunner Gentry at the X position in previous weeks. Bohl said the 6-foot-4, 205-pound Brown recently injured his shoulder.
Brown has yet to record a catch this season.
Follow UW athletics beat writer Davis Potter on Twitter at @DavisEPotter.