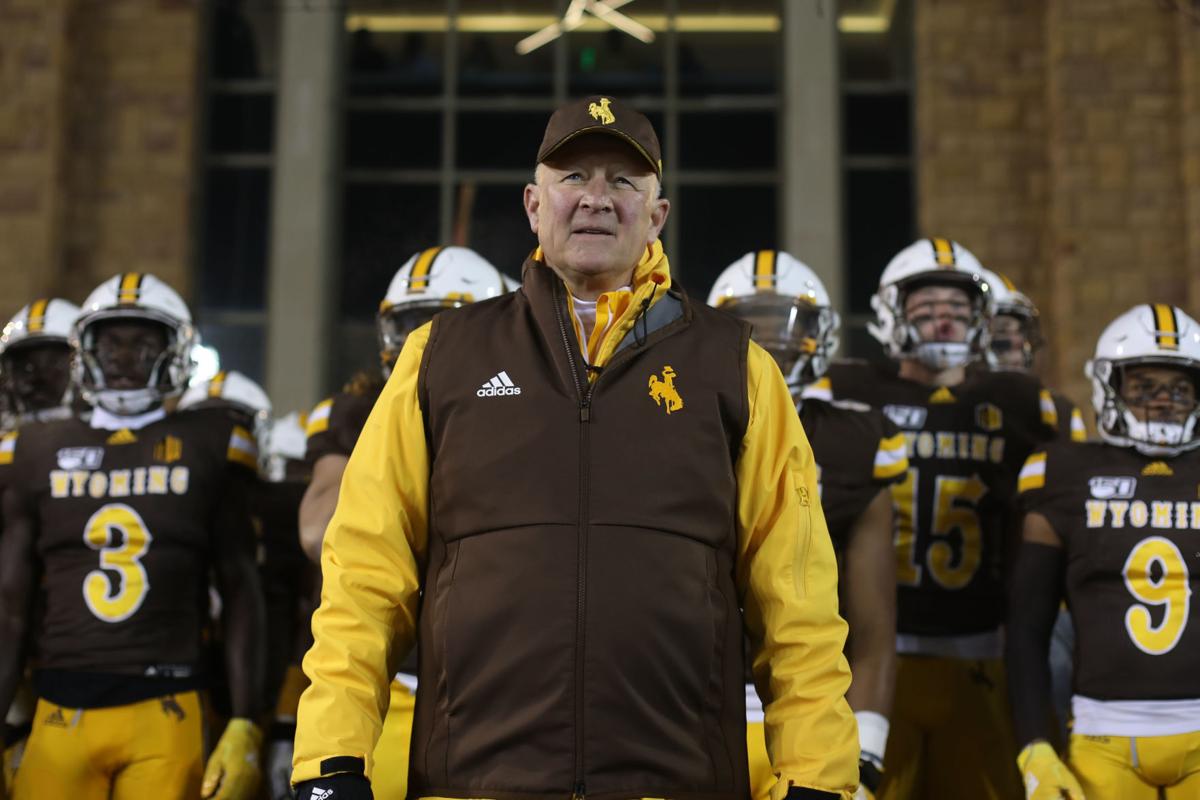 LARAMIE — Wyoming knew it would be playing football this fall when the Mountain West reversed course two weeks ago on its decision to postpone the season indefinitely.
Now the Cowboys know who they will be playing.
The Mountain West announced its revised eight-game, largely conference-only slate Thursday, and UW will open the abbreviated season Oct. 24 at Nevada. The Cowboys are still scheduled to play all five Mountain Division opponents like usual. Many of the cross-divisional opponents and locations are the same, too, with the exception of Hawaii, which takes the place of San Diego State on UW's original schedule.
The Cowboys' home opener will come against the Warriors on Oct. 31. UW will also play home games against Air Force (Nov. 14), Utah State (Nov. 21) and Boise State, which will close out UW's regular season on Dec. 12. The Cowboys will travel to Colorado State on Nov. 7 — one week later than originally scheduled — as well as UNLV (Nov. 28) and New Mexico (Dec. 5).
Some games, though, will be moved to Thursdays and Fridays as the Mountain West's television partners, FOX and CBS Sports, decide which games they want to televise throughout the season. No Week 1 games will be moved from Oct. 24, the conference said in a release.
That's assuming UW actually plays all eight games, which is far from a guarantee for any team amid the coronavirus pandemic. More than 20 Football Bowl Subdivision games have already been postponed or canceled because of coronavirus-related issues.
"Part of it may not even be us," UW athletic director Tom Burman said. "We may be ready to play, but our opponent may not be able to play."
While UW's football program has stayed relatively clean — head coach Craig Bohl said late last week "a couple" of players had tested positive but were nearing the end of their quarantines — there isn't any wiggle room with the schedule should the Cowboys or one of their opponents have their rosters significantly impacted by positive tests and subsequent contact tracing. With the exception of Air Force, which could play as many as nine games, each Mountain West team has just eight weeks to play eight regular-season games, meaning postponing games isn't an option.
"(Our players) have got 12 weeks where they've got to lock down, and they've got to do everything right," said Burman, who included the four weeks of practice the Cowboys have leading up to their first game. "And if they don't, I guarantee you we'll deal with it. We're going to manage it to the best of our ability, and I'm cautiously optimistic we'll get there."
Boise State, which has a non-conference game scheduled against BYU on Nov. 7, is starting out with just seven league games. Air Force, which has Commander-in-Chief games against Navy and Army also on its slate, has just six conference games on its schedule for now, and San Diego State only has seven.
Ever since the conference split teams into Mountain and West divisions prior to the 2013 season, the division winners have always met in the Mountain West title game. But the league is doing away with the two-division format this fall, meaning the two teams with the highest winning percentages will play for this year's championship.
In the event of unbalanced schedules, if two teams tie for the best and/or second-best record in the loss column, head-to-head results will take precedence over winning percentage, a Mountain West spokesman said.
"The shift away from a two-division format was necessary to optimize the schedule and allow for maximum flexibility given the various constraints which had to be considered," Thompson said in a statement. "Inasmuch as the season begins with an uneven number of conference games, and the possibility exists additional games may be lost to COVID-19 challenges, the procedures for determining the participants in and location for the MW football championship game were adapted to accommodate a range of outcomes in as equitable a fashion as possible."
In order to reduce the chances of outbreaks that could cause cancellations, the Mountain West has partnered with Quest Diagnostics for rapid antigen testing that will be conducted on players, coaches and other on-field personnel three times a week beginning Oct. 11. Any players who test positive will also be required to take a polymerase chain reaction, or PCR, test to confirm the result.
Burman said Quest personnel will come to UW's campus to administer tests to both teams the day before home games. The first two tests each week will be conducted by UW staff members.
UW announced earlier this week that 7,000 fans will be allowed to attend its first home game. Wyoming Department of Health spokeswoman Kim Deti told the Star-Tribune it's possible the attendance number could increase for games later in the season depending on local COVID-19 data.
"We know we're going to be playing football, so we're excited about that," Bohl said.
Follow UW athletics beat writer Davis Potter on Twitter at @DavisEPotter.
Be the first to know
Get local news delivered to your inbox!