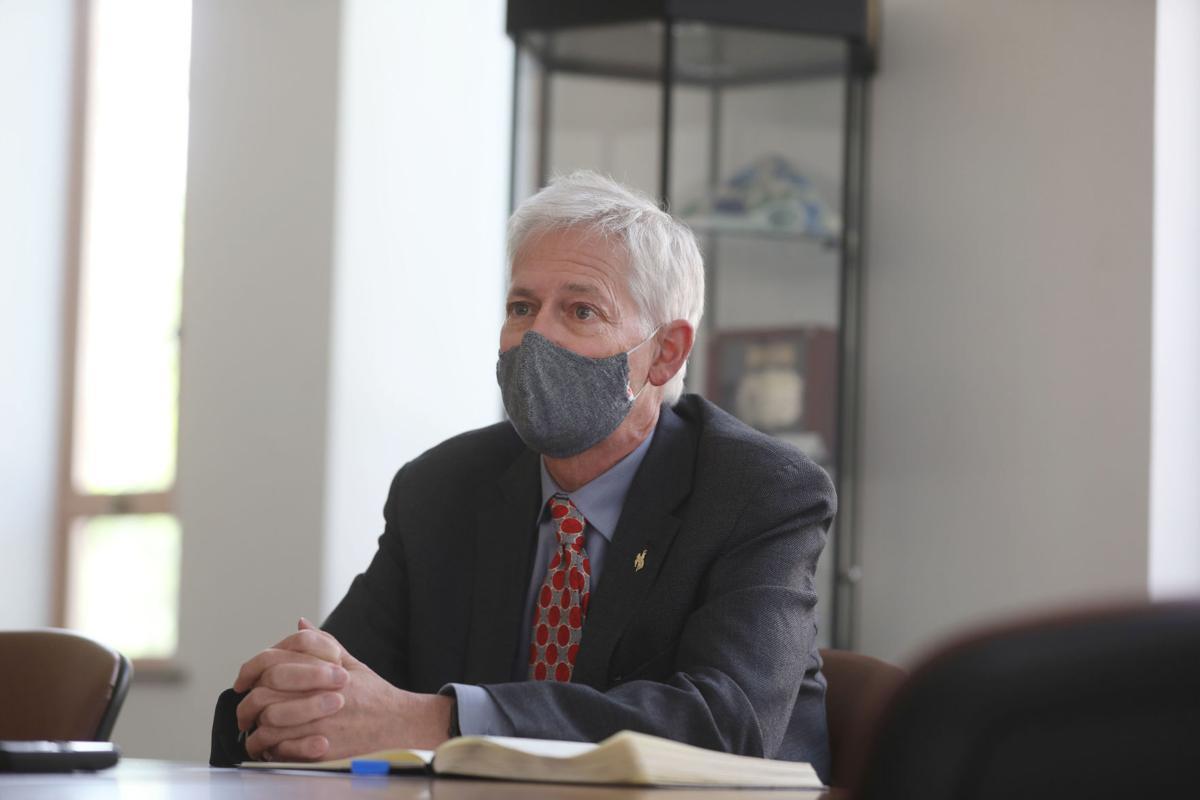 Among those who voted on whether member schools should play football this fall was Ed Seidel, the university's new president. In an interview with the Star-Tribune on Thursday, he declined to reveal how he voted and would not divulge other details of the group's voting process. But Seidel said after months of consultation with medical advisers and weekly meetings among themselves, there was a "strong, strong consensus" among the league's presidents when they met again virtually Monday that the only safe path forward for their student-athletes was to postpone the football season as well as competition for other fall sports.
Seidel called the decision "gut-wrenching" and one that he nor the rest of the presidents made lightly.
"No one wants to do something as disruptive as to postpone the athletic season," said Seidel, who took over as UW's 28th president in July. "We know how important this is. When that conversation was finished, I walked out of my office just absolutely numb."
"It's at a completely unacceptable level in the United States," Seidel said, "and we didn't want to do anything to jeopardize the lives or the livelihood of any of the students, the fans, the community members and so on."
The presidents' decision came just five days after the Mountain West proposed a modified 10-game schedule for its football members that would've consisted of an eight-game conference schedule and up to two non-conference games. Seider said it was an "evolution" of medical information gathered in recent months about the potential long-term health effects that could result from student-athletes contracting COVID-19 that led to the decision to pull the plug on fall sports.
Cardiac concerns
One potential ramification was particularly concerning to Seidel when it comes to UW's student-athletes: heart damage. A German study recently published in JAMA Cardiology found that people infected with the virus were more likely to sustain damage to their hearts than those with no known exposure to COVID-19. The results came from comparing cardiac MRIs of 100 people with the virus to the same number of people of similar age and pre-existing health conditions.
"There were more studies about the damage to young adults' hearts due to coronavirus even when they would have no symptoms. In fact, they would have no symptoms at all," Seidel said. "And there were studies that came out that showed quite definitely that there was heart damage, in fact, for young adults who were in the age group of the athletes.
"I don't want to overemphasize the recent studies about the heart damage, but that was just another data point. This is getting to be so serious, and the consequences are so serious that we have to take this decision. I would say it was also clear to us that other conferences were in this conversation and were along the lines of making the same kinds of decisions, particularly the Pac-12 and the Big Ten."
Still, with other conferences, including fellow Group of Five members Conference USA and the Sun Belt, deciding to play a fall season for now and the massive financial toll that not playing a season will take on the Mountain West's member schools, Seidel knows the decision isn't a popular one. Seidel said he's already heard from some donors saying that they're reconsidering their financial contributions to the university since there won't be any football this fall.
"I've had some angry emails, and I can understand the frustration," Seidel said.
But Seidel reiterated that the health of all of the Mountain West's student-athletes and those around them was at the core of the presidents' decision.
"I hope (those donors) will reconsider that reconsideration after this passes," Seidel said. "And I hope that people understand that we are focused on the safety of our students, our fans and our community. That's the reason we're doing this. That's the only reason we would do this."
Questions about return
If that's the case, how then is UW justifying its plan to eventually bring thousands students, including student-athletes, back on campus for classes this fall when the presidents' decision made it clear that the Mountain West doesn't deem it safe enough to play football games on campus? Seidel said the situations are different.
UW is requiring students and faculty to be tested before returning to campus, and Seidel said the school is looking at trying to implement its own testing program once classes start that would allow up to 5,000 tests per day so that every member of the university community could be tested twice a week. The school is planning to use saliva tests that can produce results within hours, and Seidel said rigorous contact tracing would also be implemented.
Seidel added that while he hopes it isn't necessary, it's possible UW could revert back to virtual course instruction only at some point this fall depending on the research and the data.
"We're going to be driven by what we know and make the best decisions based on the science of the day," he said.
Seidel praised UW athletic director Tom Burman, UW football coach Craig Bohl and all of UW's student-athletes for their roles in helping keep the athletic department coronavirus-free as teams resumed on-campus workouts this summer. UW has yet to report a positive case among the student-athletes, coaches and athletic department staffers it has tested to this point, but Seidel said the person-to-person contact required to play football and testing protocols that likely would've varied among conferences — a concern when it comes to non-conference opponents — would've made it more difficult to mitigate the risks.
"When you think about the overall risk of the athletic program with the fans and the fact the players will be playing each other and different teams where there are even different standards of testing and so on, that's not the same as having your environment on the campus where you're rigorously testing everybody twice per week," Seidel said. "So there are different considerations."
With a fall season out of the picture, Mountain West teams are looking toward the spring as a possibility to get the season in. Asked if he would support some sort of spring schedule, Seidel didn't rule it out, though the quick turnaround that would then be required to play a fall 2021 season is among the reservations he admitted he has about UW being able to pull off a spring football season.
"There are a lot of moving parts, and it took us a very long time to come to the decision that we made in the last week," Seidel said. "And so it will also take a lot of discussion to figure out how that makes sense going forward."
Follow UW athletics beat writer Davis Potter on Twitter at @DavisEPotter.
Concerned about COVID-19?
Sign up now to get the most recent coronavirus headlines and other important local and national news sent to your email inbox daily.