Earlier this year, Wyoming assistant football coach Mike Bath received a text from Ben Roethlisberger. Bath, a onetime college teammate of the veteran Steelers quarterback, had been quoted in a Cleveland Plain Dealer article comparing Roethlisberger to Josh Allen, the Wyoming quarterback Cleveland was then considering with its first overall pick in April's NFL Draft.
"He said, 'Oh, really? You're going to compare me to a 22-year-old kid, huh?'" Bath recalled.
At the moment, Allen's youth might be the only thing giving him the edge in that comparison.
While "Big Ben" is a 15-year NFL veteran, two-time Super Bowl champion and likely first-ballot Hall of Famer, Allen has yet to secure a starting spot ahead of his first NFL season.
But what if? What if Allen's career winds up mirroring Roethlisberger's in the same way that Allen's arm, size and competitive nature currently remind Bath of a college-aged Roethlisberger? What would that mean for Wyoming?
Or, what if Allen's time in the national spotlight has already peaked and he fails to find footing as an NFL star, or even starter? What, then, would his legacy mean for his alma mater?
If there is a crystal ball with those answers, it does not reside in the offices of the Casper Star-Tribune.
Even in the history of UW football, there is little precedent for Allen.
No Cowboy has ever been drafted higher than seventh overall, where the Buffalo Bills ultimately took Allen. No Cowboy had even come off the board in the first round since 1976, when the NFL Draft was far from its current media spectacle. And no Wyoming quarterback has ever thrown a pass in the NFL.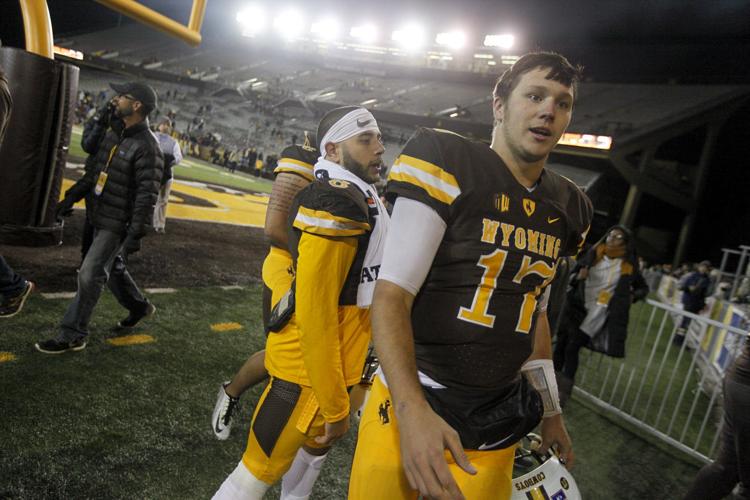 But Allen is not the first small-school quarterback to be selected in the early moments of the draft.
Nor would he be the first quarterback from outside the so-called Power Five conferences — the Big Ten, Big 12, Pac-12, Atlantic Coast Conference and Southeastern Conference — to become a household name. Roethlisberger's Miami RedHawks play in the Mid-American Conference, which is considered a Group of Five league, as is Wyoming's home, the Mountain West Conference.
Brett Favre and Tony Romo came from directional schools Southern Mississippi and Eastern Illinois, respectively. Alex Smith was drafted first overall out of Utah, a school that then played in the Mountain West, and David Carr was drafted first out of Fresno State, a school that now does.
To get a sense of what Allen's legacy could mean for Wyoming football and for the school in general, the Star-Tribune spoke to representatives from each of these schools.
Because while we're already well-versed in the accomplishments of College Quarterback Josh Allen — energizing a team-wide U-turn, drawing nationwide attention to Laramie — only time knows what NFL Quarterback Josh Allen's footprint ultimately will be.
***
In 2003, Roethlisberger led Miami to 13 wins and the RedHawks finished the season ranked No. 10 in the Associated Press poll.
The excitement from that season, which preceded Roethlisberger's being drafted 11th overall by Pittsburgh, brought more than just wins to Oxford, Ohio.
"I can vouch from just the admissions department telling me here at Miami that when he was going through his big season, that garnered a lot of interest," Miami athletic director David Sayler said. "There certainly were a lot more applications in those years that Ben was here at the tail end of his time."
Sayler made reference to the "Flutie effect," the term for a bump in enrollment attributed to a college's athletics success. It's named after former Boston College quarterback Doug Flutie, whose iconic 1984 Hail Mary pass supposedly convinced more students to apply to become an Eagle.
But Boston College's own alumni magazine questioned the causality of that relationship. Eastern Illinois' Romo, despite becoming a gossip mag staple as Jessica Simpson's beau, didn't necessarily have an effect on admissions, said Rich Moser, the school's associate A.D. for media and public relations.
A 2009 study seemingly proved the Flutie effect by measuring the relationship between football or men's basketball success and application numbers, but it dealt more with team success than prominent individual players.
In other words, Allen's role in UW's 9.3 percent freshman class increase in 2017 will likely remain anecdotal — especially considering the university has made a concerted effort to increase enrollment over the past few years.
What about a more sports-centric statistic like attendance? Fresno State certainly played in front of more fans when Carr was winning games for the Bulldogs — and when his brother, Derek, did the same years later. The younger Carr was drafted a round after his brother but has already made three Pro Bowls for the Oakland Raiders. (Now in the Mountain West, Fresno State was in the Western Athletic Conference during David's college career and half of Derek's.)
"The Derek Carr phenomenon sold tickets, filled up the stadium, and it did (again) last year when we retired Derek's jersey," said Paul Ladwig, senior associate A.D. for external relations at Fresno State. "… So it still shows when he's going to be in the stadium, people want to be there."
The Bulldogs' average home attendance spiked to 41,369 in David Carr's first full year as a starter and improved to a school-record 42,802 in his final year. It would be another eight years before that average dipped below 35,000 — where it was during Carr's freshman year. Then it jumped back above that mark in the younger Carr's final season.
Average attendance dropped the next three seasons, though, and in 2016 the one-win Bulldogs drew fewer than 26,000 fans per home game.
Wyoming certainly enjoyed an attendance boost during Allen's tenure, improving from just over 18,000 fans per home game in 2015 to 21,266 in 2016 — the 22nd best average increase in the Football Bowl Subdivision. Still, that number fell the next year, even though it was Allen's final season and high-profile Oregon made a trip to Laramie. And future improvements in attendance are not guaranteed, as college football attendance in general has declined.
So, why even bother sending a player to the NFL Draft if you're a non-Power Five school?
Recruiting and marketing.
***
The idea that winning begets winning in college football rests more in recruiting than any other area. The sales pitch that a coach can make to a prospective player becomes all the more seductive when the coach represents a winning team. It also carries more weight when that school can show that it has sent players to the first round of the NFL Draft. (An act that is likely to produce a winning team, anyway.)
"I mean, it's all about recruiting," said Andy Seeley, Central Florida's associate A.D. for strategic communications. UCF has produced two first-round quarterbacks, Daunte Culpepper (11th overall in 1999) and Blake Bortles (third overall in 2014). "It's all about trying to make sure that the kid that you're going after understands that your program has a history of putting guys into the league — no matter what the position, honestly. But certainly quarterback, with the importance of that position, that's a big deal."
Being the very first draft pick helps, too. At Central Michigan, there is a large mural commemorating offensive lineman Eric Fisher, whom Kansas City drafted first overall in 2013. He is the NFL's most recent No. 1 overall selection not to come from a Power Five school.
"So when you walk recruits, that's one of the first things that they see is him (and NFL commissioner) Roger Goodell with a number one jersey," said Rob Wyman, associate A.D. for sport administration and communications at Central Michigan. "So when guys are like, 'I want to go to the league.' It's like, 'Well, do you want to be the number one draft pick? Because that guy was.'"
Fisher and David Carr (2002) are the only players since 1974 drafted first overall from schools that aren't currently Power Five teams. Smith, the Utah quarterback San Francisco took first overall in 2005, played in the Mountain West, but the Utes have since joined the Pac-12.
Utah director of football operations Jeff Rudy credits Smith's high profile with the team nabbing quarterback Jordan Wynn in 2008. Miami leveraged Roethlisberger in the same way.
"There were some guys that we probably got that we beat your Illinoises and Indianas and some schools like that," said Bath, who hosted Roethlisberger on his Miami visit and coached there from 2004-08 and 2011-13. "We beat some schools because they saw that, 'You know what? I can do it from here and get a great education.' Some really talented kids.
"And that's definitely, in a different setting and everything, something that we want to do here (at Wyoming). 'Hey, whether you are an Eddie Yarbrough or you are a Josh Allen, Chris Prosinski,' some of those guys that are still playing in the National Football League, that 'you can achieve everything you want to from here.'"
***
Fargo, North Dakota, is typically Minnesota Vikings country, but Matt Larsen has seen a lot of Philadelphia Eagles jerseys there lately.
"And this is coming from people who grew up being Vikings fans their whole lives," the North Dakota State A.D. said.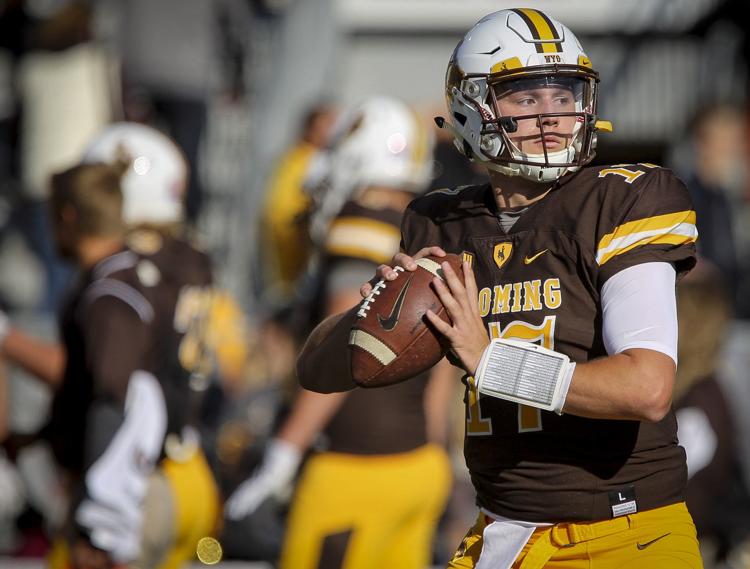 The reason for the Eagles gear is that former North Dakota State quarterback Carson Wentz has gone on to be a Super Bowl champion and MVP-caliber player in Philadelphia. (You may have already seen the Buffalo Bills T-shirts popping up in Wyoming, Broncos be damned.)
Now, when Larsen dons a North Dakota State shirt while traveling around the country, it holds a similar meaning.
"People come up and say, 'Hey, Carson Wentz,'" he said. "And so there's that brand recognition right away. There was good brand recognition to begin with, but Carson has taken it to a completely different level. He really has."
North Dakota State is actually considered one step below even the Group of Five, playing in the Football Championship Subdivision. But most football fans knew of the Bison even before Wentz was drafted second overall in 2016, thanks to the dynasty current Wyoming head coach Craig Bohl helped build in Fargo. North Dakota State won five straight national championships from 2011-15 (three with Bohl), something no other NCAA team has ever done.
Having a player of Wentz's stature, though, has added another layer.
"From him coming back in the national championship game after being out for eight weeks to win the national championship," Larsen said, "then going on and doing so well in the Senior Bowl and all the hype, ESPN coming into Fargo for his Pro Day, and then obviously being picked second overall — that was a crazy three, four months for North Dakota State. And obviously Carson as a representative (was) in just about every media market across the country. You really can't put a dollar figure or a price tag on that type of value."
You can try. Through research company Joyce Julius & Associates Inc., UW commissioned a study to quantify the media exposure Cowboy football received from the start of its 2017 season through the NFL Draft. The final estimation was over $159 million. Allen's name was only mentioned once in the university's two press releases about the study, but there was no question as to why the department chose that time span. The second half of the study, which stretched from the beginning of 2018 to mid-May, more than doubled the valuation of the season — despite the fact that Wyoming didn't play a single football game in that time. Rather, it was the NFL Draft, and the corresponding months of build-up, that drew the most eyeballs of all.
"You walk in now to a high school in rural east Texas and you've got the bucking horse on your shirt, they know Josh Allen," said Bath, Wyoming's fullbacks and tight ends coach. "They know the University of Wyoming. And they knew it before, but now it's on the forefront of their mind, because they saw him at the draft."
***
Each of the aforementioned quarterbacks are helpful Allen analogues, but no comparison is exact. Allen was selected seventh overall, not first like Smith and Carr or second like Wentz or third like Bortles. That said, analysts often included Allen in those same discussions; he was considered as a possibility for the Browns at No. 1 up until hours before the draft.
One major benefit for Wyoming is that Allen was drafted in 2018 rather than, say, 2004, when Roethlisberger came off the board 11th overall. As Bath has seen, the NFL Draft has grown into an absolute media behemoth. This year, the draft was aired on ESPN, ESPN2, NFL Network, FOX and ABC, depending on the day.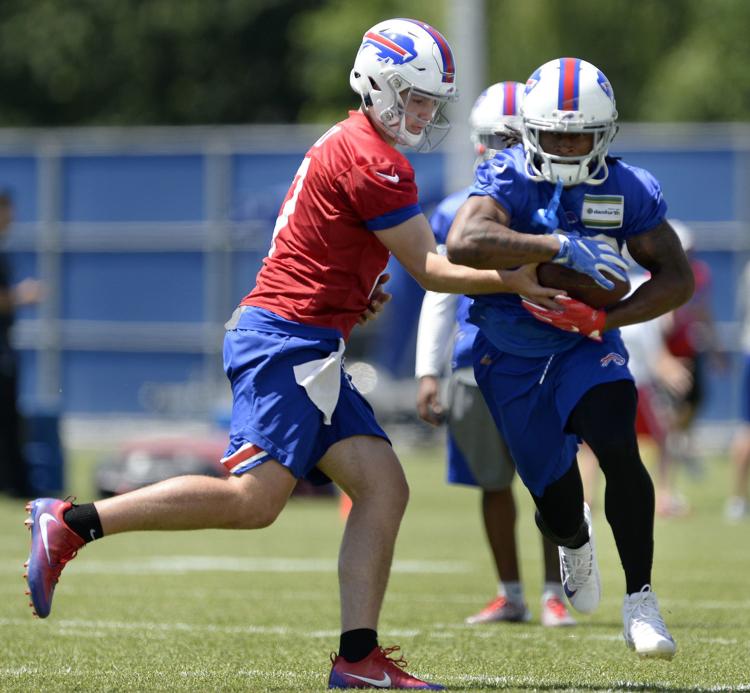 "We had to force it," Bath said of the coverage Roethlisberger received as a draft prospect. "… Where now, it's out there. It's not that we're tweeting anything about it. It's out there. It's ESPN. It's Mel Kiper. It's Todd McShay. It's everybody talking about it."
Sayler, Miami's A.D., said the RedHawks wouldn't have minded the social media attention.
"With Josh at Wyoming, I know that I saw a bunch of clips on Twitter and different places that people put together," he said. "I think people's jaws would drop if they saw some of Ben's athletic ability that he possessed when he was here at Miami. I just don't think it got the national attention as much because of the social media and all the video sharing that goes on today."
Seeley, UCF's associate A.D., happened to overlap with Smith at Utah, too, and said the media environment was far different for Smith in 2005 than it was for Bortles nine years later.
Another blessing for Wyoming is that its highest-drafted player in program history is a quarterback.
"If you just look at the draft every single year, and this year was no different with the strong quarterback class, they always get looked at a little bit differently and scrutinized a bit more," Sayler said. "So there's no question that quarterback does seem to raise a bit of interest within the NFL Draft, especially in the first round."
While Fisher gifted Central Michigan the bragging rights that come with a first-overall draft pick, the fact that he is an offensive lineman meant that his draft buzz was slower to accumulate. For example, it actually took some convincing from then-head coach Dan Enos in 2012 for Fisher to represent the offense at MAC media day instead of the Chippewas' quarterback.
"But I can tell you once it ramps up, there's no difference," said Wyman, Central Michigan's associate A.D.
The hype had all but ramped up to a fever pitch for Allen in 2017 when the Cowboys hosted Oregon. While the Pokes were outclassed in that game, they had the good fortune of playing two Power Five teams that season — the Ducks and Iowa — while everyone was paying attention to Allen. The quarterback also played in two bowl games as a Cowboy, as well as the 2016 Mountain West Football Championship Game, which Wyoming hosted.
That's something Sayler said Miami might have done differently with Roethlisberger.
"If I were to have a quarterback like Ben that you knew was coming back for another year, I would try really hard to showcase us in some larger games," said Sayler, who was not yet at Miami during Roethlisberger's time. "That's difficult, because of how football scheduling is done, but there are things that come across your desk sometimes that you could change and rework, and I would've looked to maybe have done something to get him a little bit more national visibility if I could."
***
So what, exactly, is the best-case scenario, when it comes to the effect Allen can have on Wyoming? A Roethlisberger-esque career would be nice, sure, but perhaps Smith should be the ideal. In 2005, when he was drafted, the Utes were playing in the Mountain West. Six years later, Utah began play in the Pac-12.
That route, of course, is not very likely for Wyoming. Utah also had a No. 1 overall draft pick in the NBA that same year in Andrew Bogut. More importantly, the Utes are based in Salt Lake City, which has a population nearing 200,000. Laramie hovers around 30,000. Back in 2016, when rumors linked numerous Mountain West teams to the Big 12, Wyoming was not even considered a dark horse candidate.
So, no, maybe Josh Allen won't single-handedly drag the Cowboys into a bigger league. But what happens if he becomes the next small-school quarterback to have a Favre- or Romo-like career? Favre was drafted 33rd overall by Atlanta in 1991, but was traded a year later to Green Bay, where he had a record-shattering career. Romo's Hall of Fame bona fides aren't as surefire as Favre's, but he still had quite the impressive career for an undrafted FCS prospect.
For Southern Miss, Favre's impact has been both media-driven — especially when the Packers played in nearby New Orleans for Super Bowl XXXI — and a result of Favre's efforts himself. He is a constant presence at Golden Eagle baseball games and is currently helping the university build a standalone volleyball facility. (His daughter is on the team.)
"He's been really invested, both financially and in all kinds of ways in not only the athletic department but also the university as a whole," said John Cox, longtime broadcaster at Southern Miss.
(Favre, like Smith, also helped usher his alma mater into a new conference with his success. Cox said he believes the attention Favre generated helped Southern Miss move from independence to Conference USA.)
While Romo doesn't have as visible of a presence on Eastern Illinois' campus, he continues to bring national attention to the Panthers, if only indirectly. Last year, he made the move from Dallas quarterback to lead game analyst for CBS.
"He was a player playing the right position for the right team at the right time," said Moser, the Eastern Illinois associate A.D. "I mean, there's probably a few — I wouldn't call them 'glory positions' but notable positions (in NFL lore). You play middle linebacker for the Chicago Bears, people know who you are. You play quarterback for the Cowboys, people know who you are."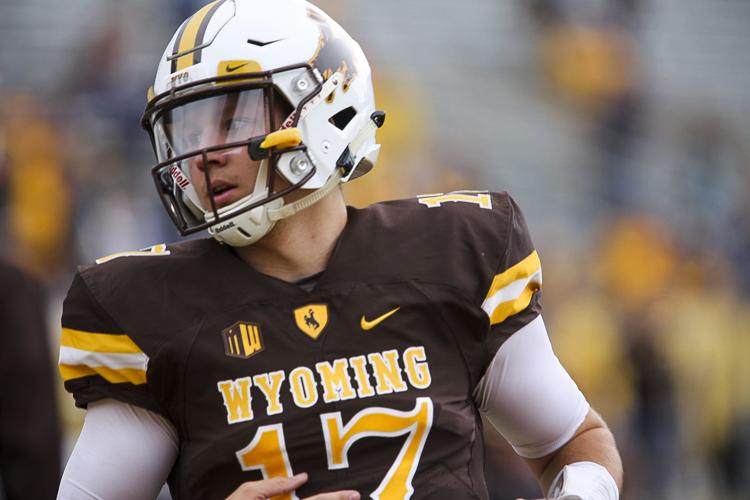 On the other end of the spectrum, Central Michigan's Fisher has not had the career that many would expect from a first-overall draft pick. But, Wyman said, that hasn't prevented Fisher from being a good ambassador for the program. Besides, with sixth-round product Antonio Brown, now perhaps the league's best receiver, Central Michigan has shown that stars can emerge from unexpected places.
Bortles, meanwhile, took a leap forward in terms of NFL success last year when his Jacksonville Jaguars reached the AFC Championship.
"That raises the level of prestige for him and thereby you get a little bit of the rub-off of that," UCF's Seeley said, "a little bit of the shine."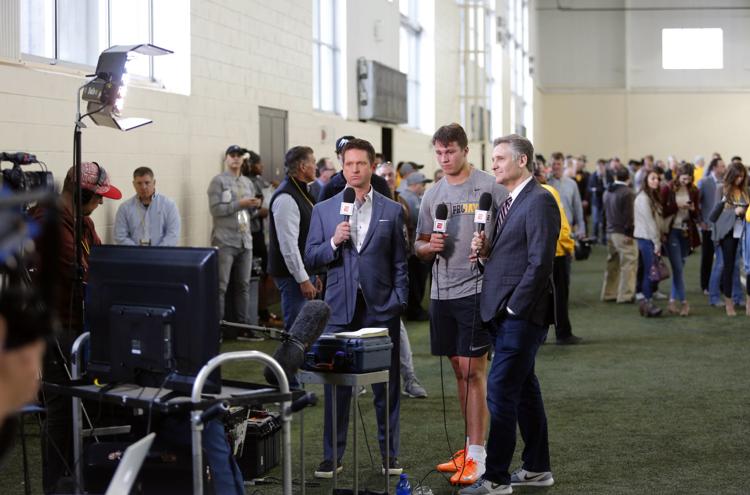 Whatever Allen's NFL career brings, it is up to Wyoming to make the most of it. Make no mistake, in a game of inches, any team will take an advantage in recruiting and marketing, not to mention donations. But Allen's legacy will not be make-or-break for the Cowboys.
Bortles is a good example. In his final collegiate season, the Knights went 12-1. Two years later, they lost every game. Two years after that, they went undefeated.
That can't be entirely attributed to a quarterback's footprint.
"There's no one magic bullet for creating a great college football team," Seeley said. "I mean, we're a perfect example. You can reach the highest of highs, the lowest of lows and then the highest of highs again all within a five-year span. That doesn't rest just on a quarterback. That doesn't rest just on whether that outstanding, Blake Bortles-type guy helped your program recruit or whatever.
"There's 11 guys on the field all having to do the same thing."