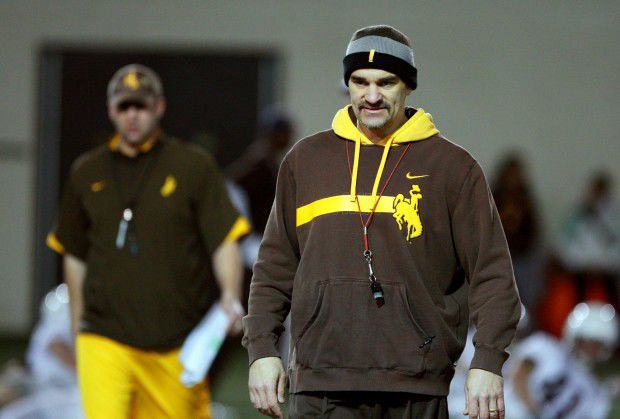 LARAMIE — More turnover within Wyoming's football coaching staff has resulted in a slight reduction in the group's compensation.
The Cowboys' 10 on-field assistants will collectively make $1,718,580 this year — a $63,336 drop from last year's base total. The contracts for each assistant coach were recently obtained by the Star-Tribune through an open records request.
With bonuses included, last year's total pay for UW's assistants was $1,853,286, which made them the fourth-highest paid staff in the Mountain West among teams that reported individual salaries, according to USA Today's salary database for college football coaches. Salary amounts weren't listed for Hawaii while Air Force, a private school, isn't required to release salary information.
The dip in this year's collective salary for UW's assistants comes in large part from the shakeup to Craig Bohl's staff shortly after the 2019 season. Defensive coordinator Jake Dickert, defensive ends coach A.J. Cooper and cornerbacks coach John Richardson all left to take the same roles on former Hawaii coach Nick Rolovich's first coaching staff at Washington State.
Bohl hired former Minnesota and Wake Forest defensive coordinator Jay Sawvel to replace Dickert. Former UW assistant Marty English returned for a second stint on the Cowboys' staff, this time as defensive ends coach, and Bohl filled Richardson's position by hiring Benny Boyd, who will make $150,000 in base salary.
Sawvel's $255,000 base salary is on par with what Dickert ($250,008) made last year. English will make $150,000 this year — $50,004 less than Cooper's base salary — but four assistants received raises this year.
Longtime defensive tackles coach Pete Kaligis will make $200,004 in base salary this year (up from $160,008) after being promoted to defensive run-game coordinator following Cooper's departure. Offensive line coach Bart Miller's base salary of $200,000 is up from $180,000; running backs coach Gorgie Haug's $90,000 salary is a bump from $80,004; and receivers coach Mike Grant's base pay of $153,564 is a slight increase from the $151,884 he made last year.
Tight ends coach Shannon Moore's base salary remains at $150,000.
Associate head coach Brent Vigen remains UW's highest-paid assistant at a base salary of $300,000. Vigen, who doubles as the Cowboys' offensive coordinator, has signed a new two-year contract that runs through Feb. 28, 2022. He will also receive a $50,000 retention bonus on Jan. 31, 2021 should he still be in his role of associate head coach then, according to his employment contract.
The biggest reduction in salary came with the departure of former safeties coach Willie Mack Garza, who was being paid $150,000 in base salary before resigning in October after being arrested on a DUI charge. Dickert doubled as UW's safeties coach at that point, so Bohl's son, Aaron, then a defensive graduate assistant, was promoted to coach linebackers on an interim basis.
Every assistant other than Vigen is on a one-year contract that runs through Feb. 28, 2021. Should any of them take another coaching job at the college or professionals levels while still employed at UW, the school wouldn't be required to continue paying them if the compensation in their new position exceeds their base salary at UW.
Meanwhile, Craig Bohl's annual salary — a combination of base salary and other guaranteed compensation generated from non-state funds — will remain at $1.5 million this year, according to his contract.
Follow UW athletics beat writer Davis Potter on Twitter at @DavisEPotter.
Be the first to know
Get local news delivered to your inbox!