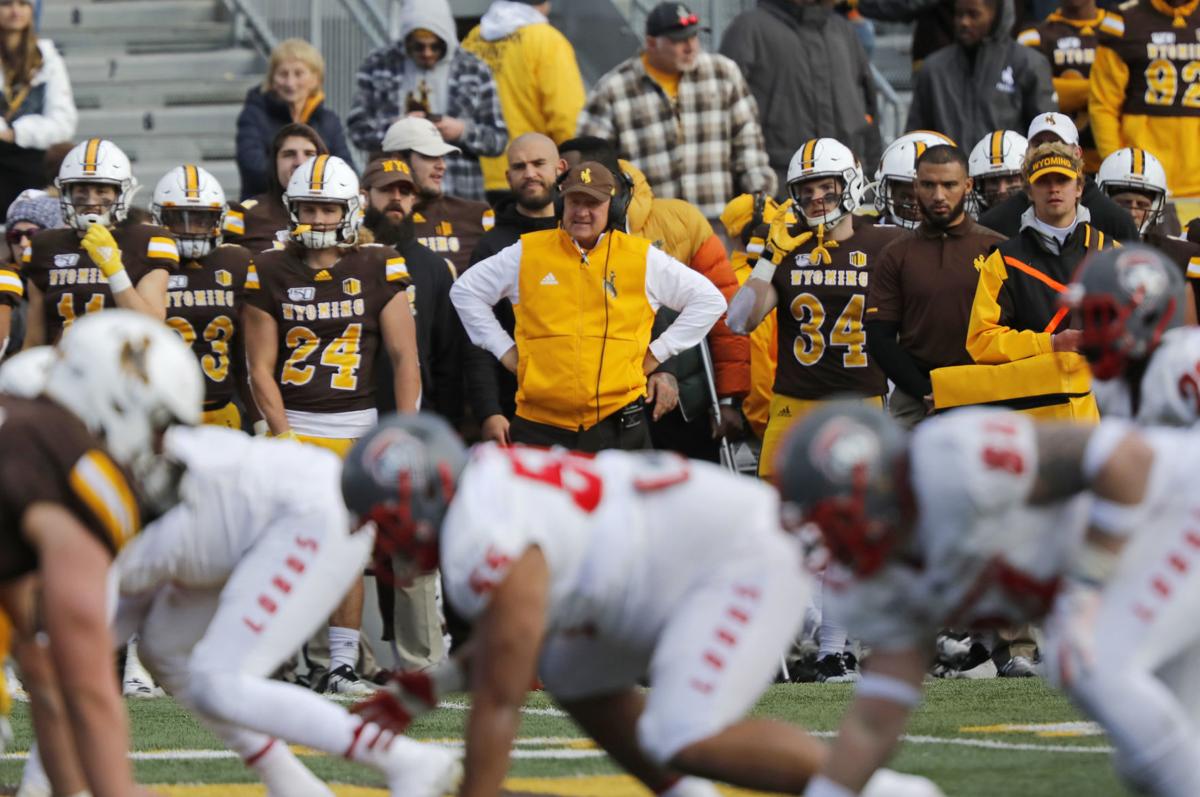 LARAMIE — Wyoming will start Mountain West play on the road next season, but the Cowboys will get to face many of the league's presumed contenders in the comfort of War Memorial Stadium.
A football schedule that also includes UW playing host to Pac-12 foe Utah and a Halloween road matchup with rival Colorado State was announced by the school Thursday. UW will face perennial league power Boise State, Air Force and Utah State — the three teams that finished ahead of the Cowboys in the Mountain Division standings last season — at home.
UW will open the season at home Sept. 5 against Weber State. The Cowboys will travel to Louisiana on Sept. 12 before Utah, the lone Power Five opponent on the Cowboys' non-conference schedule, visits War Memorial Stadium on Sept. 19. UW will wrap up its non-league slate at Ball State on Sept. 26.
The Cowboys will have a bye week before opening MW play at UNLV on Oct. 10. UW will return to War Memorial Stadium the next week for back-to-back home games against San Diego State (Oct. 17) and Air Force (Oct. 24). The Cowboys will close out October with the annual Border War at CSU on Oct. 31.
UW will finish with home games against Utah State (Nov. 7) and Boise State (Nov. 21) and trips to Nevada (Nov. 14) and New Mexico (Nov. 28). Kick times and TV designations will be announced at a later date.
Half the teams on UW's schedule are coming off 10-win seasons, including Weber State, which has won three straight Big Sky Conference championships in the Football Championship Subdivision and advanced to the semifinals of the FCS playoffs this past season. Utah, fresh off consecutive Pac-12 South division titles, finished 16th in the final Associated Press rankings while Air Force and Boise State finished Nos. 22 and 23 in the AP poll, respectively.
Boise State went unbeaten in MW play last season to win the Mountain Division and beat Hawaii in the league championship game for its second conference title in three seasons.
Louisiana won the Sun Belt's West Division last season, but the rest of those 10-wins will come to War Memorial Stadium, including SDSU, which is beginning its second stint under head coach Brady Hoke following Rocky Long's retirement. CSU (Steve Addazio), UNLV (former UW offensive coordinator Marcus Arroyo) and New Mexico (Danny Gonzales) are also starting over with first-year coaches.
UW is losing all-MW performers Logan Wilson and Alijah Halliburton as well as linebacker Cassh Maluia, defensive end Josiah Hall and cornerback Tyler Hall on defense. The Cowboys are also breaking in three new assistant coaches, including defensive coordinator Jay Sawvel.
But the Cowboys are set to return 12 starters and nearly 73 percent of their two-deep from an eight-win team last season. The most pressing question heading into Craig Bohl's seventh season at the helm is at quarterback, where freshman Levi Williams ended the season as the starter in place of the injured Sean Chambers.
Williams, who accounted for four touchdowns in UW's Arizona Bowl victory, will get a majority of the first-team reps during the spring while Chambers continues to recover from knee surgery.
Follow UW athletics beat writer Davis Potter on Twitter at @DavisEPotter.
Be the first to know
Get local news delivered to your inbox!