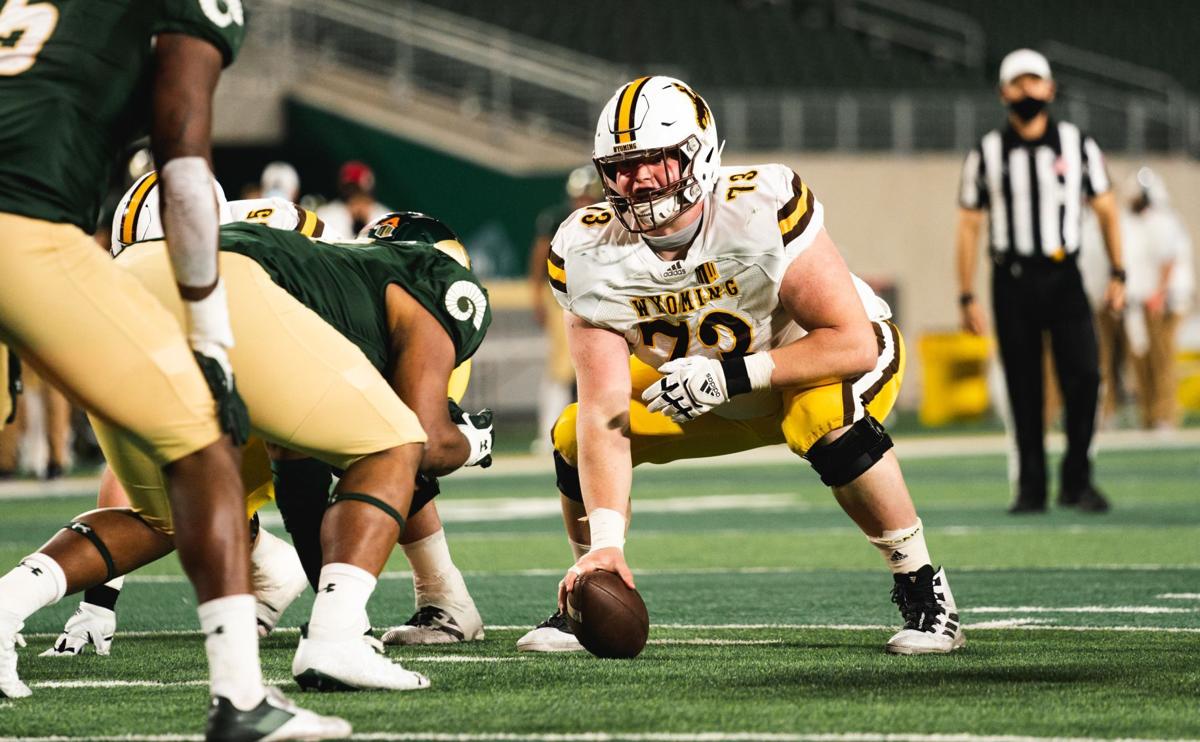 LARAMIE — When Bart Miller left Wyoming for a position on Illinois' coaching staff, UW coach Craig Bohl had one name in mind to be the Cowboys' latest offensive line coach.
"As soon as (Illinois) coach (Bret) Bielema and I had a conversation about Bart, it transitioned quickly to AJ," Bohl said, referencing his newest offensive line coach, AJ Blazek. "It didn't take Bret's recommendation. I knew a lot about AJ, and he was at the top of our list."
Now Blazek, UW's fourth offensive line coach in four years, is ready to get acquainted with the Cowboys' offense and those he'll be responsible for coaching in it.
Blazek was officially hired as Miller's replacement Monday after a two-year stint as the offensive line coach at North Dakota State, where the Bison finished in the top 4 in the Football Championship Subdivision in rushing each of the last two seasons. NDSU, of course, became an FCS power under Bohl before he took the job at UW in 2014, so Blazek wasn't on Bohl's NDSU staff.
But Bohl said he knew Blazek from some of the latter's other coaching stops, including Winona State, Western Illinois and Rutgers, where Blazek spent three years on staff from 2016-18. He was the Big Ten program's associate head coach the final two seasons before departing for NDSU.
Bohl said he was drawn to Blazek not only because of his reputation as a technician and a motivator but also because of some fresh ideas Blazek could bring to a run-heavy offense that's struggled to achieve balance in recent years.
Despite having a rushing attack that's finished in the top 40 nationally the last three seasons, UW hasn't ranked better than 113th in the Football Bowl Subdivision in passing yards or 123rd in completion percentage during that time.
Whether it's new blocking schemes in the running game or protection in the passing game, Blazek said he wants to help his new unit continue the Cowboys' physicality at the point of attack.
"The places where we've won, it starts up front at the line of scrimmage," Blazek said. "Run, pass, whatever you want to do, if those guys aren't wired right, nothing has a chance. For me, it's really to come in and make sure we continue what we're doing, but we develop and keep coaching the heck out of the young guys up front. That's my priority is taking care of the front whether it's protections or whether it's runs."
Blazek also has to get to know the players he's going to be coaching up front, something he said he's started doing over the phone in his short time on the job.
Blazek is set to inherit one of the Mountain West's most experienced offensive lines. At least four starters are in line to return up front, including three-year starter Keegan Cryder at center. Senior right guard Logan Harris could return for another season given the eligibility relief the NCAA has granted in response to the coronavirus pandemic. The same goes for right tackle Alonzo Velazquez, who missed all of the 2020 season with a shoulder injury.
"The first piece is really getting them to trust me," Blazek said. "(The older players) are getting to the end of their career going, 'Hey, I've had one change.' At their point in life, is he going to make me a better player? That's the first thing those older guys are thinking about. The younger guys, is this guy going to develop me? Is he going to care about me?
"I will tell you this, I'm more excited about going into a veteran room because, at the end of the day, I learn culture from those guys that have been around. With Coach Bohl having his track record there — it's not like he's in Year 1 — they're going to help me adjust as much as I'm going to help them get better as football players and people."
After landing the coach he wanted all along to fill the lone vacancy on his staff, Bohl said he doesn't anticipate making any more staff changes.
Follow UW athletics beat writer Davis Potter on Twitter at @DavisEPotter.