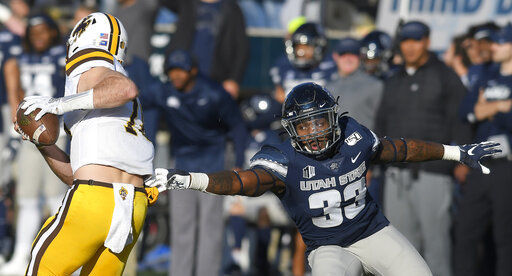 Tyler Vander Waal is still a work in progress
Much like last season, Tyler Vander Waal's first two starts in place of the injured Sean Chambers have been a mixed bag. The encouraging thing if you're a Wyoming fan is his efficiency has increased. After completing nearly 66 percent of his passes against Boise State, the sophomore quarterback came back with a 55.5-percent clip on a night when he attempted the second-most passes of his career. When Wyoming had to have it, he was 5-for-5 passing on a scoring drive that got the Cowboys within one possession late in the fourth quarter and again led Wyoming into Utah State territory on its final drive with good decision-making in general.
That was until the strong-armed signal caller decided to throw across his body over the middle and was intercepted by Eric Munoz for the last of his three picks. It's a throw -- or rather a decision -- Vander Waal, who's now started 11 games for the Cowboys, can't make in that situation. And he would be the first to tell you that. Vander Waal and offensive coordinator Brent Vigen praised the fact Vander Waal didn't turn the ball over against Boise State, and Vander Waal repeatedly talks about the importance of needing to live to play another down rather than forcing the issue.
That didn't happen Saturday. Vander Waal has made strides with his accuracy, and he's shown against Boise State, late against USU and even going back to last season's comeback win over Air Force what he's capable of. But with games against an improving Colorado State team and a stingy Air Force squad left on the schedule to try to secure a bowl bid, Wyoming will need Vander Waal to play well down the stretch, which would include heeding his own advice when it comes to ball security.
"Right after he threw the (last) pick, he was on the bench, I went up to him and was just like, 'Man, you're our quarterback. We're going to ride for you no matter what happens. Just keep your head up,'" tight end Josh Harshman said.
An uncharacteristic showing is too much to overcome
The four turnovers were part of a sloppy performance that was out of character for the Cowboys, who'd committed just five turnovers all season before Saturday. Wyoming also committed nine penalties for 92 yards. The Cowboys were averaging just 5.3 penalties and less than 50 penalty yards.
And not that there's ever a good time to shoot yourself in the foot, but many of the miscues seemed to come at the most inopportune time for the Cowboys. Esaias Gandy was flagged for a late hit at the end of a punt return that helped set up Dominik Eberle's chip-shot field goal that put the Aggies up two scores late in the third quarter. Tyler Hall was called for pass interference on a third-down incompletion after Wyoming's final touchdown. And Austin Conway's lengthy punt return into USU territory before the Cowboys' final possession was called back to Wyoming's 30-yard line because of a hold, though Wyoming coach Craig Bohl wasn't sold on the validity of all of the calls.
"I don't want to get into those," Bohl said. "I got explanations on them. Some were obvious. Some of the things were probably not as obvious."
Simply, Bohl said, his team's play was uncharacteristic. And it ultimately cost the Cowboys on the scoreboard.
Logan Wilson is a legit Defensive Player of the Year candidate
The term "ballhawk" is usually one used to describe defensive backs, but it absolutely fits for senior linebacker Logan Wilson, who's seemingly been at the forefront of the Cowboys' defensive effort week in and week out.
Wilson had eight more tackles Saturday to move into fifth on the Mountain West's all-time tackles list. His 396 career tackles surpasses former San Diego State linebacker Kirk Morrison for that distinction.
The Casper native also had a pick-six to get Wyoming on the board early in the second quarter. Wilson now has four defensive touchdowns for his career, moving him into a tie among active Football Bowl Subdivision players. The former Natrona County High defensive back leads Wyoming with three interceptions this season and is second only to Alijah Halliburton in tackles.
Wilson doesn't like to talk about himself or his accolades -- and he'd much rather notch wins than stats -- but the Butkus Award semifinalist is emerging as a legitimate Mountain West Defensive Player of the Year candidate.
Follow UW athletics beat writer Davis Potter on Twitter @DavisEPotter