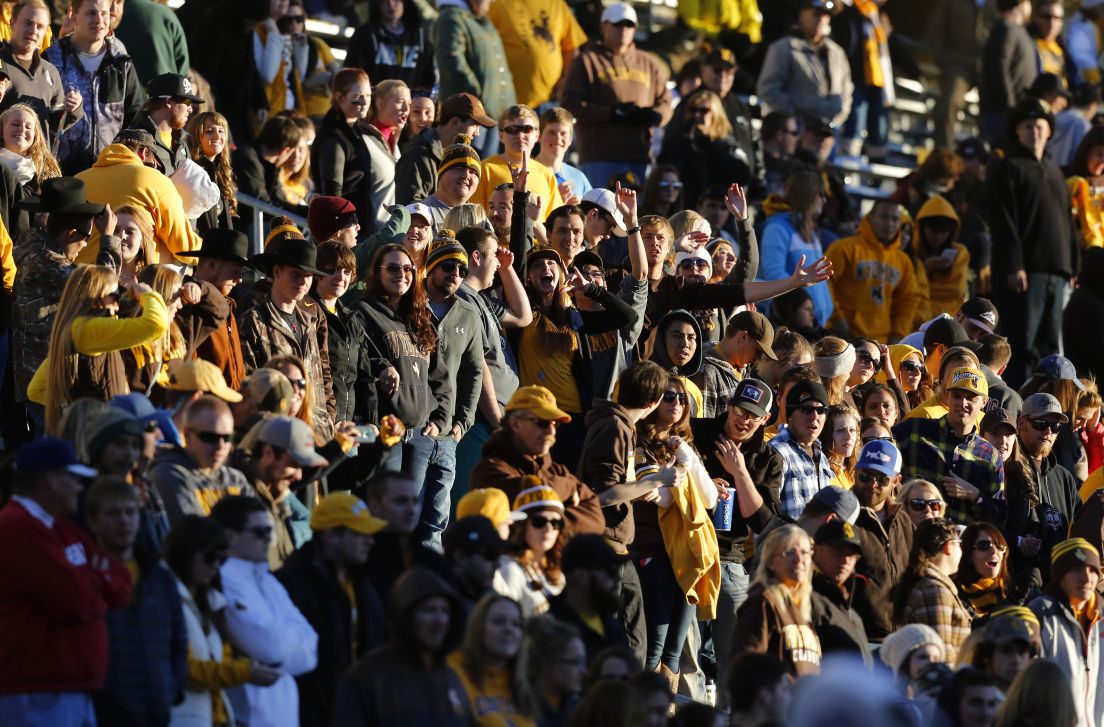 LARAMIE — Budget cuts have forced the University of Wyoming athletics department to consider every possible revenue stream.
Soon, that could mean adding one full of suds.
Wyoming athletics is "more open than ever" to considering the sale of beer at sporting events, athletic director Tom Burman said.
"There's no chance of it happening this year, but there is more discussion amongst leadership, in athletics, at least, about whether it's time to push for it," Burman said.
In 2014, Burman told the Star-Tribune that he didn't see it as an option for Wyoming and that no discussions were being had.
At that time, 32 schools in the country sold beer at football games, according to USA Today. That included 21 on-campus stadiums.
Since then, that number has only risen. Ohio State will begin selling beer throughout the stadium this season. Pitt and Penn State recently allowed alcohol sales at sporting events to varying degrees.
New Mexico recently requested permission to sell beer and wine at University Stadium, which would make them the sixth school in the Mountain West to allow alcohol sales at games.
"The national picture has changed quite a bit," Burman said. "... We've been doing research, tracking what's going on nationally, and the number of schools that have added beer sales to the general admission area, the general access areas in football, in all sporting events, on campus, has increased dramatically."
Wyoming does allow alcohol sales in the Wildcatter Suites but not throughout War Memorial Stadium or the Arena-Auditorium.
That's an option that has to at least be considered, Burman said, given recent financial challenges facing the state, university and athletics department. He's not the only one with that mindset; rising costs in college football and declining attendance numbers have fueled the recent uptick in schools selling beer at games.
Burman said the decision would require support from the board of trustees as well as university president Laurie Nichols. Plus, a lot still would have to be worked out in terms of just how profitable it would be.
While beer sales present a potential influx of revenue, the beer money brought in at college football games is often split between the schools and the concession companies. A 2015 study by the Journal of Sports Economics claims beer sales at college football games had no effect on attendance.
"We're doing our homework with regards to logistically how we might add that, procedurally how we would handle it, what the revenue streams might be," Burman said. "Because it's got to make sense financially."
Colorado State, which has sold beer at games for 40 years, recently partnered with Fort Collins craft brewery New Belgium to sponsor a party deck at the school's new on-campus football stadium.
"Our competition is doing it," Burman said. "We at least have to take a look at it. We are looking at every revenue stream very closely and every expense line item very closely, and we owe it to the citizenry of Wyoming to figure out how to generate more dollars."
In addition to dollars and cents, of course, there is the question of safety. At West Virginia, which began in-stadium beer sales in 2011, gameday arrests and safety issues have reportedly decreased. Many argue that allowing in-game alcohol sales lowers fans' need to binge drink prior to entering the stadium.
At Wyoming, there is also the matter of driving distances. Given the school's standing as the state's only four-year school, many Wyomingites trek from all over the Cowboy State to the southeast corner for football games. That means long drives afterward for those who don't stay overnight in Laramie.
Burman said the distance of one's postgame drive isn't necessarily the issue.
"The reality of it is it doesn't matter if you drive one mile or 100 miles, you can't drink and drive," he said. "So, if you're driving home, and you live in north Laramie, you still can't do it. You've got to be sober or at least not above the legal drinking limit."
Still, that reality could affect the logistics of in-game alcohol sales.
"It may have an impact more on when you stop selling or how many you can sell to an individual person," Burman said. "If you go to some venues right now, you can buy unlimited number of beers during an event. Some places you can only buy four beers during an event, and you can never buy more than two (at a time). So, we would have to look at all of those when we decide if we want to go forward with it."
Burman said allowing beer sales could attract younger fans in nearby cities like Cheyenne who might not have gone to UW and would need an added incentive to attend a game.
"I do believe that the expectation of a fan in the last decade has changed," he said. "It used to be that you could go to a sporting event, and some of them had beer. Now, it's the expectation. You go to Frontier Days, you go to every event in the Front Range — in college sports, I think everywhere except for the Air Force Academy has beer and wine.
"It's what people do. ... So, if the question is, is it going to happen in 2016? No. Is there more discussion about it than ever before? Yes."
Follow University of Wyoming athletics reporter Brandon Foster on Twitter @BFoster91