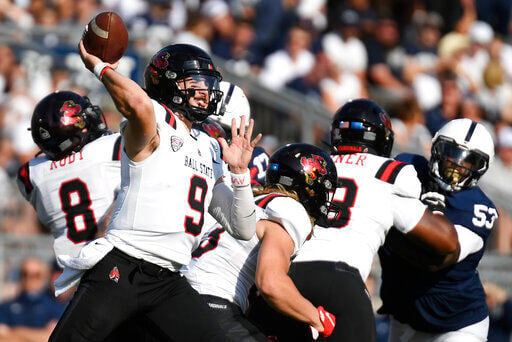 LARAMIE – Wyoming has already faced two former Power 5 starting quarterbacks this season.
Matthew McKay, who transferred to Montana State from North Carolina State, nearly led the Bobcats' to an upset win in the opener.
Rocky Lombardi, who transferred to Northern Illinois from Michigan State, also watched a victory over the Cowboys slip away as counterpart Sean Chambers delivered in the two-minute drill again.
On Saturday, UW will play one of the best Group of Five quarterbacks in the country when Ball State's Drew Plitt steps on the field at War Memorial Stadium (2 p.m., Stadium).
The 6-foot-2, 217-pound sixth-year senior passed for 2,164 yards with 17 touchdowns and six interceptions in eight games last season while leading the Cardinals to the Mid-American Conference championship and the first bowl victory in program history.
Plitt has passed for 6,520 yards and 50 touchdowns during his career.
"I think this guy's really good," UW defensive coordinator Jay Sawvel said. "Look, they're not fun to prepare for, but I do enjoy watching their offense and kind of admire how he conducts it. He has a really good control of it. What they do is very good. It's very stressful on the defense."
During Ball State's 38-28 win over Buffalo in last year's MAC championship game, Plitt earned the most valuable player award after passing for 273 yards with four touchdowns (three passing, one rushing).
Plitt followed that up with 217 yards passing and two touchdowns (one passing, one rushing) in the Cardinals' 34-13 rout of Mountain West champion and 19th-ranked San Jose State in the Arizona Bowl.
"Ball State is going to be a good test for us this week," senior nickel back Keyon Blankenbaker said. "Their RPO (run-pass option) game is pretty good."
Head coach Mike Neu played quarterback for the Cardinals and was part of their MAC titles in 1989 and 1993. The 2020 conference championship was the first for the program since 1996.
With Plitt and most of the key players from last year's 7-1 finish returning, Ball State was picked to repeat as MAC champions in the preseason coaches and media polls.
The last team to win back-to-back MAC titles was Northern Illinois in 2011-12.
"Coach Neu has just done a phenomenal job with him," UW head coach Craig Bohl said of Plitt. "He's fundamentally sound, he goes through his read progression. He is a winner. He puts the ball where it needs to be, he's in and out of run checks, all those things. He's an outstanding player."
The Cardinals (1-1) can still meet their lofty expectations, but the veteran team is off to a somewhat shaky start with a 31-21 win over FCS Western Illinois in the opener and a 44-14 loss at No. 10 Penn State.
Plitt finished 25-for-39 for 176 yards with no touchdowns and two interceptions against a nasty Nittany Lions defense in front of a crowd of 105,323 at Beaver Stadium.
"We're just not clicking from an offensive standpoint right now and we've got to get that fixed," Neu said after the game in Happy Valley. "It starts with me."
UW is ranked 75th in the FBS in passing yards allowed (216.5 per game), 97th in rushing yards allowed (182.5 per game) and 98th in points allowed (29.5 per game).
The Cowboys (2-0) allowed NIU to score 27 unanswered points last Saturday at Huskie Stadium before escaping with a 50-43 win to improve to 9-4 all-time against teams from the MAC.
McKay was 19-for-28 passing for 200 yards with two touchdowns and no interceptions in Montana State's 19-16 loss at War Memorial Stadium. UW struggled to slow down NIU's running attack in the second half but limited Lombardi to a 19-for-36 passing day with one touchdowns and three interceptions.
The Plitt-led Ball State offense is expected to be UW's toughest test to date.
"There's a tremendous amount of respect in watching them play," Sawvel said. "If we weren't playing them, this would be a fun offense to watch."
Follow UW beat writer Ryan Thorburn on Twitter @By_RyanThorburn