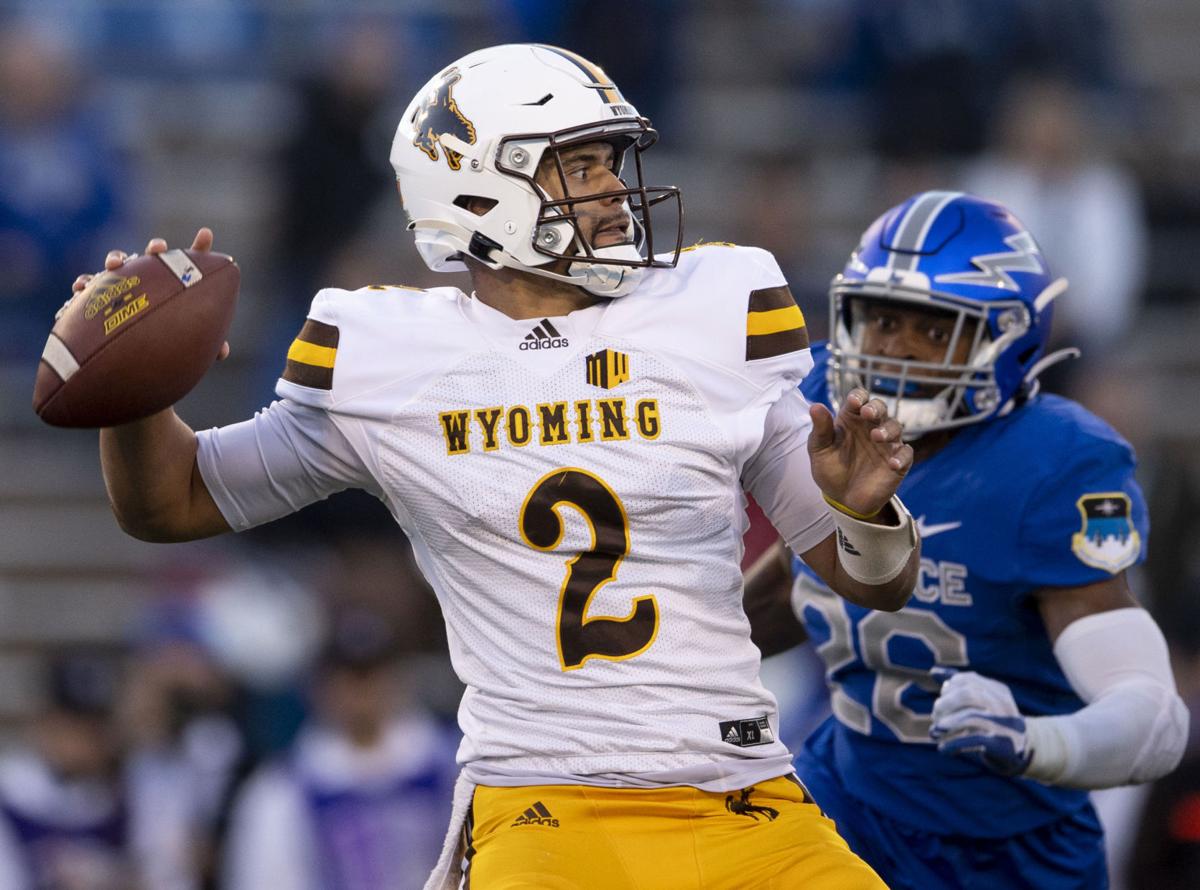 AIR FORCE ACADEMY, Colo. – There wasn't a defibrillator available for the Cardiac Cowboys at Falcon Stadium.
Wyoming's offense was out of sync and the defense let the triple-option squeeze the life out of another comeback attempt during the Cowboys' 24-14 loss to Air Force on Saturday night in front of a crowd of 24,832 at the Academy.
The Cowboys (4-1, 0-1 Mountain West), who pulled off three last-minute wins in four non-conference games, were unable to overcome untimely penalties and two turnovers in the second half against the Falcons (5-1, 2-1).
UW was 3-for-12 on third-down conversions while Air Force was 3-for-4 on fourth-down conversions and also moved the chains seven times on third down.
"When we watch the tape, it's going to make my stomach turn," Cowboys head coach Craig Bohl lamented.
Trailing by 10 points, Sean Chambers lost a fumble while being pressured on a fourth-and-10 at the Air Force 25-yard line. UW's veteran quarterback was sacked four times and finished 11-for-28 passing for 143 yards and one touchdown.
"It's just one of those days," Chambers said. "I was not at my best is how I would put it."
Bohl opted not to attempt a long field goal to try to make it a one-score game before Chambers' fumble with 1:27 remaining.
"At that time I just felt like we going to try to play for a touchdown," Bohl said of the decision. "So I was more comfortable with that."
After four kneel-downs by Haaziq Daniels, who stunned UW's defense by finishing 7-for-10 passing for 110 yards and a touchdown in the second half, the Pokes received the ball with 7 seconds left.
Chambers' rough night ended with a 12-yard sack as the Falcons celebrated their best start to a season since 2010.
"In my wildest dreams, I never thought they'd be able to throw the ball as well as they did," Bohl said.
The Cowboys had a chance to take their first lead of the game on the opening drive of the third quarter, but Chambers was stopped for a 4-yard loss on a bootleg.
UW punted from the Air Force 36-yard line instead of attempting a long field goal into the wind.
Daniels, who did not attempt a pass in the first half, went 4-for-4 for 64 yards on the ensuing possession, capped by a 13-yard touchdown to Micah Davis to give the Falcons a 21-14 lead.
"We kind of expected them to come out and try something new. We just didn't expect it as many times on that drive," cornerback C.J. Coldon said. "They had us with that pass (game), and we just have to play better."
After a spectacular third-down conversion by Chambers, who slipped out of a sack and completed a 12-yard pass to Ayden Eberhardt, the Pokes' imploded.
A false start and a botched snap put UW in a third-and-18. Chambers ran for a first down, but the play was wiped out by a holding penalty against right guard Logan Harris. Ralph Fawaz punted for the fifth time after Chambers threw an incompletion on third-and-28.
After Davis dropped a touchdown in the end zone, Daniels moved the chains with a quarterback keeper on third-and-9 in the red zone.
Air Force settled for a 26-yard field goal by Anthony Gonzalez to extend its lead to 10 points with 7:18 remaining. The scoring drive was 15 plays, 67 yards and bled 7:11 off the clock.
Fawaz's sixth punt of the night went for 76 yards down to the Air Force 2-yard line, which allowed the Falcons to kill another 3:24 of the clock.
"It was going to be a tough win to get down here," Bohl said. "It's not demoralizing, but we're disappointed we lost."
UW won the opening coin toss but deferred, which led to Air Force starting the game with a 15-play, 75-yard drive that included two fourth-down conversions and was capped with a 1-yard touchdown run by Roberts to make the score 7-0 with 6:42 remaining in the first quarter.
The Cowboys thought they moved the chains on a third-and-15, but the officials ruled that tight end Treyon Welch did not make a clean catch.
Both quarterbacks lost a fumble on each team's next possession. The Falcons had the ball for 12 minutes 32 seconds in the first quarter and held the Cowboys to 10 total yards in the frame.
Chambers' turnover led to a 2-yard touchdown run by Dane Kinamon to extend the Falcons' lead to 14-0 with 10:43 remaining in the second quarter.
At that point in the game, Air Force had 124 yards of offense and 16:49 in time of possession compared to 10 yards and 2:28 for the Cowboys.
The Pokes' defense came alive from that point and forced back-to-back punts, but the offense was going backwards and had 5 total yards when it took possession at the UW 3-yard line.
Then Xazavian Valladay broke through the right side of the offensive line for a 74-yard run – the Cowboys' longest of the season and the longest given up by the Falcons this season – to dramatically turn the momentum.
Valladay appeared to score a 6-yard touchdown on third-and-goal moments later, but the officials ruled that his elbow was down just shy of the goal-line. Chambers scored a 1-yard touchdown on fourth down to cut the deficit in half.
Then Kinamon was about to throw a halfback pass when C.J. Coldon came up and sacked him for a 5-yard loss to stymie the Falcons' final drive of the first half.
Chambers ran for 13 yards to move the chains, found Ayden Eberhardt over the middle for 13 yards and then connected with Isaiah Neyor for 37 yards in the 2-minute drill.
With 15 seconds left in the second quarter, Chambers threw a 10-yard touchdown to Neyor to tie the score 14-14.
The Cowboys racked up 170 yards on the final two drives of the half, but Air Force head coach Troy Calhoun was playing chess while the UW staff was playing checkers with the second-half adjustments.
"Everybody is in their heads a little bit," Valladay said after finishing with 96 of UW's 114 net rushing yards. "Everybody has to treat this as a learning opportunity and not a loss, just a lesson."
Follow UW beat writer Ryan Thorburn on Twitter @By_RyanThorburn