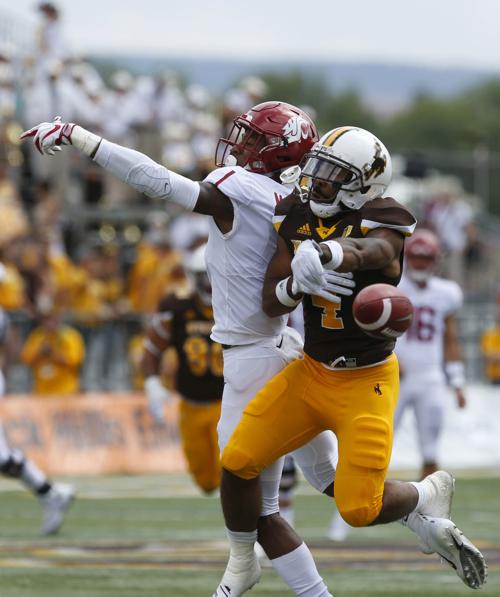 LARAMIE — Wyoming may have one of its defensive starters back in the fold soon.
Cornerback Antonio Hull was scheduled to arrive back in town late Monday night and could rejoin the team when the Cowboys travel to Tulsa on Saturday, Wyoming coach Craig Bohl said. Hull has been back in his native California since before the season started dealing with what Bohl referred to as a personal matter that wasn't related to team discipline.
Bohl said he plans to talk to Hull on Tuesday to figure out what's next.
"We're hopeful that he is going to be here (this week)," Bohl said.
Hull still wasn't listed on Wyoming's updated depth chart Monday. The fifth-year senior has started 32 of the 39 games he's played in his career, including all 12 a season ago.
C.J. Coldon has taken over as the starter opposite Tyler Hall in Hull's absence — a role that's familiar to the third-year sophomore. Coldon, who started the first three games last season before sustaining a season-ending injury, is tied for fourth on the team with 14 tackles and has two pass breakups and a fumble recovery he returned for a touchdown in the season opener against Missouri.
The pass defense has been spotty for the Cowboys, who have three interceptions through their first three games but are also yielding the third-most passing yards in the Football Bowl Subdivision (342.3 per game).
Wyoming's depth at the position was tested last week against Idaho when Coldon and Hall left with injuries, but both returned to finish out the Cowboys' 21-16 win.
Hull will further replenish it should he return for Saturday's game. He has 24 pass breakups and five interceptions in his career.
Familiar place
Saturday's game will mark a return to the sideline in Tulsa more than three decades in the making for Bohl, who was an assistant at Tulsa from 1985-86. Bohl, who helped coach linebackers then, was on Don Morton's staff along with former Chicago Bears and Tampa Bay Buccaneers coach Lovie Smith, who's now the head coach at Illinois.
Bohl said he can remember hanging ceiling tile in the locker room and painting the steps at H.A. Chapman Stadium, which was named Skelly Stadium back then. His return will be different in a lot of ways.
"I can date myself a little bit, but I can tell you this: There was no videotape," Bohl said. "It was 16-millimeter film. And the guy who filmed it was a daytime plumber. They're in probably much better position right now, but I'm looking forward to coming back."
Injury update
Bohl said he would know more later Monday regarding the team's overall health, but the early signs are positive.
Running back Xazavian Valladay, who was held out of the Idaho game with a sprained ankle, is expected to be back for Saturday's game, running backs coach Gordie Haug said. Right tackle Alonzo Velazquez had his legs rolled up and exited last week's game but eventually returned.
Velazquez said Monday he's "100 percent."
Night kick for conference opener
Wyoming's home game against UNLV on Sept. 28 will kick off at 6 p.m. and be televised on ESPNU, ESPN Networks announced Monday. It will be the Mountain West opener for both teams.
Follow UW athletics beat writer Davis Potter on Twitter at @DavisEPotter