LARAMIE — Wyoming football got more than a signature win Saturday against No. 13 Boise State. After the game's signature play, a safety forced by a Chase Appleby strip sack, Cowboys defensive end Josiah Hall produced a signature moment.
Hall clapped his hands together above his head in the safety signal and wiggled his hips as if to enchant the referees into making the call.
Hall's "safety dance" has since gone viral, making an appearance on multiple national sports programs, including a SportsCenter nod as Scott Van Pelt's "Best Thing I Saw Today."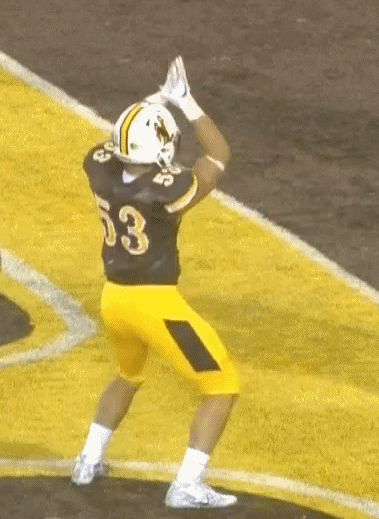 "This whole thing is getting kind of blown out of control in my opinion," Hall said with a laugh, "but I mean, it's pretty cool. It's pretty funny to watch."
Wyoming soccer's Shaina Ashouri tweeted a video of the Cowgirls recreating the dance at Denver International Airport on their way to the Mountain West tournament. Wyoming athletics is offering two Wildcatter Club tickets to the football game against San Diego State to whomever submits the best safety dance video.
Appleby said his sister, a first-grade teacher in Frisco, Texas, called Monday morning and told him her whole class was doing the dance.
"A lot of attention to that one thing," quarterback Josh Allen said, "but it brought a lot of attention to the win as well."
The safety gave Wyoming the winning points in the 30-28 upset, the Cowboys' first against a ranked opponent since 2002.
"People want to know if I can do that safety dance," head coach Craig Bohl said. "He did, but I'm doing that."
Hall, a redshirt freshman walk-on, said the dance was a spontaneous act.
"I honestly didn't plan it," he said. "Never really thought about doing that before, but I saw Chase make such a big play, and, I don't know, I had to react somehow. I was so excited for him, so excited for this team. Body just reacted."
The play went under review until the referees finally reciprocated Hall's safety signal. Minus the wiggles, of course.
You have free articles remaining.
"It was really tense," Hall said of the review. "I knew what it meant in the context of the game, and so I knew that having that safety would've really been a big help. Because you get the ball back, obviously, pending the onside kick. I knew it was such a big moment."
Appleby, the lineman who actually made the play, headed to the sideline, only to turn back and see Hall and safety Andrew Wingard waiting in front of the referees in anticipation.
"It was like two Cowboys and 11 Boise State Broncos, but that was one of the funnier things I've seen," Appleby said.
The highlight has since been paired with Men Without Hats' 1983 hit "Safety Dance."
"I literally heard that (song) for the first time over the weekend," Hall said. "I thought it was pretty fitting."
Sunday, Hall saw his himself dancing on ESPN.
"It was on a little college football recap of the sights and sounds," he said. "I went, 'Huh, I know that dude.'"
How did he think he looked?
"I don't know, man," he said. "I'll kind of let everybody else be the judge of that. Personally, I think I've got some pretty sweet moves, but that's just me."
His teammates gave him a passing grade.
"I'm saying nine and a half out of 10," Allen said. "His hips were a little sloppy towards, the end, but it was pretty good."
"It's pretty good," tight end Josh Harshman said. "Probably better than I can do. It's pretty cool to see that go viral. That was pretty awesome."
Added Appleby: "I guess the hips don't lie. I wouldn't have broken out in that dance, but I guess he wanted to."
Say what you will of Hall's dance, it worked.
"(The referees) were kind of talking it over for a little bit, so I was really trying to push it home for them," Hall said. "Maybe the dance helped a little bit."
Follow University of Wyoming athletics reporter Brandon Foster on Twitter @BFoster91