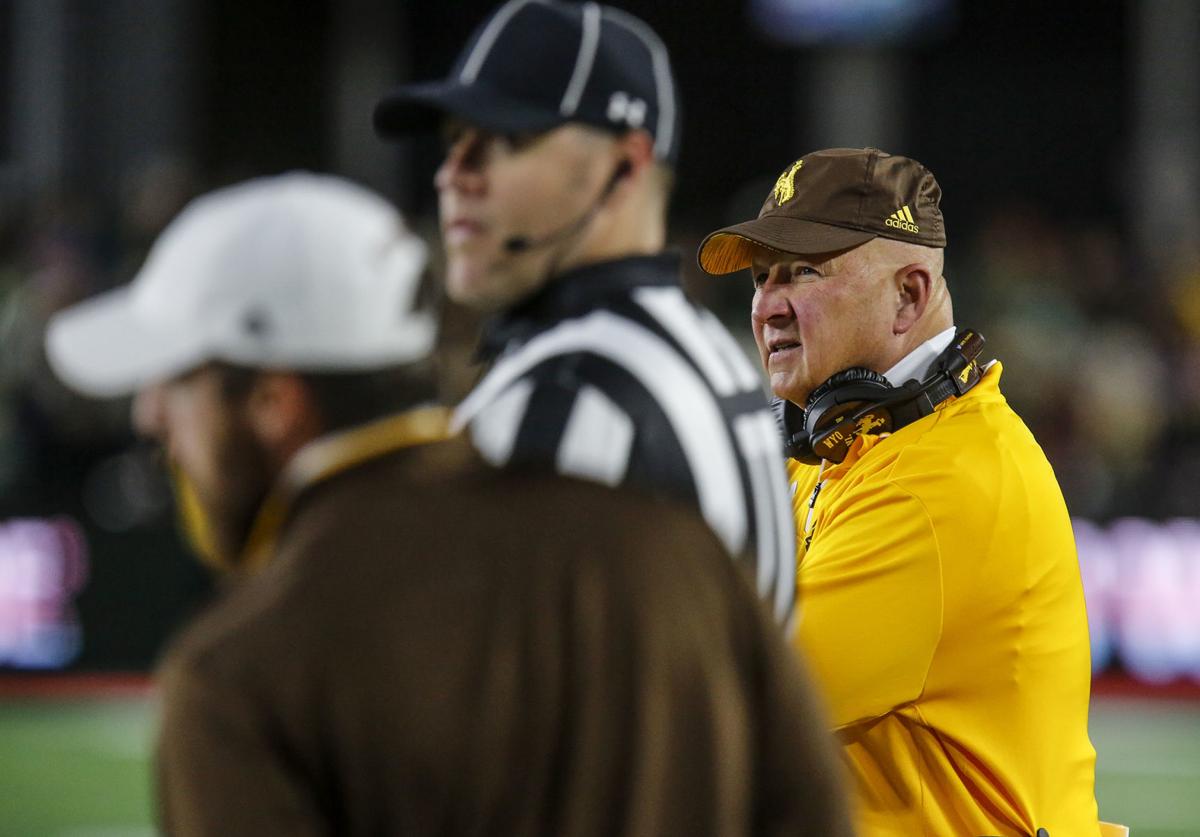 LARAMIE — The answer wasn't unexpected, but that didn't make it any easier for Wyoming to accept.
After a week of speculation, the Cowboys officially learned they wouldn't play in a bowl this season when the 39 bowl matchups were announced Sunday. Wyoming won its last four games to gain bowl eligibility but was ultimately one of four bowl-eligible teams to be left out, joining Miami (Ohio), Louisiana-Monroe and Southern Miss.
It's the first time since 2013 when San Jose State was left at home and just the second time since 2006 that a bowl-eligible team from the Mountain West hasn't received a bowl invite.
"We are disappointed that our football team will not get the opportunity to play in a bowl game this season," Wyoming athletic director Tom Burman said in a statement. "The young men in our program and the coaching staff finished off this season with four consecutive wins. They deserved an opportunity to conclude this season — and in the case of our seniors, their careers — with a bowl game."
Despite the winning streak, Wyoming was a longshot to join the rest of the Mountain West's bowl-eligible teams in the postseason. Once No. 8 Central Florida rallied past Memphis to win the American Athletic Association championship Saturday, the Cowboys' fate was virtually sealed.
UCF's win clinched the Knights' spot in a New Year's Six game as the highest-ranked Group of Five conference champion, leaving all seven of the MW's bowl-eligible teams to compete for spots in the league's five contracted bowls. Wyoming was the last team in the conference to gain bowl eligibility with a sixth win over New Mexico in its regular-season finale on Nov. 24. Not only did all of the MW's other bowl-eligible teams have more wins, but the Cowboys went 0-4 against the rest of the league's bowl-eligible field.
The MW sent teams to four of its contracted bowls with league champion Fresno State going to the Las Vegas Bowl, Utah State in the New Mexico Bowl, Nevada in the Arizona Bowl and Hawaii in the Hawaii Bowl. BYU will head to Boise, Idaho, to play Western Michigan in the Famous Idaho Potato Bowl, a selection that puzzled some once Boise State and San Diego State went to the First Responder and Frisco bowls, respectively, given the league's contracted tie-in. But Burman explained in a tweet late Sunday afternoon that ESPN decided to trade Boise State for BYU in order to keep the Broncos from playing a bowl game on their home field.
ESPN, which owns the Potato and First Responder bowls, has a contract with BYU to place the Cougars in a bowl game whenever they're eligible.
"The bowl picture is one that is hotly debated across the country in terms of the number of bowl games that we should have," Wyoming coach Craig Bohl said in a statement. "I do believe our seniors deserved an opportunity to play another game because of the way we finished, but those decisions are not in my hands."
Three of Wyoming's losses were against Fresno State, Boise State and Washington State — teams that finished the season ranked in the College Football Playoff top 25. Another was against a 10-win Utah State team while Wyoming also fell on the road to Power Five foe Missouri.
"I do know that the Mountain West is an unbelievably competitive conference, and our schedule reflected that with the number of top-25 teams we faced this season," Bohl said. "I thought we played the best competition we could."
But with 82 bowl-eligible teams vying for 78 spots, the Cowboys needed more wins to move up in the league's pecking order. Amid the 24-16 loss to Utah State on Oct. 20 that dropped Wyoming to 2-6, Bohl benched quarterback Tyler Vander Waal in favor of true freshman Sean Chambers, who ignited the Cowboys' stagnant offense in wins over Colorado State and San Jose State before breaking his leg on the opening series against Air Force.
Vander Waal came on and helped the Cowboys erase a 13-point deficit midway through the fourth quarter by leading three consecutive scoring drives for a 35-27 win over the Falcons that kept hope for bowl eligibility alive. The Cowboys left no doubt with a 31-3 win at New Mexico, but it wasn't enough.
"We will be working with the Mountain West Conference to improve the postseason opportunities for conference football teams moving forward," Burman said. "We have an excellent league, and every Mountain West team who is bowl eligible should have an opportunity to play in a bowl game."
Wyo fans, I am getting lots of questions regarding how BYU gets in a MW Bowl and Wyo doesn't. Both Boise and BYU were selected for bowls and ESPN (who owns both bowls) decided to flip BYU and Boise and move BOISE to Dallas and have BYU play in Boise.
Follow UW athletics beat writer Davis Potter on Twitter at @DavisEPotter