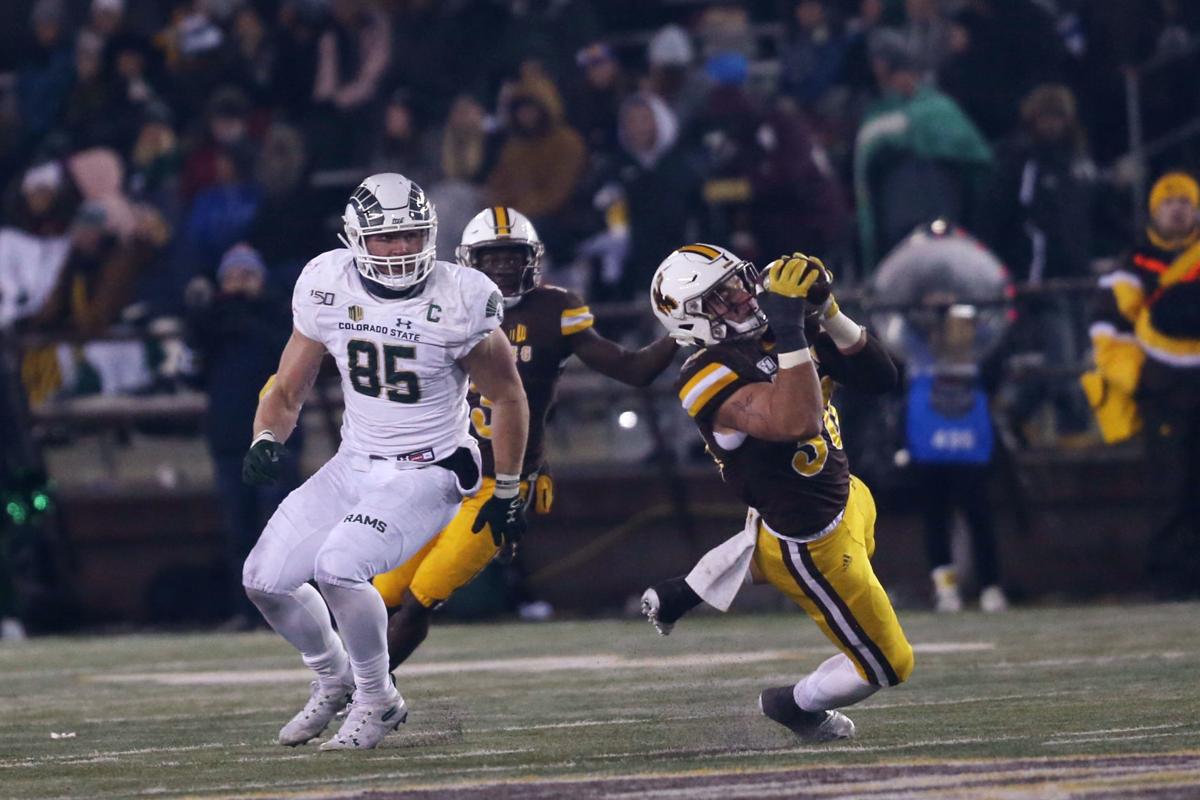 LARAMIE — Logan Wilson is still in the running for the top honor at his position.
"There's probably nobody on our football team that deserves more recognition than Logan," Wyoming coach Craig Bohl said. "That's really heartwarming for me because Logan's main concern is about the Cowboys. He's not a guy that's trying to garner a lot of these individual and national honors, but it's great to see that."
The Casper native, who ranks in the top 5 in school history and Mountain West history in career tackles (404), has 88 tackles and a team-high four interceptions this season. His four picks are the most among Football Bowl Subdivision linebackers.
Wilson signed with Wyoming in 2015 after playing cornerback at Natrona County High School. He started his collegiate career at safety but was moved to linebacker after a redshirt season, starting on the outside for two years. He earned MW Freshman of the Year honors in 2016 after racking up 94 tackles that season. The 6-foot-2, 250-pounder has led the Cowboys in tackles the last two seasons after moving to middle linebacker and entered this season No. 2 among active FBS players in career tackles.
"I think it's an indication of the development of our program," Bohl said. "When I say development, Logan was not a heavily recruited player. He played at Natrona County and played corner. I think the program has done a good job of developing him, and he's bought into that."
Emotional letdown?
As it usually is, Friday's Border War win brought with it a lot of emotion for Wyoming. Some of the fans inside War Memorial Stadium even rushed the field once the Cowboys' 17-7 win was official, making it four straight wins over their most bitter rival.
You have free articles remaining.
Bohl said there's always concern about a letdown after that kind of rivalry game, though he added he hasn't sensed that among his team.
"In our locker room, there was a huge celebration and rightfully so," Bohl said. "That was a big game, and a big, big win. We were able to retain the (Bronze) Boot. … So you go, 'OK, how are going to respond the next week?'"
Wyoming now ends the regular season against the team that may be playing better than any in the MW in Air Force, which has won six in a row after its 44-22 win at New Mexico. The Falcons will go for their 10th win Saturday against the Cowboys.
And Wyoming could improve its spot in the league's bowl pecking order if it can notch an eighth win.
"Our football team has a great deal of respect for Air Force and what kind of football team that they are," Bohl said. "They know there's a lot on the line, and so we're anticipating they'll be really engaged."
Injury update
Quarterback Tyler Vander Waal has been given "the green light to go" Saturday, Bohl said. Vander Waal, who split snaps with true freshman Levi Williams beginning late in the first quarter against Colorado State, left in the third quarter after injuring his ankle while being sacked but later came back to finish the game.
Running back Xazavian Valladay (knee) had his fifth straight 100-yard game despite not being at full speed. The sophomore ran for 154 yards on 27 carries while wearing a brace on his right knee, and Bohl didn't voice any concern Monday that Valladay wouldn't be able to play this weekend.
"There was no extra swelling (after the game)," Bohl said. "He moved around fine. With another week of rehab, we'll get him practicing more this week."
As for running backs Trey Smith (ankle) and Titus Swen (knee), Bohl said neither has yet been cleared to return.
Follow UW athletics beat writer Davis Potter on Twitter at @DavisEPotter.