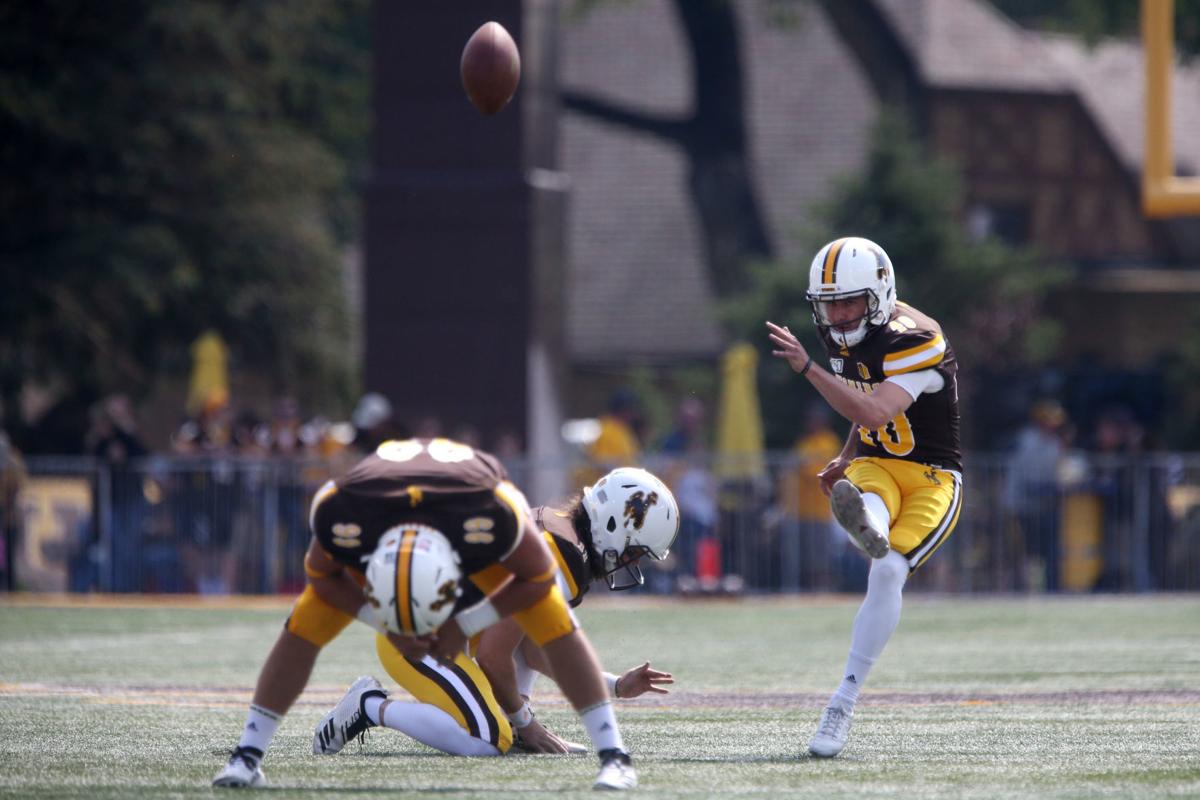 LARAMIE -- Wyoming coach Craig Bohl said the biggest positional needs for the Cowboys during the traditional signing period were receiver, cornerback and tight end.
Wyoming also has a glaring vacancy on special teams with Cooper Rothe out of eligibility, something the Cowboys went to the transfer market to address.
The Cowboys got a verbal commitment from Cornell graduate transfer kicker Nickolas Null on Wednesday. Null announced his commitment on Twitter and later told the Star-Tribune he had sent a signed National Letter of Intent to the school, though Wyoming had not officially announced Null's signing as of Wednesday night.
Like all college football coaches, Bohl is forbidden by NCAA rules to talk about specific recruits that have yet to sign. But Bohl acknowledged during a press conference Wednesday afternoon that he's still recruiting to the Cowboys' 2020 signing class, which is up to 24 signees pending Null's addition.
"We've got one scholarship left, and I think we'll make an announcement on that at a future date here," Bohl said.
As a graduate transfer with just one year of eligibility left, the expectation would be for Null to take over kicking duties immediately for Rothe, who finished his career this past season as Wyoming's all-time leading scorer. Rothe, who racked up 342 career points, made 76.6 percent of his field goals during his four years as a starter, including a nation-best 94.1-percent clip as a junior that made him a Lou Groza Award finalist.
Null made 6 of 8 field goals this season with a career-long of 49 yards, according to the Ivy League's official website. His 75-percent conversion rate ranked second in the Ivy League. Null could also punt if needed after averaging 39.5 yards per punt with a long of 56 yards this season, though Wyoming does have senior Tim Zaleski returning at the position next season. 
Null earned all-Ivy League honorable mention honors as a placekicker and punter this past season after being named a second-team all-league performer as a sophomore in 2017. Null was limited to three games as a junior in 2018 because of injury, but the NCAA's redshirt rule, which allows players to appear in up to four games in a season without losing their redshirt, allowed him to maintain a year of eligibility.
Follow UW athletics beat writer Davis Potter on Twitter at @DavisEPotter.
Be the first to know
Get local news delivered to your inbox!