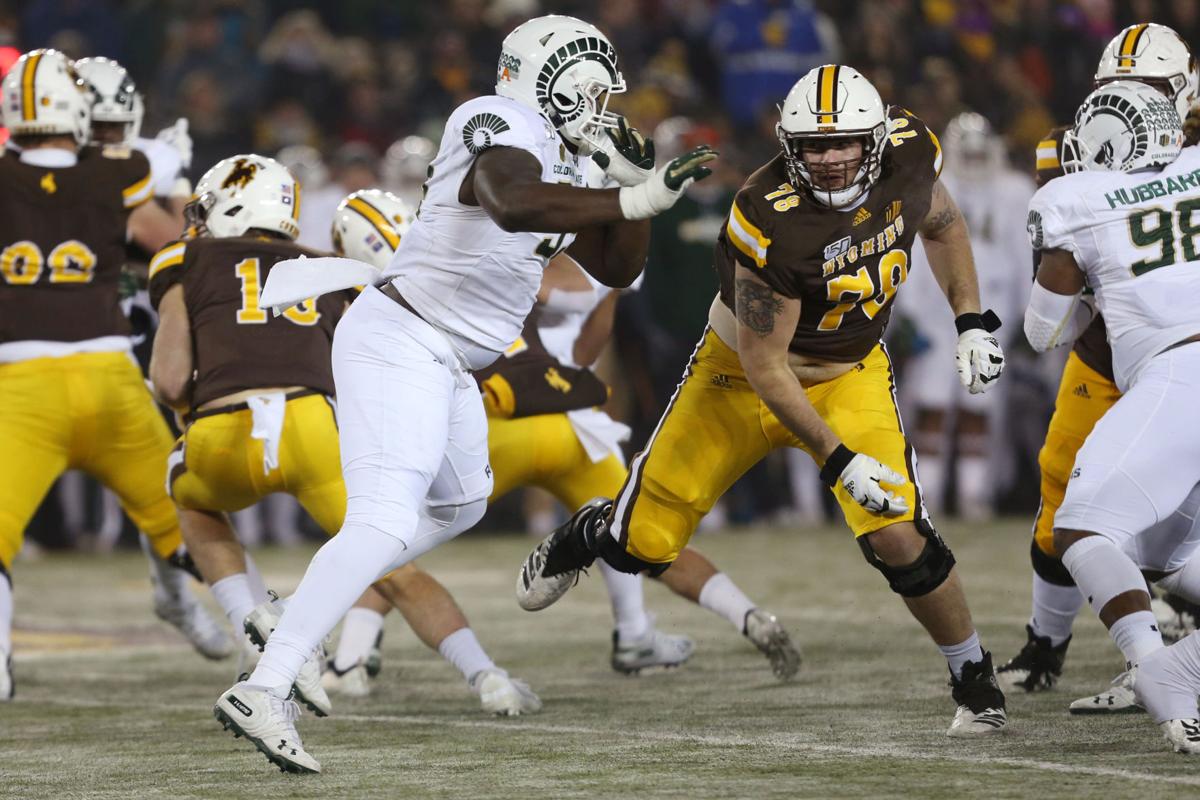 LARAMIE — The injury bug has taken another bite out of Wyoming offensive lineman Alonzo Velazquez.
UW coach Craig Bohl said the Cowboys' starting right tackle tore his labrum during a recent walk-through. Speaking to media members via Zoom following UW's fifth practice Wednesday night, Bohl didn't say how much time he expects Velazquez to miss, but the Cowboys are without one of their more experienced lineman for the foreseeable future.
"Really disappointing," Bohl said. "So we're down (at offensive tackle)."
Velazquez, a senior, has started 23 of the 24 games he's played during his time at UW but has been in and out of the starting lineup the last two seasons with knee injuries. A lesion stemming from a joint condition caused the 6-foot-6, 302-pounder to miss seven games in 2018 before a torn meniscus forced him to miss five games last season. He returned to start the final three games and has started 13 of the 14 games he's played the last two seasons.
But the Cowboys aren't completely green at the right tackle spot without Velazquez. Sophomore Frank Crum played in 12 games last season with five starts in Velazquez's absence.
Bohl said UW is "pretty healthy" other than that from an injury perspective.
'Good start' in pads
Wednesday marked UW's first practice in full pads.
Bohl singled out quarterbacks Sean Chambers and Levi Williams, who "really threw the ball well," he said. Bohl praised some of the plays made by UW's receivers, particularly senior Ayden Eberhardt, whom he said made a couple of impressive catches.
Bohl also made mention of the progress he said he's seen from some of the Cowboys' interior defensive linemen. Specifically, Bohl noted the play of sophomore nose tackle Cole Godbout, junior defensive tackle Victor Jones and true freshman Caleb Robinson — all of whom are likely to be counted on heavily this fall now that fellow interior linemen Mario Mora and Claude Cole have opted out of this season because of COVID-19 medical concerns.
"A really good start with pads," Bohl said.
Embracing the limit
Earlier this week, UW announced 7,000 fans will be allowed to attend the Cowboys' first home game, which will be played against Hawaii on Oct. 31.
It's only roughly 24 percent of the normal capacity at War Memorial Stadium, which seats 29,181 fans. But considering many sporting events nationwide, including some college football games, are being held without fans amid the coronavirus pandemic, Bohl said he's thankful for the limited attendance allowed by the Wyoming Department of Health, which worked with the university to come up with a number it felt was safe.
Health department spokeswoman Kim Deti told the Star-Tribune it's possible the attendance number could increase for games later in the season depending on local COVID-19 data.
"We embrace the number of people that can come," Bohl said. "What we do hope is the people that do show up, they yell like crazy and make it seem like it's 29,000 or 30,000."
Contingency plan
UW's coaching staff has managed to stay clean of the coronavirus so far, but Bohl said he's thought a lot about a contingency plan should he test positive at some point.
That recently happened to Florida State's Mike Norvell, who was unable to coach the Seminoles in their game against Miami last week after going into 10 days of isolation. A handful of Virginia Tech coaches weren't available for the Hokies' game against N.C. State last week because of coronavirus-related issues.
Bohl said he's got a course of action prepared should UW find itself in a similar situation during the season, though he's keeping it private.
"I have all of that laid out, but I have not shared that with anybody," Bohl said. "I probably won't."
Follow UW athletics beat writer Davis Potter on Twitter at @DavisEPotter.