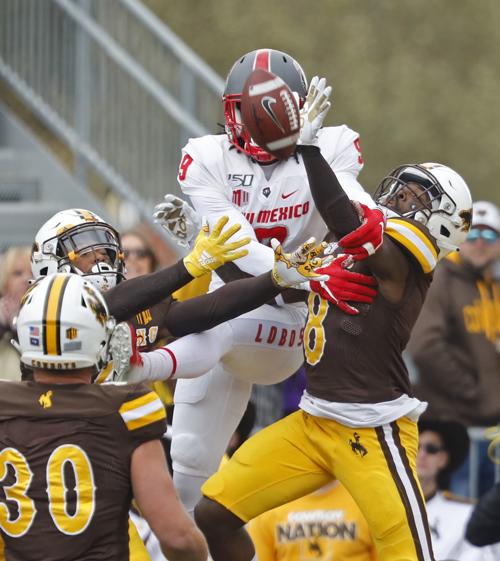 The Star-Tribune is taking an early look at each of Wyoming's opponents in the order they appear on the Cowboys' 2020 schedule. The final opponent is New Mexico.
LARAMIE — Eight seasons with Bob Davie didn't work for New Mexico, so the Lobos are trying something different.
Whether it was a forced move or not, Davie stepped aside as UNM's coach before the 2019 season ended. The Lobos ended it with just two wins — the fewest of Davie's tenure — and finished last in the Mountain West's Mountain Division for the third straight year.
Enter Danny Gonzales, who's now responsible for turning around a program that's had just two winning seasons since 2008. Gonzales, an Albuquerque native and former UNM player and assistant, returned to the program as head coach in December after spending the two previous seasons as Herm Edwards' defensive coordinator at Arizona State.
Should the upcoming season go on as scheduled amid the coronavirus pandemic, Wyoming will close out the regular season against Gonzales' Lobos on Nov. 28 at Dreamstyle Stadium in Albuquerque. UW has dominated the series of late, winning the last three meetings by a combined score of 96-16.
The Lobos need Gonzales' defensive background to pay immediate dividends given their immense struggles on that side of the ball. UNM allowed more points (37.2 per game) and yards (485.7) than any team in the league a season ago.
Gonazales brought his former boss, Rocky Long, out of retirement (sort of) to help out. Long, who coached at UNM from 1998-2008, was just weeks removed from announcing his retirement at San Diego State when he accepted Gonzales' offer to return to UNM as defensive coordinator in January.
Gonzales and Long have their work cut out for them with UNM losing its top four tacklers from last season. Joey Noble is back at defensive end, Jacobi Hearn (10 tackles for loss, six sacks) returns after a promising season at linebacker, and Donte Martin (nine pass breakups) had a breakout season at cornerback as a redshirt freshman.
Senior Jerrick Reed II, who finished fifth on the team with 51 tackles last season, gives UNM a seasoned player at safety, but the unit is in dire need of more playmaking ability. The Lobos had just four interceptions last season and tied for the worst turnover margin in the country (minus-1.25).
Offensively, new coordinator Derek Warehime has some experience to work with, though he'll have to find the quarterback he wants leading the Lobos' spread attack.
Junior Tevaka Tuioti (1,460 passing yards, seven passing TDs in nine games) may have the edge simply because he saw more action than any quarterback on the roster last season, but Brandt Hughes and Trae Hall also played. Tuioti, who added 262 rushing yards, also may bring the best true dual-threat ability to the position, but none of the quarterbacks completed better than 53.5 percent of their passes last season, so efficiency is still a work in progress.
The offensive line is heavy on upperclassmen and includes honorable mention all-conference center Kyle Stapley, but the Lobos' leading rusher, Ahmari Davis, doesn't have any eligibility left. The Lobos, who had the MW's third-best rushing attack last season (205.3 yards per game), still have a viable option in junior running back Bryson Carroll (536 rushing yards, two rushing TDs), but the fact that Tuioiti finished as the team's third-leading rusher a season ago speaks to the Lobos' lack of proven commodities in the backfield.
Leading receiver Jordan Kress (28 catches, 530 yards, six TDs) and tight end Marcus Williams (26, 428, 1) both return as weapons in the passing game. Anselem Umeh and Elijah Lilly also are back on the outside for an offense that's looking to be more explosive through the air after averaging just 195 passing yards a season ago.
Punter Tyson Dyer (46 yards per punt) and kicker Andrew Shelley (12 of 16 field goals) will head the Lobos' special teams units once again. Only time will tell if it all will add up to improvement on the field for UNM this fall.
Follow UW athletics beat writer Davis Potter on Twitter at @DavisEPotter.
Be the first to know
Get local news delivered to your inbox!