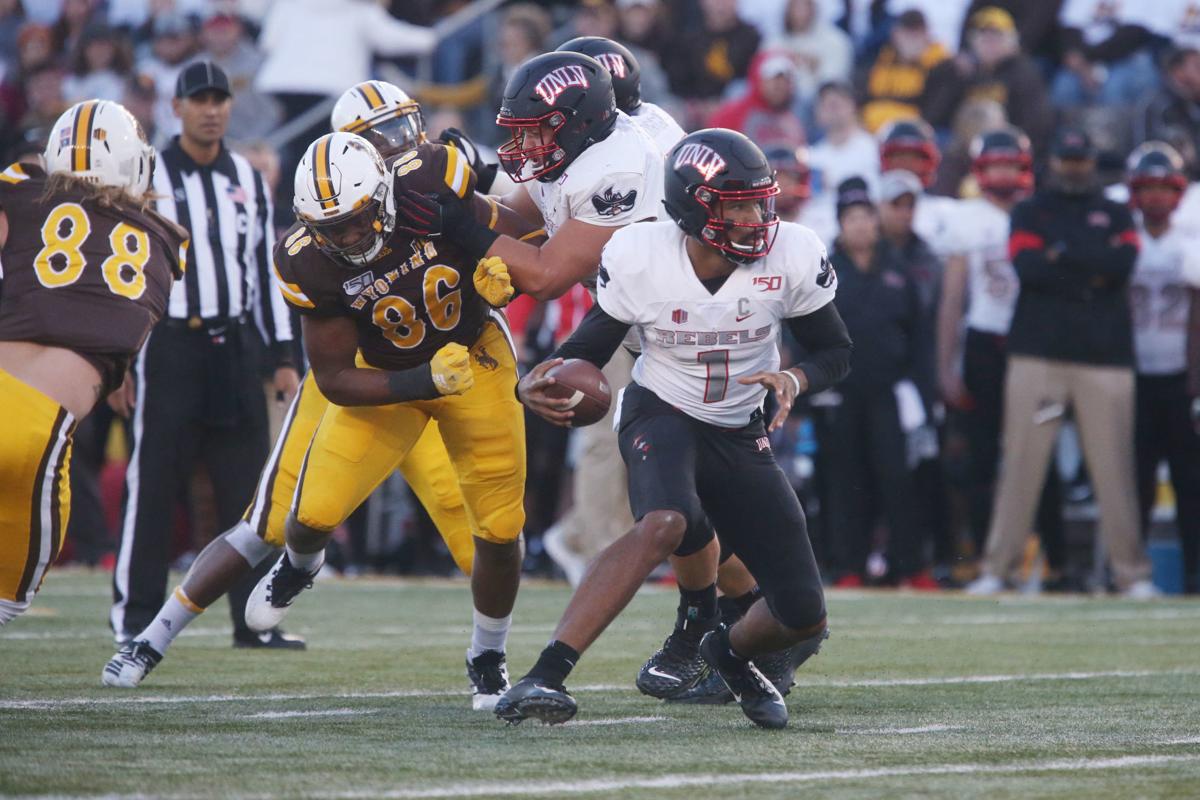 The Star-Tribune is taking an early look at each of Wyoming's opponents in the order they appear on the Cowboys' 2020 schedule. Next up is UNLV.
LARAMIE — Wyoming will open the Mountain West portion of its schedule this fall against a team that's starting over.
Following a bye week that scheduled to fall between the Cowboys' non-conference and conference slates, UW will head to Las Vegas on Oct. 10 for a road tilt with UNLV, which, if the schedule isn't affected by the coronavirus outbreak, will be a handful of games into the Marcus Arroyo era. Arroyo, who played collegiately at San Jose State and was the offensive coordinator at UW in 2009-10, officially made his return to the MW in December after spending the last three seasons as the offensive coordinator at Oregon.
Arroyo replaced Tony Sanchez, who failed to lead the Rebels to a winning record in his five seasons at the helm. UNLV finished 4-8 last season, which included a 53-17 beating at the hands of UW in Laramie, but the Rebels' roster does have some experience Arroyo can work with, particularly on the side of the ball that's considered his expertise.
Start at the most important position on the field, where UNLV has two quarterbacks that have started multiple games. Senior Armani Rodgers is the grizzled veteran, but the former MW Offensive Player of the Year has been plagued by injuries and inconsistency throughout his time in Vegas. So much so that Kenyon Oblad, who will be a sophomore this season, eventually replaced Rogers as the starter last season, throwing for 2,081 yards and 18 touchdowns.
Oblad's overall performance likely has him as the favorite to remain the starter heading into preseason camp, though he and Rogers combined to complete less than 54 percent of their passes and tossed 12 interceptions. Senior Max Gilliam, who started his career at Cal, also is an option at the position as the Rebels try to improve on an offense that ranked eighth in the league in passing yards (206.2 per game) and ninth in scoring (24.2).
The Rebels' unquestioned offensive centerpiece is running back Charles Williams, who may be the quarterbacks' best friend by helping take some of the pressure off UNLV's passing game. Williams logged 212 carries last season and averaged 5.9 yards on those attempts, finishing as the MW's second-leading rusher (1,257 yards) with 11 rushing touchdowns. Fellow running back Darran Williams' playing days are reportedly over after he suffered a heart attack during an offseason workout, but Chad Maygar and Tyree Jackson should help provide depth in the backfield.
The Rebels have a promising group of receivers, some of whom are still looking to put together consistent production. USC transfer Randal Grimes led the team in receptions (44), yards (696) and receiving touchdowns (7) in his first season in a UNLV uniform while Steve Jenkins is also back after averaging 16.7 yards per reception with two scores a season ago.
Who emerges behind those two remains to be seen as no other returning receiver had more than 20 catches last season, but tight ends Noah Bean and Gio Fauolo Sr., who combined for 44 receptions and four touchdowns, are back.
On defense, there figures to be plenty of competition for starting jobs, particularly in the first two levels, for a unit that was among the worst in the MW. The Rebels are losing four of their top five tacklers, including linebackers Rayshad Jackson and Javin White. Gabe McCoy, who had eight tackles for loss and two sacks last season, is also gone from a linebacking corps that was decimated by graduation, though Farrell Hester II, UNLV's fourth-leading tackler a season ago, leaves the Rebels with some experience there.
McCoy's departure won't help a pass rush that struggled last season as UNLV tallied just 12 sacks. Kolo Uasike and Tavis Malakius should help anchor the middle of the defensive line. Nate Neal, Jalen Graves and Nick Dehdashtian will all be a part of the competition at defensive end.
There are also some key pieces for UNLV to replace in the secondary, including Evan Austrie (second-leading tackler) and Jericho Flowers (team-high four interceptions). Aaron Lewis is back at corner while junior college transfer Jeremiah Houston should also help there. Bryce Jackson, Greg Francis and Drew Tejchman, who's coming off a season-ending injury, return at safety.
Senior Daniel Gutierrez is also back as UNLV's kicker after converting on 78.5 percent of his field goals last season. Time will tell if all of that will be enough for improvement in Arroyo's debut season with the Rebels.
Follow UW athletics beat writer Davis Potter on Twitter at @DavisEPotter.
Be the first to know
Get local news delivered to your inbox!