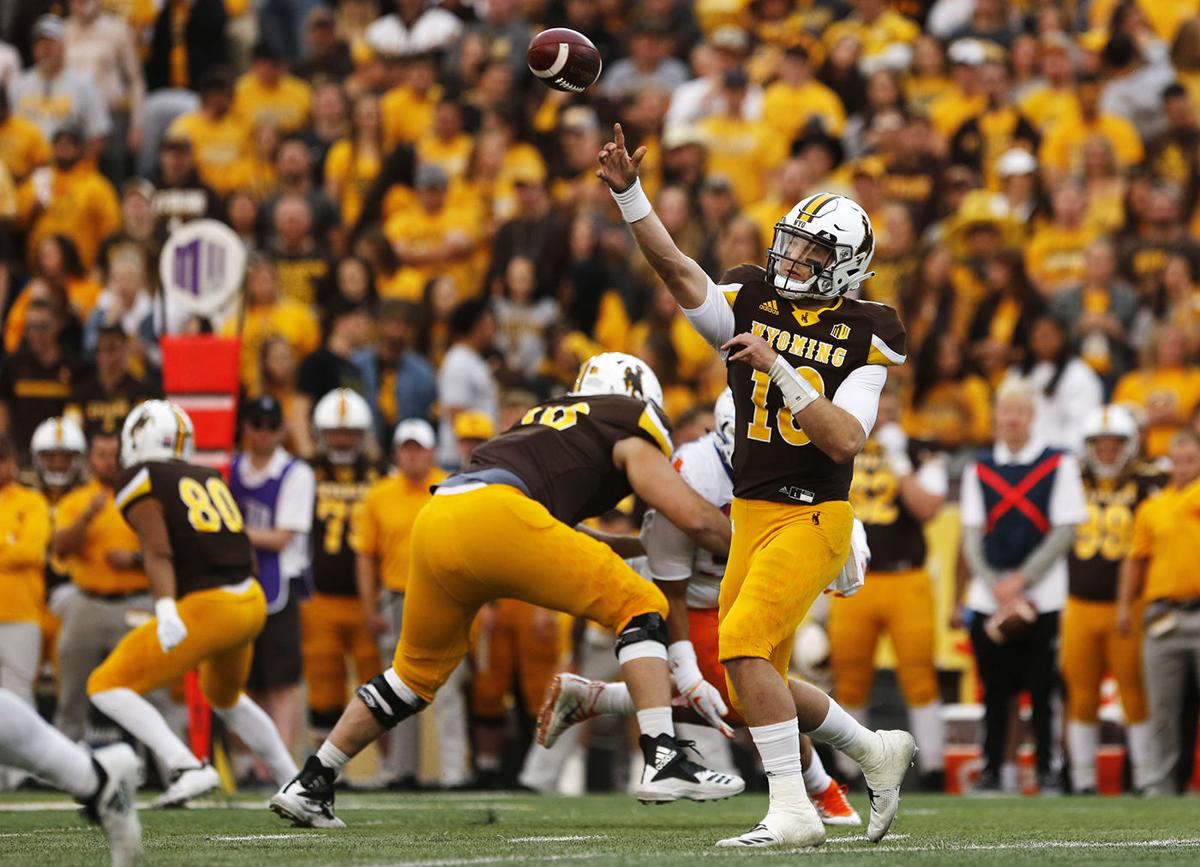 LARAMIE — It's been three years since Josiah Hall put his hands together over his head in the end zone at War Memorial Stadium, twirled them around and added a few hip gyrations.
Now known in Wyoming as the safety dance, those moves celebrating the decisive play at the tail end of the Cowboys' 30-28 win over then-No. 13 Boise State in 2016 is still the fondest memory Hall has of the series between the Mountain West divisional opponents. There's a particular reason for that.
"Especially because that's the only time we've won since I've been here," Wyoming's senior defensive end said.
It's also the only time the Cowboys have beaten Boise State in 13 all-time meetings, something they'll try to change this weekend in a unique environment.
"Just recognize we've got to do what we do and go out, play fast and play really well," Wyoming coach Craig Bohl said. "They're in the Top 25. I rated them in the Top 25. They should be there, but it's a great opportunity for us."
Like most teams that have played in Boise in recent years, Wyoming hasn't had much luck on the blue turf. The Broncos have a 117-9 home record since the start of the 2000 season for a 93-percent success rate, making for the nation's highest home winning percentage during that span. Wyoming is winless in its six previous trips to Albertsons Stadium with Boise's average margin of victory being 19.8 points in those games, though the Cowboys played their most competitive game in their most recent trip in 2017 in a 24-14 loss.
"It's always tough to pull out a win there. We've never done it," senior tight end Josh Harshman said. "You know it's going to be a packed stadium, and there's always going to be fans out. Their talent is a big aspect of that, but the biggest thing for us is if we can start fast and just jump on them early, we'll have a really good shot against them. But it's definitely a tough place to play for sure."
Vander Waal has played in three games this season and got his most extensive reps in the second half of Wyoming's 31-3 win over Nevada once Chambers went out with his left knee injury. The 6-foot-4, 220-pounder went just 3 of 10 passing, but one of those completions went for a 25-yard score to tight end Jackson Marcotte.
Though he's more of a traditional pocket passer than the fleet-footed Chambers, Bohl said the playbook won't change much for Vander Waal, who's bringing some confidence gained from his past experiences into his first start in nearly a full calendar year.
"I think I'm in a different place than I was last year mentally and even as a quarterback leadership-wise, too," Vander Waal said. "I'm just ready to go out there and show people what I'm capable of."
Vander Waal will need the help of his offensive line and the nation's No. 14-ranked rushing attack to keep a Boise State defense that's tied for the second-most sacks in the league at bay. But nobody in the MW has been better at getting to the quarterback than Wyoming with 26 sacks — the kind of pressure the Cowboys will try to continue to generate against the Broncos' true freshman quarterback, Hank Bachmeier.
Bachmeier, who's completing 63.2 percent of his passes with nine touchdown passes and four interceptions, will lead the league's fourth-best passing offense (291 yards per game) against a Wyoming defense that's yielding the second-most passing yards (288.8). The Broncos like to go deep as evidenced by their 8.6 yards per completion — second-highest in the MW — making it even more important for a defense that's helped Wyoming to the nation's eighth-best turnover margin (plus-8) to get after Boise's young signal caller.
"They're always a team that executes well and doesn't mess up too much," Hall said. "We've got to figure out a way to do what we do and force them to make mistakes. That's what we're working on."
The matchup will also feature Boise's No. 4 rushing offense in the conference against Wyoming's No. 2 rush defense and the Cowboys' No. 2 rushing offense against Boise's No. 4 rush defense. How the Cowboys handle the line of scrimmage as well as the environment will go a long way in determining if they can change their fortunes on The Blue.
"It's hostile for sure," Hall said. "And whenever you go there, you know you're going to play a good football team, so you've got to come play your best football. That's the expectation."
Follow UW athletics beat writer Davis Potter on Twitter @DavisEPotter
Be the first to know
Get local news delivered to your inbox!