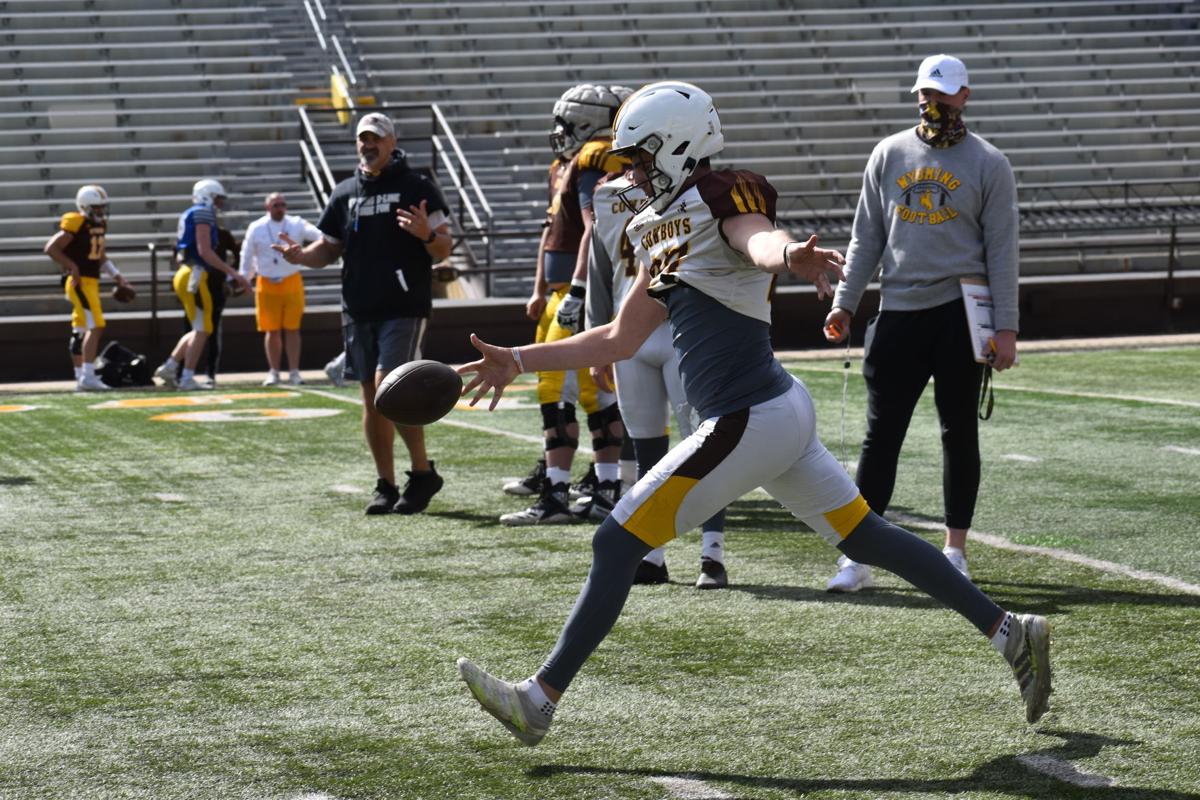 LARAMIE – If all goes according to plan, the Cowboys won't need to punt much in Connecticut.
That doesn't mean Wyoming head coach Craig Bohl, who oversees the kicking game, isn't pleased with Ralph Fawaz.
The redshirt freshman is off to a fast start after winning the starting position during fall camp. Through three games, Fawaz has averaged 44.1 yards per punt with a long of 54 yards.
More importantly, Fawaz has placed eight of his 14 attempts inside the opponents' 20-yard line.
During UW's 45-12 victory over Ball State last Saturday, Fawaz flipped the field with three punts of at least 50 yards and two placed inside the 20.
"Ralph really did an excellent job," Bohl said. "I thought our coverage units were well done. Ball State really pressured our protection, and we had a good operation time. Ralph did a great job turning the field over. Field position had a great deal to do with our success Saturday, along with the takeaways."
UW enjoyed a 31-0 lead at the intermission before stalling out on the first two drives of the third quarter. Fawaz pinned the Cardinals at their own 7- and 13-yard line.
Fawaz said his primary motivation is to make the jobs easier for Chad Muma, Ayden Eberhardt, Braden Smith, Garrett Crall, Xazavian Valladay and other players putting their bodies on the line.
"I know those guys are doing absolutely everything to help our team win," Fawaz said. "We're all real close friends. So it's nice to play for them and do well for them and help them."
While Cowboys fans were focused on the new offense during the spring game, Fawaz was living a nightmare at War Memorial Stadium when his muffed punt was returned by freshman defensive back Zaire Jackson for a touchdown.
In June, Bohl used the NCAA transfer portal to add Clayton Stewart to the roster to compete with Fawaz for the starting job. Stewart, who has three years of eligibility remaining, had nine punts of 50-plus yards at Texas State, including a long of 60 yards.
But Fawaz was unfazed during fall camp and won the battle. During the opener against Montana State, he averaged 45.7 yards per punt with five of the six kicks downed inside the Bobcats' 20-yard line.
"It did help me," Fawaz said. "Clayton is a great, he's a phenomenal punter. He can hit some crazy great balls. Coach Bohl always talks about how competition brings out the best of us, and it definitely did."
The loss of long snapper Read Sunn to a season-injury suffered during camp has added to Bohl's stress level. Defensive end Teagan Liufau has been handling the duties in the punt game.
"I think Teagan has done a great job," Fawaz said. "We started off a little rough the first two games, but it was all right in this third game, all five snaps were perfect."
The Cowboys (3-0) should be able to consistently move the chains against UConn on Saturday at Rentschler Field in East Hartford, Connecticut (1:30 p.m., CBS Sports Network). The Huskies (0-4) are giving up 46.0 points and 491.8 yards per game this season.
If UW does need to punt, though, Fawaz will be ready to give the team a leg up.
"At first, I just really wanted to come up here and play Division I football," Fawaz said of his decision to attend school at 7,220 feet, where his punts travel about 5 to 10 yards farther than he was used to in Cache, Oklahoma. "Then when I got up here, the difference in elevation between Laramie and Oklahoma was insane. I love it here now."
Follow UW beat writer Ryan Thorburn on Twitter @By_RyanThorburn