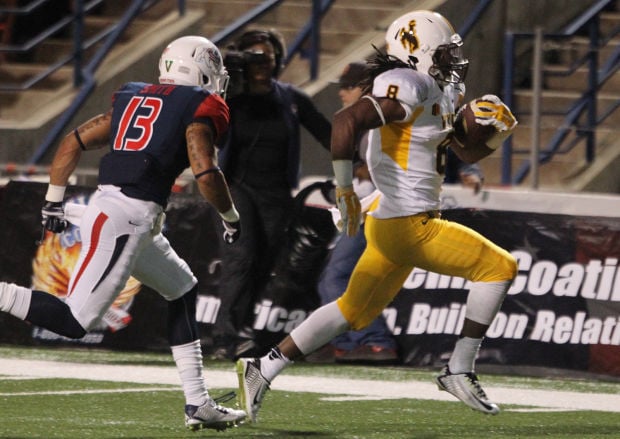 Before Brian Hill flew, the flag did.
Early in the third quarter inside Bulldog Stadium on Saturday night, Wyoming's freshman running back -- his dreadlocks barely contained by a white helmet, eyes lost inside a visor, legs ready and willing -- took a step forward a split second too early. A yellow penalty flag bounced off the turf, whistles blew and a referee announced the false start.
On a damp night in Fresno, Calif., Hill's next carry couldn't come soon enough.
In the first start of his career, the 6-foot-1, 204-pound wrecking ball laid waste to all in his path. He collected long runs like they were baseball cards, stacking them up until records shattered underneath the weight.
By the time it was over, he had amassed 387 all-purpose yards -- more than any player in University of Wyoming or Mountain West Conference history, not to mention Fresno State's entire offense on Saturday night in a 45-17 Wyoming win.
The freshman celebrated with a sheepish grin.
"The O-line did great," Hill said. "They won the battle at the front line every time, and I just benefited off of that."
He benefited early, and often, and at the expense of a Bulldog defense that was helpless to slow him down. But before the dam broke, it cracked. On Wyoming's second series of the game, Hill took a handoff and accelerated through a crease in the middle of the offensive line. He made a move, shrugged off a tackle, and that was it.
He was off -- chugging, chugging, chugging -- blue jerseys losing ground, and losing hope, every step of the way.
Next stop, end zone. And soon after, history.
"We were just trying to get one play at a time," Hill said. "All we were worried about was scoring."
In the second quarter, Hill twisted the knife. He took a handoff and busted into the second level -- past linemen, linebackers, bleachers sparsely populated with fans emitting tortured groans -- and towards the white-and-red checkered space beyond the goal line.
At his sides, both Bulldog safeties converged in a line behind him. They chased a white-and-gold streak, a nightmare. They chased the No. 8 at his back, which became smaller and smaller as his strides got longer.
They chased, but the safeties couldn't catch. Not on Saturday. Not when it mattered.
"When you can run the ball, it makes the quarterback's job a lot easier," redshirt senior quarterback Colby Kirkegaard said.
Has Hill stopped running yet?
So that was how, despite long odds and an essay of an injury report, Wyoming snapped a four-game losing streak on the road. Hill carried a team on his back, but you wouldn't have known it by watching him run.
If he started the night as a snowball, he ended it as an avalanche.
"I'm always confident, but right now I have all the confidence in the world," Hill said.
Rightly so. Even for Wyoming coach Craig Bohl, who has coached 30 years of college football, Hill's performance was unique. For any team on any level, 387 all-purpose yards doesn't come along often.
It demands the right player, the right team, the right moment.
On Saturday, the stars -- and the offensive linemen -- perfectly aligned.
"I heard his numbers, and those are pretty phenomenal," Bohl said.
Wyoming football fans will forgive that false start penalty, just as they'll forgive the fumble he coughed up at the Fresno State 2-yard line in the second quarter.
Years from now, they'll remember the things Fresno State's defenders wish so desperately to forget.
Like the 32-yard touchdown, or the 66-yard score that followed it. Like Hill's 89-yard scamper along the left sideline in the fourth quarter.
Like Fresno State's fans streaming out of Bulldog Stadium in packs, leaving a spirited Wyoming cheering section to bounce "W-Y-O" chants off of all the empty seats that surrounded them.
Like the one night where injuries, consecutive losses and long odds didn't matter.
On Saturday night, the only thing that mattered was Brian Hill.
Be the first to know
Get local news delivered to your inbox!