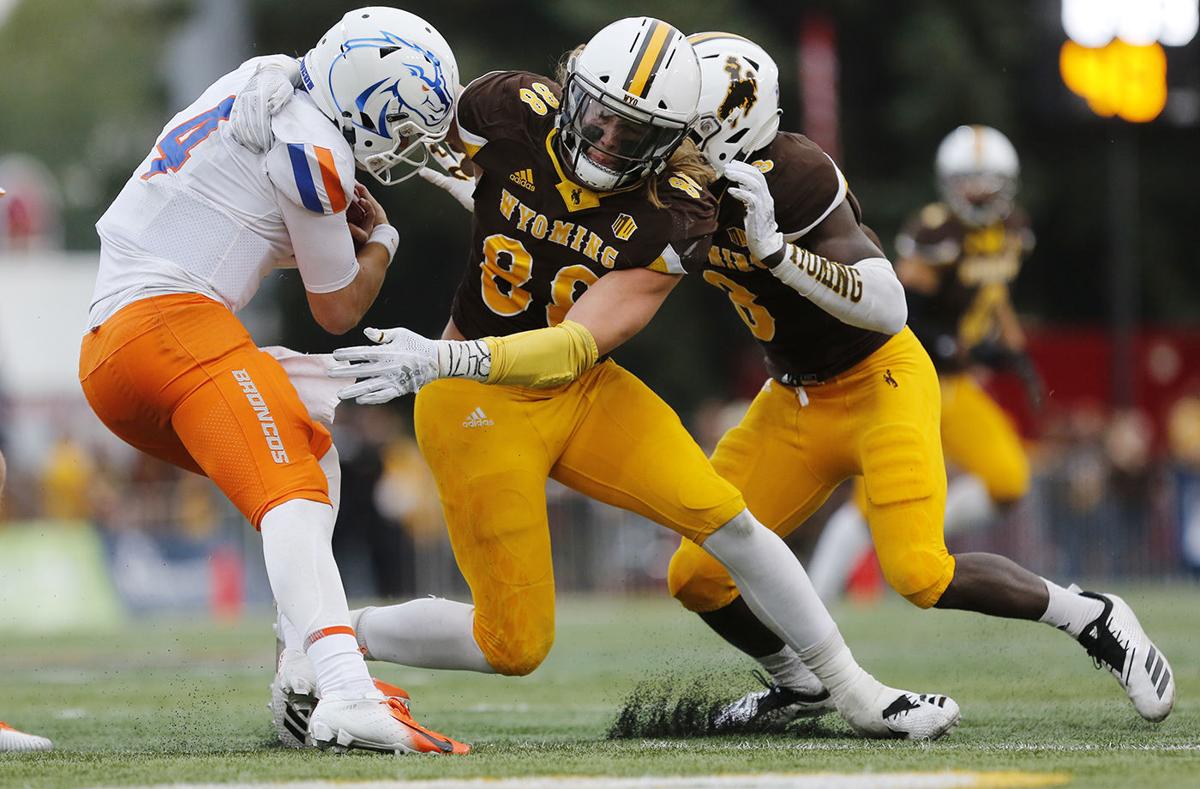 LARAMIE — Wyoming will start its final month of the regular season in front of a national television audience.
The Cowboys' Mountain West tilt against No. 21 Boise State at Albertsons Stadium will kick off at 8:15 p.m. Nov. 9 and be carried on ESPN, the ESPN Networks announced Monday.
Wyoming's game against UNLV was televised on ESPNU, while its Border War matchup against Colorado State on Nov. 22 will be carried on ESPN2. But the Cowboys' first of three road games in November will mark their first time playing on the network's mothership channel since the Potato Bowl in 2017.
Fresh off their 31-3 win over Nevada, the Cowboys have a week off before their trip to Boise, Idaho, where Wyoming hasn't won since the Broncos joined the league in 2011.
"They're a nationally rated team, and they're a national brand," Wyoming coach Craig Bohl said. "Any time you have a chance to play a nationally rated team and a national brand, that changes the profile. I know that game will be a heavily watched game and a great opportunity for our program."
The matchup will come with major Mountain Division championship implications. Depending on the outcome of Boise State's game against San Jose State this weekend, Wyoming (6-2, 3-1 MW) will be either be one game back or tied with the Broncos (6-1, 3-0) atop the crowded division standings. Air Force and Utah State each only have one conference loss while even Colorado State is still in contention with a 2-2 league mark.
"That maybe gives you maybe an indication of the gravity of the game," Bohl said of the network's decision to put the game in a primetime slot.
It's also a return to a night kickoff for Wyoming after having back-to-back afternoon kicks, though it's only the second time the Cowboys will have played after 8 p.m. Mountain Time. Only their 8:30 kick at SDSU was later this season.
"For the away games especially, getting a good night of sleep is definitely beneficial," tight end Josh Harshman said. "But 8 is a long way away from when you wake up in the morning. I like the earlier games, but we'll play whenever."
Valladay earns weekly MW honor
Running back Xazavian Valladay was named the Mountain West's Offensive Player of the Week on Monday after his career performance against Nevada.
The sophomore ran for a career-high 206 yards and had a 53-yard touchdown reception on Wyoming's first offensive snap as part of 74 receiving yards. His 280 all-purpose yards were the most for a Wyoming player since Brian Hill accounted for 302 yards against the Wolf Pack in 2016.
It's the first weekly honor for Valladay and the second for a Wyoming player this season. Safety Alijah Halliburton was named the conference's Defensive Player of the Week after racking up a career-high 17 tackles in the season opener against Missouri.
Injury update
Quarterback Sean Chambers, who watched the second half of Wyoming's win over Nevada from the sideline, underwent an MRI on his left knee as a precaution, Bohl said. There was no structural damage for Chambers, whom Bohl said was cleared to return against the Wolf Pack if needed.
Eric Abojei will join fellow offensive lineman Alonzo Velazquez in having knee surgery. Both have missed the last two games, and Bohl said their chances of returning this season are "remote."
Running back Titus Swen (knee) has also missed the last two games, though Bohl said the true freshman is ahead of schedule in his recovery after initially estimating Swen would be out four weeks. As for fellow running back Trey Smith (ankle), Bohl said he's optimistically hoping he can return closer to the end of the regular season.