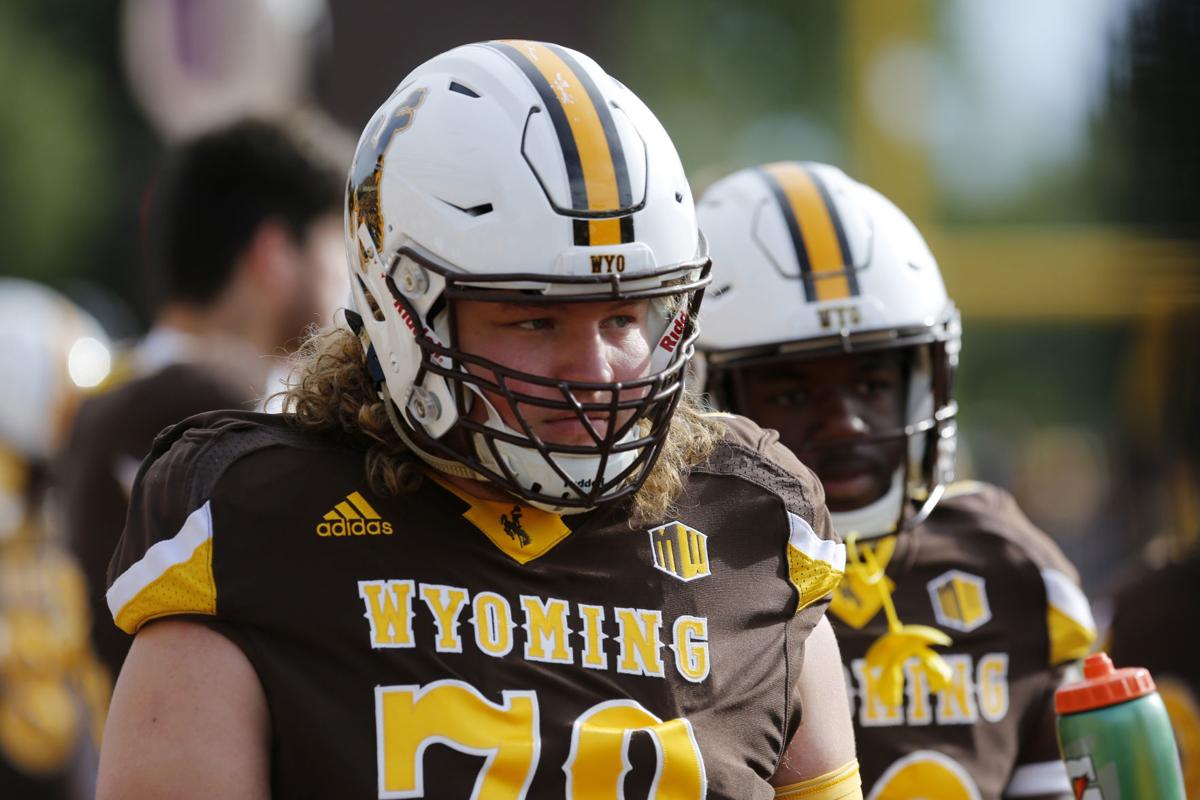 LARAMIE — Scary is the best way he can describe it.
And for a while, Logan Harris wasn't sure exactly how concerned he needed to be.
"I was in a neck brace for a long time," Harris said. "They did a series of CT scans and stuff like that, so you really never know."
Wyoming's junior offensive lineman recalls the play against Tulsa on Sept. 21. He remembers trying to throw a block for a scrambling Tyler Vander Waal. But as far as the hit he took near his head that sent him to the turf at H.A. Chapman Stadium and eventually to a Tulsa hospital, there's not much Harris can recall about that.
"I've never been — knock on wood — injured like that on a field, and that's the first time I've ever had a concussion," Harris said. "It was pretty scary. It was kind of surreal. They're like, 'We've got to get the ambulance out here.' And I was like, 'Wait, what?'"
Harris remembered that because he was conscious at least. As he was lifted into an ambulance by medical personnel, the Torrington native flashed a thumbs up toward his teammates and coaches that had gathered near him near midfield in concern — a encouraging sign that perhaps an injury wasn't as severe as it looked.
The medical tests confirmed as much. After a brief stay, Harris was released from the hospital in time to fly back to Wyoming with the team that night.
"Some things can be worse, and some things aren't as bad as you think," Harris said. "I knew I had my bell rung and had something going on upstairs, but I looked at the positive outlook of it that I was still able to walk around."
Nearly three weeks removed from the injury, Harris is doing much more than that. After watching the Cowboys' 53-17 pasting of UNLV from the sideline at War Memorial Stadium on Sept. 28, Harris said he started running again at the beginning of last week. He even got in a workout Monday morning.
"I've never been told to stay this still for a long time," Harris said, referencing how limited his physical activity was the week after the injury. "I'm a very active person. I can't stay inside at all. I've got to always be doing something. It was hard that first week, but I've been running. I've been doing a lot of exercise stuff."
Harris said he's still going through concussion protocol and hasn't been cleared for contact yet, but he's made enough progress that both he and Wyoming coach Craig Bohl expect him to be back on the field come Saturday night when the Cowboys return to action at San Diego State.
Harris was listed as the starting right guard on Wyoming's updated chart Monday.
"Just looking at him as a friend, just knowing that he's healthy and God forbid anything else happen to him, he's back right," cornerback Tyler Hall said. "That was a scary moment when he went down and nobody knew what was going on. They didn't say anything.
"Having a guy like him back, especially going into a game like that, is very key for us."
Harris said he's looking forward to getting back on the field, and he expects to be going full speed, whenever that is. It would be easy for an injury scare like that to become a mental hurdle, but Harris said it's one he's already cleared with himself.
"It's just what happens. It's a game," Harris said. "Everybody gets hurt. You don't want to get hurt, but it's almost unpreventable, especially with one that I had. It just happens."
Be the first to know
Get local news delivered to your inbox!