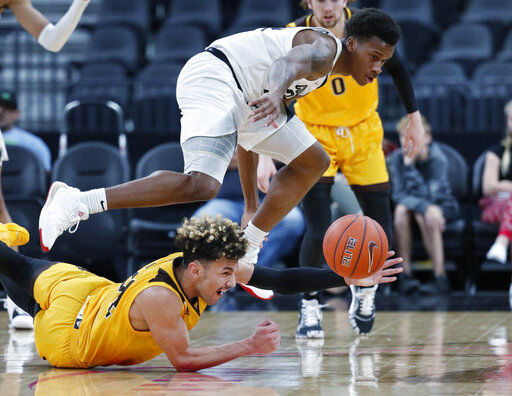 LARAMIE — It's been a week since Wyoming last played a basketball game, giving the Cowboys plenty of time to prep for their unusually early start to the Mountain West portion of their schedule.
The Cowboys' 64-47 loss to TCU last Tuesday in the MGM Resorts Main Event was their fifth game in 11 days, but rest is far from the only thing Wyoming has tried to catch up on since. Wyoming will open league play Wednesday at the Arena-Auditorium against Air Force before another conference home tilt against New Mexico on Saturday.
And despite being one of the stingiest teams in the league through the season's first month, Wyoming enters its opening MW stretch with more losses than wins in large part because of an offense that's yet to consistently show up.
"At the end of the day, we're going to have to score," Wyoming coach Allen Edwards said. "That's the nature of the game."
Wyoming is allowing the second-fewest points in the MW (59.9 per game) and is holding its opponents, which already include four high-major teams (Colorado, TCU, Oregon State, South Carolina), to 38.5-percent shooting from the field. But nobody in the conference is scoring fewer points (54.4) or shooting it at a lower clip (39.4 percent) than the Cowboys, who failed to crack 50 points in their losses to TCU and Colorado in Las Vegas last week.
Those numbers dropped after Wyoming combined to score just 29 points in the first half of those games, including its fewest in a half all season (14) in the loss to TCU. Wyoming has scored fewer than 55 points in all but three of its games.
Edwards credited the defense played by Colorado and TCU, but Wyoming's coach said the continued misfiring on open looks also contributed to the 32.5-percent clip his team shot in those games. The Cowboys are still relying heavily on sophomore forward Hunter Maldonado (15.8 points per game) to carry the scoring load, but even Wyoming's leading scorer hasn't been immune to the Cowboys' collective inefficiency on the offensive end.
You have free articles remaining.
Maldonado is shooting just 43.6 percent from the field but is one of just three regulars shooting better than 39 percent. It's been a particularly tough go of it for senior guard Jake Hendricks and sophomore big Hunter Thompson. Hendricks, who shot a team-best 42 percent from 3-point range last season, is shooting just 32.7 percent from deep after going a combined 6 of 18 from the field in the last two games.
After breaking out with a season-high 22 points against Louisiana on Nov. 21, Thompson, the Cowboys' third-leading scorer last season, again struggled to find his stroke last week. He combined for just eight points on 3 of 11 shooting with seven of those attempts coming from 3.
"I do believe we do have guys that are more than capable," Edwards said. "It's not about missing the shots. It's about who's missing the shots. Thompson and Hendricks, those guys have got to make shots for us. Maldo has got to score for us. He's not shooting it particularly well himself, but he has to score for us."
Edwards said it's on him, his staff and his players to continue being positive with each other so that confidence doesn't wane with all the shooting slumps happening simultaneously, but there are also some changes that need to be made. Specifically, Edwards said there's been an emphasis during practice on balancing out Thompson's game with more of an inside presence. The 6-foot-10 stretch forward has attempted more than half of his shots from beyond the arc (38 of 61), connecting on just 26.3 percent of them so far.
"Thompson has to be more of an inside presence for us, too, and not get comfortable with just playing out on the perimeter," Edwards said.
More consistency out of TJ Taylor and A.J. Banks would help, too. After each reached double figures in the previous two games, the two combined for just eight points with Banks going scoreless against Colorado and TCU. Edwards also didn't rule out sophomore wing Brandon Porter, who's averaged just 4.2 minutes a game to this point, getting more playing time as the Cowboys look for more consistent scoring up and down the roster.
"If there's one thing Porter can do, Porter can score," Edwards said. "We've got to get him to understand defense more intently, and he's trying. But I think he can help with that in a sense of putting the ball in the hole.
"Is it a struggle? Yeah. But watching practice and watching them shoot, I'm saying it's a matter of time."
Follow UW athletics beat writer Davis Potter on Twitter at @DavisEPotter.