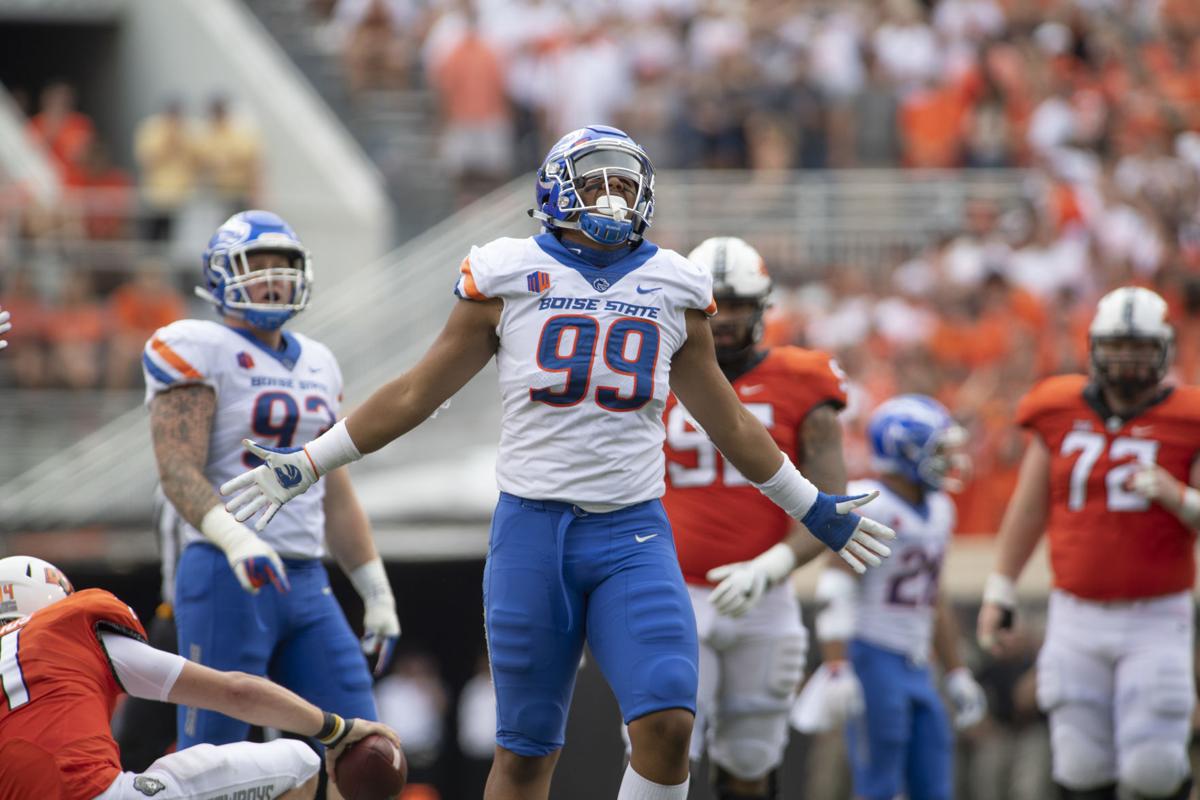 LARAMIE — Boise State has been known for its intricate-and-sometimes-tricky offense over the years, but the Broncos haven't been too shabby on the other side of the ball this season.
Under first-year defensive coordinator Jeff Schmedding, Boise State ranks in the top 4 in the Mountain West in points, total yards and rushing yards allowed. There's one player in particular leading that charge who, at 6-foot-3 and 265 pounds, is hard to miss.
"He's a big rascal out there and plays really aggressive," Wyoming coach Craig Bohl said.
It's Wyoming's turn to deal with Curtis Weaver, who's been one of the nation's most disruptive defensive linemen over the last three seasons. Playing the STUD, a hybrid defensive end-outside linebacker position, in Boise State's defense, Weaver, who's also got seven career pass breakups and an interception, is a versatile defender that Wyoming's offensive line will have to make a point of keeping tabs on before each snap when the teams meet Saturday night at Boise's Albertsons Stadium.
"He's definitely a guy that has to get your attention and will get ours for sure," Wyoming offensive coordinator Brent Vigen said.
You have free articles remaining.
But Weaver does most of his damage coming off the edge. The two-time first-team all-MW selection leads the league in sacks (10) and tackles for loss (12.5) this season. Weaver racked up four sacks against Portland State in September, and with three more against UNLV on Oct. 6, he became the league's all-time sack leader as a junior. Getting some buzz as a potential first-round pick in next year's NFL Draft, Weaver is already up to 31 sacks and 40.5 tackles for loss for his career.
Bohl said it's difficult for him to compare Weaver to anybody he's seen in the league over the years given his combination of size and explosion. But he added it's no coincidence Weaver has been as productive as he's been.
"He comes off the edge, he can control the line of scrimmage, and he's got good instincts," Bohl said. "Those are all elements to a great defensive player. They utilize him well."
Wyoming has allowed just eight sacks this season — tied for seventh-fewest nationally — though the Cowboys have a more traditional pocket passer at quarterback now with Tyler Vander Waal stepping in for the injured Sean Chambers, who's still ninth in the MW in rushing. Bohl said the playbook won't change much with Vander Waal behind center, but the Cowboys, who've attempted more than 20 passes just once this season, may utilize the passing game more than usual.
Protecting the less-mobile Vander Waal will be imperative for Wyoming's offensive line against a Boise State defense that's tied for the second-most sacks in the league (22).
"We'll have our hands full, and I think our guys with the extra week of preparation will have a really good understanding of what they're trying to do with us," Vigen said.
That will start with accounting for Weaver so the Cowboys can try to keep him out of the backfield. As most offenses he's lined up against can attest to, that's easier said than done.
"They're aggressive, but they're assignment-bound," Bohl said. "You don't see guys out of position. You see them run to the football really well, and they tackle really well. Weaver is kind of one of the guys that leads them."
Follow UW athletics beat writer Davis Potter on Twitter at @DavisEPotter.