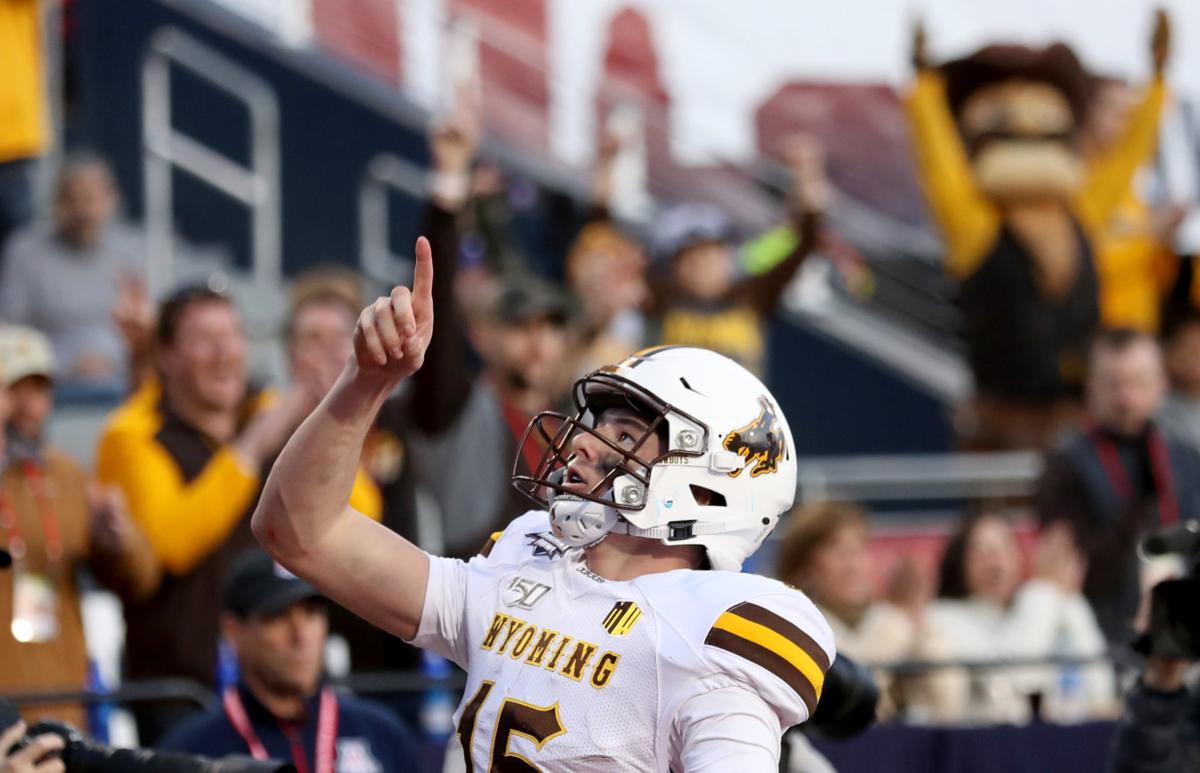 Levi Williams has strong audition for next season
If the Arizona Bowl was any indication, Wyoming could have itself another quarterback competition looming.
This spring, it was Sean Chambers solidifying the job over Tyler Vander Waal. Vander Waal is almost certainly on his way out of the program after entering the NCAA's transfer portal a few weeks back, but true freshman Levi Williams could enter the equation at the position given how he looked Tuesday.
Making his first career start, Williams shined against Georgia State. The 6-foot-5, 208-pounder wasn't terribly efficient — he completed just 42 percent of his passes — but, as Wyoming coach Craig Bohl noted afterward, he looked composed. There was an interception he threw off his back foot late in the first half that you could chalk up to a freshman moment for a guy playing in his third career game, but he delivered big plays in the clutch more often than not.
He had touchdown passes of 18 and 51 yards and also delivered a 62-yard strike to Xazavian Valladay — the Cowboys' longest pass of the season — to set up another touchdown. All three of his touchdown passes came on third down, helping Wyoming start 9 of 12 on third down and finish 11 of 17 on the money down. His 234 yards passing marked the most for Wyoming all season, and he added 53 more yards and a score on the ground.
Bohl has said in the past he's never had a player lose his spot atop the depth chart because of an injury, and given how dynamic Chambers is in the running game, it's hard to see Chambers not back as QB1 whenever his surgically repaired knee returns to full strength.
But should there be a competition heading into next season? Or at least a platoon? You have to think Williams, who accounted for 524 total yards in the three games he played this season, has at least made Bohl and offensive coordinator Brent Vigen start pondering those questions with the way he performed down the stretch.
Xazavian Valladay is an emerging star
Wyoming's sophomore running back doesn't like the limelight. Given the chance to talk about himself, he usually opts to thank his offensive line or a Wyoming defense that was really good about getting the ball back to the offense this season to give him more opportunities.
You have free articles remaining.
But Valladay better start getting used to all the attention.
Valladay put together another lunch-pail type of performance against GSU that doubled as his best of the season. The first-team all-Mountain West selection was bottled up for much of the first half but exploded as part of the Cowboys' 218 second-half rushing yards. He finished with 204 yards on the ground and 91 receiving, surpassing the 280 all-purpose yards he had against Nevada earlier this season.
Valladay finished with six 100-yard games in the last seven games of the season. He ran for 1,385 yards on the season. And it's not just the running game where Valladay can hurt you (211 receiving yards).
He's quickly emerging as one of more well-rounded backs in the MW and could become a household name next season.
Wyoming takes momentum into the offseason
The excitement of a 6-2 start for Wyoming was dampened some after the Cowboys lost three of four games to end the regular season. Bohl and his players talked at length about wanting to get that bad taste out of their collective mouth in the bowl game, and Wyoming did that Tuesday.
It gives the Cowboys a wave of momentum heading into one of the more promising offseasons of Bohl's tenure.
Losing Logan Wilson, Cassh Maluia, Alijah Halliburton and Tyler Hall from one of the MW's top defenses will hurt, but the Cowboys were still a relatively young team this season. Wyoming is losing fewer than 20 seniors in all.
What's coming back is significant. That includes the Cowboys' leading rusher (Valladay), leading passer (Chambers), at least two quarterbacks with starting experience, five of their top 8 tacklers and all but two offensive and defensive linemen off their two-deep.
And Wyoming was in every game despite some of that youth. Their five losses came by a combined 28 points.
Wyoming has never won more than eight games in a season in Bohl's six years at the helm, but there's enough talent and experience returning that the Cowboys could make a serious run at changing that in 2020.
Follow UW athletics beat writer Davis Potter on Twitter @DavisEPotter