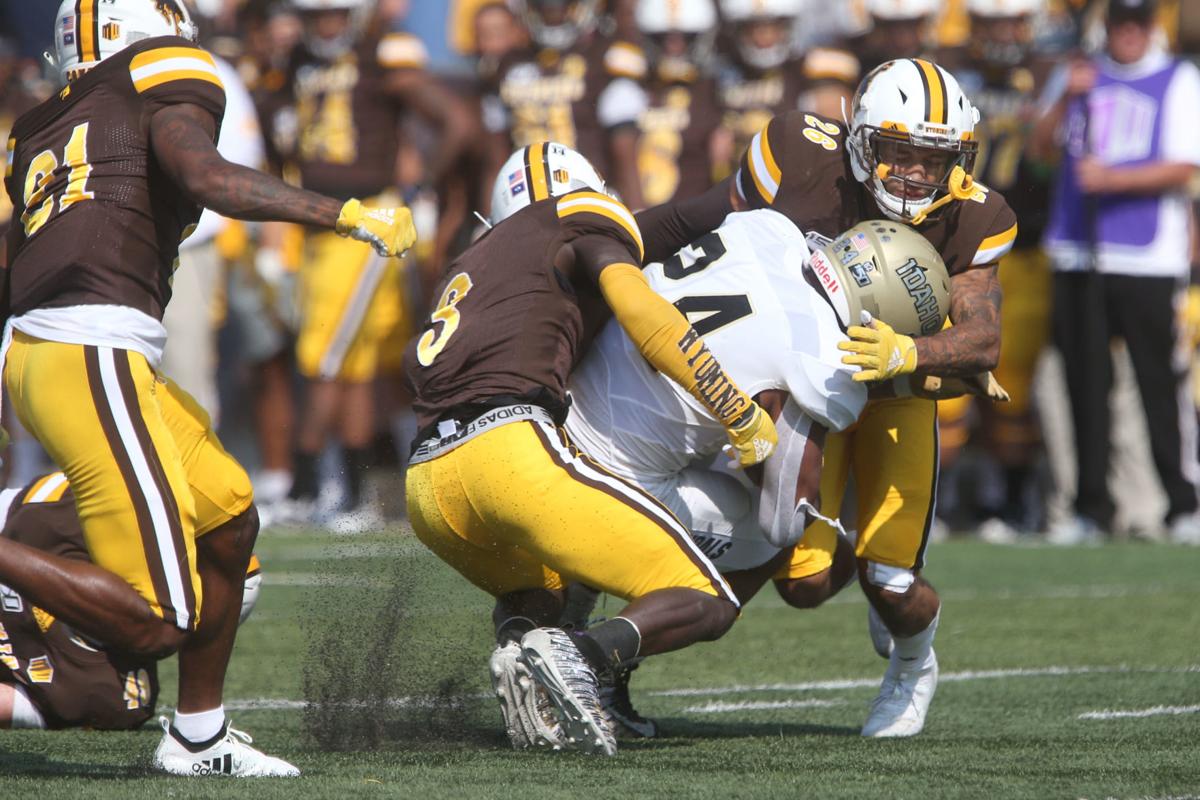 It's a broken record with the passing game
There wasn't much further Wyoming's passing game could drop while ranking 127th out of 130 Football Bowl Subdivision teams in passing yards and 128th in completion percentage coming into Saturday's game. You figured taking on a team from a lower division might help with that and give the Cowboys some confidence they desperately need in that department going forward.
But things only got worse.
Sean Chambers was 4 of 12 passing for 50 yards. He started 3-for-7, and at one point in the first half, the Cowboys ran the ball 12 straight times. Bohl didn't to comment too much afterward without having looked at the film, but Chambers is still off the mark with some throws. And a receiving corps that struggled mightily with inconsistency last season isn't doing him many favors when his passes are on target.
Chambers dismissed the notion that he's not comfortable as a pure dropback passer afterward, saying he's comfortable running whatever play is called. Bohl said the coaching staff has to evaluate everything.
It's amazing Wyoming is having as much success as it is on the ground considering defenses clearly don't respect the Cowboys' passing game given they're constantly stacking the box with seven and eight — and sometimes nine — defenders. But that won't last much longer if the Cowboys can't starting making them pay for that through the air.
Slow starts are a concern
Three games into the season, Wyoming has yet to score a point in the first quarter. They've trailed a combined 24-0 after the first 15 minutes and had to rally from a 10-0 hole Saturday. The defense held the Vandals to six points over the final two quarters and change to help Wyoming avoid disaster against an FCS team.
In other words, it's a legitimate concern with 25 percent of the Cowboys' season behind them.
Running back Trey Smith, who had as much to do as anybody with Wyoming's comeback after going for a career-high 152 rushing yards, said he couldn't put his finger on what's plaguing Wyoming early in games. Neither could linebacker Logan Wilson. But with the Cowboys' schedule about to strengthen significantly with only one non-conference game left at Tulsa, the Cowboys better figure it out.
"I'm not 100 percent sure," Wilson said. "We'll look at the film and see what we need to do. But the thing this group does is we just continue to fight no matter what."
Wyoming is nothing if not resilient
It's not a great sign when you're having to rally and then hold on for dear life against an FCS team, but to Wilson's point, Wyoming keeps finding a way regardless of the circumstances.
Again, all three of Wyoming's wins have been of the comeback variety. Adding to that challenge Saturday was the fact the Cowboys didn't force a single turnover for the first time all season and had to get out of their own way at times with season-highs in penalties (7) and penalty yards (97). That included a handful of personal fouls, including roughing the passer on Wilson with Idaho backed up near its own goal line and an unsportsmanlike call on Victor Jones that kept Idaho's final scoring drive alive midway through the fourth quarter.
Wyoming coach Craig Bohl said afterward his team isn't very disciplined right now. Asked why that is, the coach pointed to himself in trying to get that corrected. Because right now, Wyoming's margin for error is tiny.
"I think the first person you've got look at is me," Bohl said. "Evidently, they're not getting the message of playing disciplined football, and that's disappointing because I thought there were times during the year that we have.
"We're going to enjoy this win, and then we're going to look and say what can we do to clean some of those things up because they're self-inflicted penalties that can be improved."
Follow UW athletics beat writer Davis Potter on Twitter@DavisEPotter
Be the first to know
Get local news delivered to your inbox!