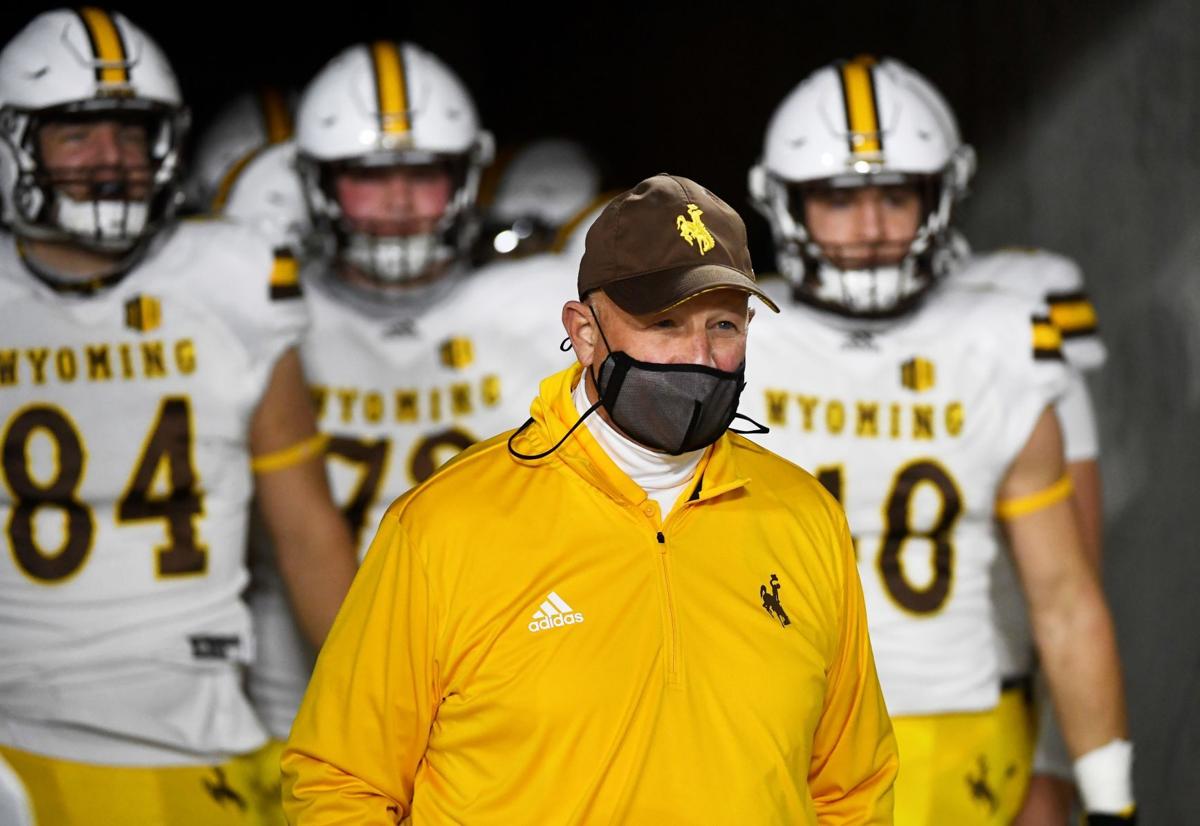 LARAMIE — A transfer portal on steroids.
That's essentially what will happen if a proposal that would do away with major college football players having to wait to get on the field at another school is approved next month as many expect. Count Wyoming coach Craig Bohl among those who believe it's inevitable.
"All indications are that it's going to be a resolution that passes," Bohl said.
The council's proposal would expand the one-time exception that only applies to a limited number of sports for the time being. Currently, athletes in football, men's and women's basketball, baseball and men's ice hockey aren't allowed to transfer and be immediately eligible without a waiver.
The proposal is expected to be voted on in January at the NCAA's national convention. Should it pass, an already monstrous number of players looking for a fresh start somewhere else is sure to keep growing.
It would make sense that more players around the country will join them if they know they won't have to sit out a year at their new school.
"This proposal creates a uniform, equitable approach for all student-athletes no matter the sport they play," said Mid-American Conference Commissioner Jon Steinbrecher, who serves as vice chair of the council. "We believe the proposal fulfills the promise of the transfer resolution adopted by the council in the spring."
Bohl doesn't know if he's completely on board with the idea.
"There's a lot of concern," he said.
UW prides itself on being a developmental program under Bohl, so the Cowboys haven't been all that involved in the transfer market during his tenure aside from ultra-specific needs.
UW added some experience behind Xazavian Valladay in the backfield two years ago with Louisville transfer Trey Smith. When the Cowboys lost their all-time leading scorer, kicker Cooper Rothe, and punter Ryan Galovich at the same time after last season, they brought in former Cornell specialist Nick Null to help fill the void.
But as graduate transfers, both were eligible to play right away. Cornerback Azizi Hearn, who transferred to UW from Arizona before the 2019 season, was also immediately eligible because he had been a walk-on for the Wildcats. The last time the Cowboys took in a Football Bowl Subdivision transfer that had to sit out a year before being eligible was 2016 when former defensive back DeAndre Watson came from Washington.
But the one-time transfer exception could immediately help the Cowboys just as much as it could hurt, and UW still has some spots left in its 2021 recruiting class after inking 16 players during the early signing period earlier this week. Could UW be more active in the portal than usual in looking for players with multiple years of eligibility remaining?
"We've always looked, and I think the guys that have come in have added value," Bohl said. "But it's been a minimal part of our plan, and that will I think stay consistent."
One major issue the exception figures to present for teams down the road is a roster crunch. NCAA rules normally limit teams to 85 scholarship players in a season, but with the association granting another year of eligibility to all fall-sport athletes in response to the coronavirus pandemic, next year's rosters are going to exceed that number.
There's a one-year roster exception to allow that expansion in 2021, but as of now, teams are going to have to get back to the 85-scholarship limit for the 2022 season. Not only would that create a proverbial bottleneck at the back end of teams' rosters, but programs might also hesitate to add transfers this year knowing future cuts will have to be made, possibly leaving some players in the portal with nowhere to go.
"Initially college football coaches are like, 'Wow, this is Christmas come early.' You've got all these extra guys," Bohl said. "Then you've got people out there that have got all these high school commitments and now they're looking and going, 'Wait a minute. After this next year, we've got to get down to 85.' So roster management is going to be some real science involved."
Still, a world of free agency in college football is almost certainly going to become a reality soon. And Wyoming is preparing for it just like everybody else.
"We'll adapt as we go," Bohl said. "I think a lot of coaches have a deep concern about it. We don't know if it's the best thing for college football, but that's our coaches' perspective. And we'll adapt as we go."
Follow UW athletics beat writer Davis Potter on Twitter at @DavisEPotter.