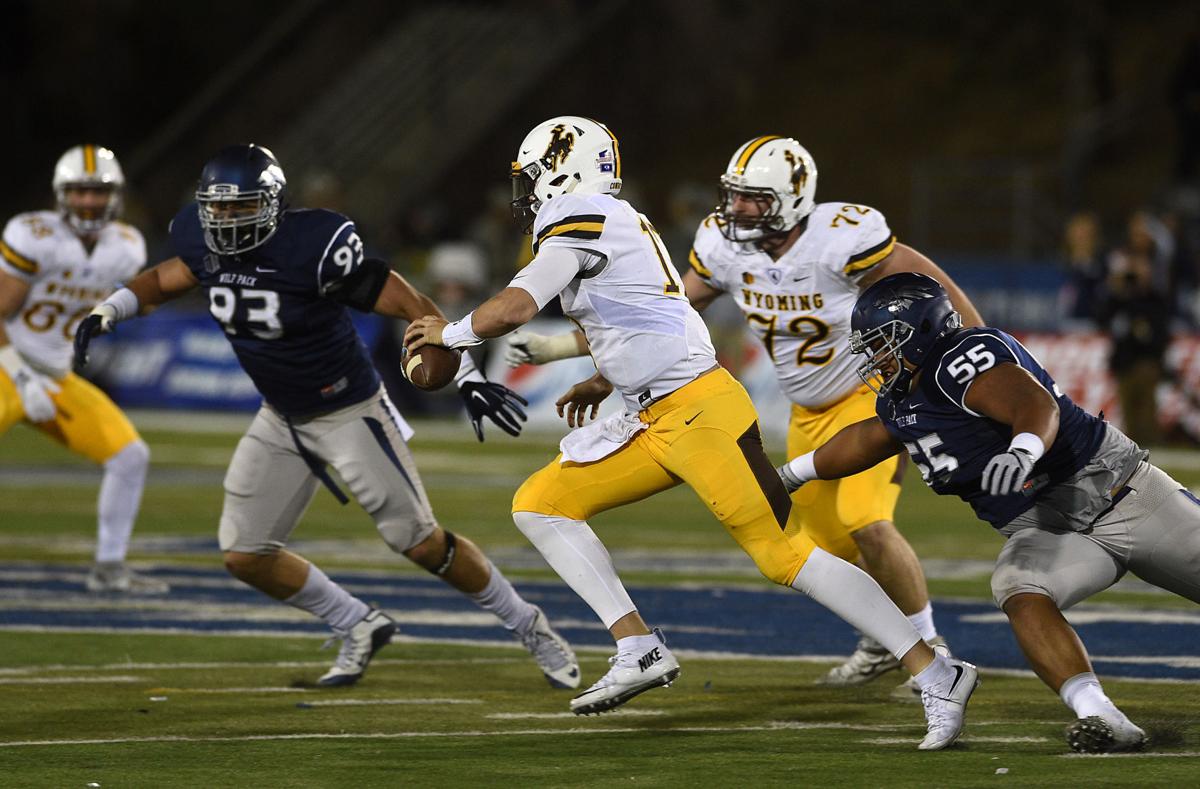 LARAMIE — Wyoming got another reminder this week of just how different this college football season will be.
On Tuesday, the Cowboys found out their season will start without any fans in attendance after Nevada announced it won't be allowing fans at the Oct. 24 opener for both teams, which will be played at Mackay Stadium on the University of Nevada's campus. Public health orders in Nevada limit gatherings to 250 people, and with an increase in COVID-19 cases on Nevada's Reno campus, Nevada President Brian Sandoval said keeping fans away for the opener was necessary.
"Although we have done an extraordinary job of fighting the spread of the virus on campus by wearing face coverings, social distancing and using good hygiene, off-campus activities have contributed to the spike in positive cases on campus," Sandoval said in a statement.
The thought of a largely empty stadium brought back memories from some of his early years as an assistant for UW coach Craig Bohl, who also likened the situation to a closed scrimmage in which players are responsible for generating their own energy and enthusiasm.
"I can tell you with no fans in the stands, it's kind of like the days when I coached at Rice. We were used to doing that," said Bohl, who coordinated Rice's defense from 1989 to 1993. "We didn't have many fans in the stands. We could yell out the signals and communicate.
"There will be some advantages, and there's probably going to be some gamesmanship with audibles and things like that. It'll be a unique experience."
That's particularly true for many of the Cowboys' players who don't know any different than performing for an audience. Family members of players and coaches will be allowed to attend the opener, but that's it.
"That's going to be very interesting," UW center Keegan Cryder said. "In high school, I definitely didn't come from a big place, but we still had fans. Still had our parents and stuff out there. That's going to be very crazy to have silence and just maybe hearing our coaches more from the sideline."
Which is the upside for a team playing in a largely empty stadium on the road.
Mackay Stadium holds 30,000 people, which, when at or near capacity, can make it difficult for opposing players to hear and communicate above the crowd noise. Without attendance, it's a blow to the Wolf Pack's home-field advantage.
UW will take any advantage it can get on the road. All five of the Cowboys' losses last season came away from War Memorial Stadium by an average of just 5.6 points.
"It's definitely going to be a little weird not having fans out there, but when it comes down to it, football is football," linebacker Chad Muma said. "So we'll still be playing the same game. We'll just be able to hear each other a little bit easier and whatnot."
UW still plans to have 7,000 fans in attendance for its home opener against Hawaii on Oct. 31.
Follow UW athletics beat writer Davis Potter on Twitter at @DavisEPotter.
Concerned about COVID-19?
Sign up now to get the most recent coronavirus headlines and other important local and national news sent to your email inbox daily.