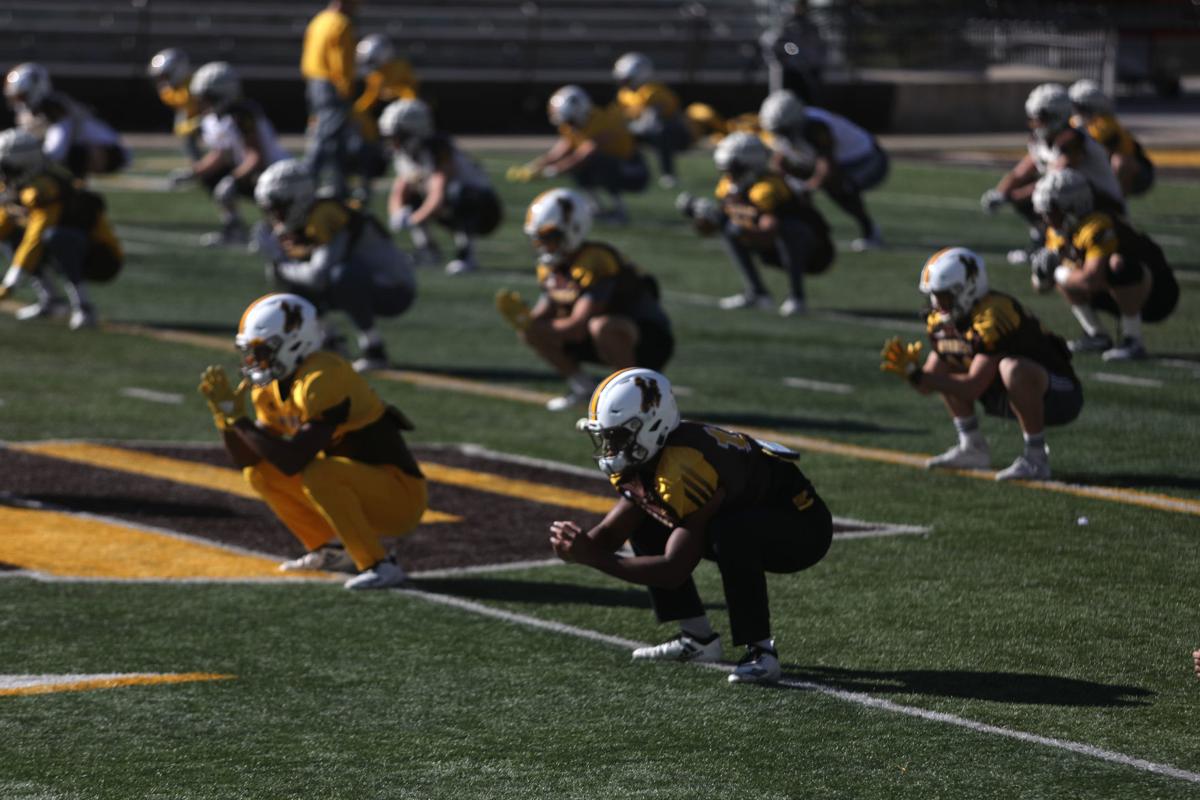 LARAMIE -- Football and basketball players will be able to return to the University of Wyoming's campus starting next month following a decision made by the NCAA to ease some of its restrictions in response to the coronavirus pandemic.
The NCAA's Division I Council on Wednesday voted to allow those student-athletes to resume voluntary on-campus workouts beginning June 1, according to multiple media reports. The vote ends the association's ban of such activities that had been in place since March.
Wednesday's vote pertained only to football, men's basketball and women's basketball. Other sports could be addressed sometime in the next week, Yahoo Sports reported.
The Mountain West, the conference Wyoming competes in as a football and basketball member, had suspended all organized, in-person athletics-related activity indefinitely, but there were signs that the easing of restrictions in sports were coming as the country works to gradually reopen. Administrators in the Southeastern Conference are expected to vote on return measures Friday.
As part of a plan to phase its student-athletes back in, UW announced that "a portion" of its football and basketball players will return to campus on June 1 while others will arrive at different times throughout the summer. Any student-athletes that choose to return to campus for voluntary workouts will receive required surveillance testing for the coronavirus and will be quarantined for 14 days.
University personnel who regularly come in contact with the athletes will also be tested. Access to the teams' weight rooms will be limited to athletes, coaches and staffers who have been tested and have completed their self-quarantine while workout areas and equipment will be cleaned multiple times a day. Other safety measures will include providing athletes with multiple sets of workout apparel as well as masks that will be required to be worn at all times unless previously approved by the sports medicine staff, the school announced in a release.
"Our first priority is the health and well-being of our student-athletes, our campus community and the surrounding area," UW athletic director Tom Burman said. "We have done a deep dive into all of the options available, including quarantining and testing, and we feel good about our plan going forward."
Questions as to whether Football Bowl Subdivision teams will be able to play a full 12-game schedule and have any fans in attendance still linger. With many student-athletes still scattered across the country, there's also uncertainty as to whether all teams will be able to start workouts at the same time.
"I know this. The coaching staff, we will do everything we can to engage with a safe, playable manner," Bohl told the Star-Tribune last month. "We just hope it gives us the ability to have a full season."
Follow UW athletics beat writer Davis Potter on Twitter at @DavisEPotter.
Be the first to know
Get local news delivered to your inbox!