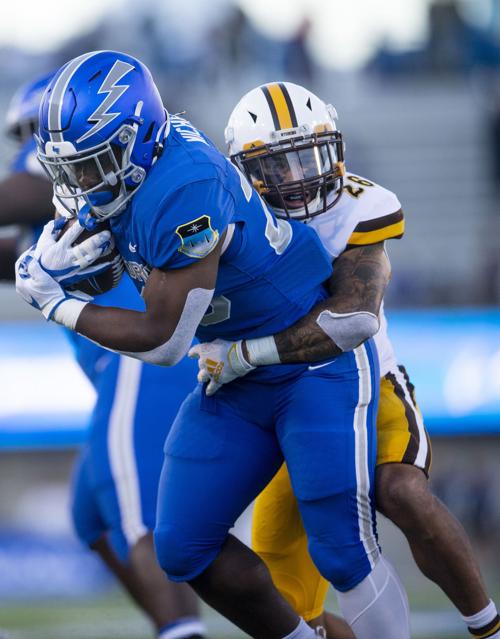 AIR FORCE ACADEMY, Colo. – At least Xazavian Valladay gave Wyoming's offense one shining moment.
The Cowboys had 5 total yards of offense before Valladay ripped off a 74-yard run from the UW 3-yard line to set up the visitors' first scoring drive against Air Force on Saturday night at Falcon Stadium.
Valladay finished with 96 rushing yards during UW's 24-14 loss to the Falcons, which gives him 2,647 for his career, passing Marques Brigham (2,605 yards, 1995-98) for fifth in UW history.
During next Saturday's game against Fresno State at War Memorial Stadium, Valladay will have a chance to leapfrog Wynel Seldon (2,672 yards, 2005-08) for fourth.
"It feels real good. At the same time, it would be a much better feeling if we had more opportunities to (capitalize) on as far as the play-calling and doing as much as we can to come out victorious," Valladay said after the Cowboys fell to 4-1 overall and 0-1 in Mountain West play. "I'm very thankful for this opportunity, but I'm not happy. There's still more work to do."
The Pokes tied the score 14-14 just before the intermission on a 10-yard touchdown pass from Sean Chambers to Isaiah Neyor.
But Valladay and the offense were shutout in the second half by the Falcons (5-1, 2-1).
Welch returns
Treyton Welch returned to the lineup after missing the UConn game with a sprained ankle.
UW's starting tight end appeared to make a nice catch to move the chains on third-and-15 on the visitors' first drive of the game, but the officials ruled it incomplete.
Welch finished with two receptions for 23 yards.
Ayden Eberhardt led the team with four receptions for 43 yards on a night when Chambers was just 11-for-28 passing for 143 yards with one touchdown and two lost fumbles.
Notable
Air Force, which was second in the FBS in time of possession entering the game, had their longest drive of the season to open the game – a 15-play, 75-yard drive that was capped with a 1-yard touchdown run by Brad Roberts and chewed 8:18 off the clock. ..
Vallday's 74-yard run was the longest by UW this season and also the longest allowed by Air Force this season. ...
Chad Muma led the Cowboys with 11 tackles. Cornerback C.J. Coldon and Easton Gibbs each had 1.0 tackle for loss. Rome Weber forced a fumble that was recovered by Jordan Bertagnole for UW's only turnover. ...
Air Force leads the all-time series 30-26-3, including a 21-19 edge in conference games.
Follow UW beat writer Ryan Thorburn on Twitter @By_RyanThorburn