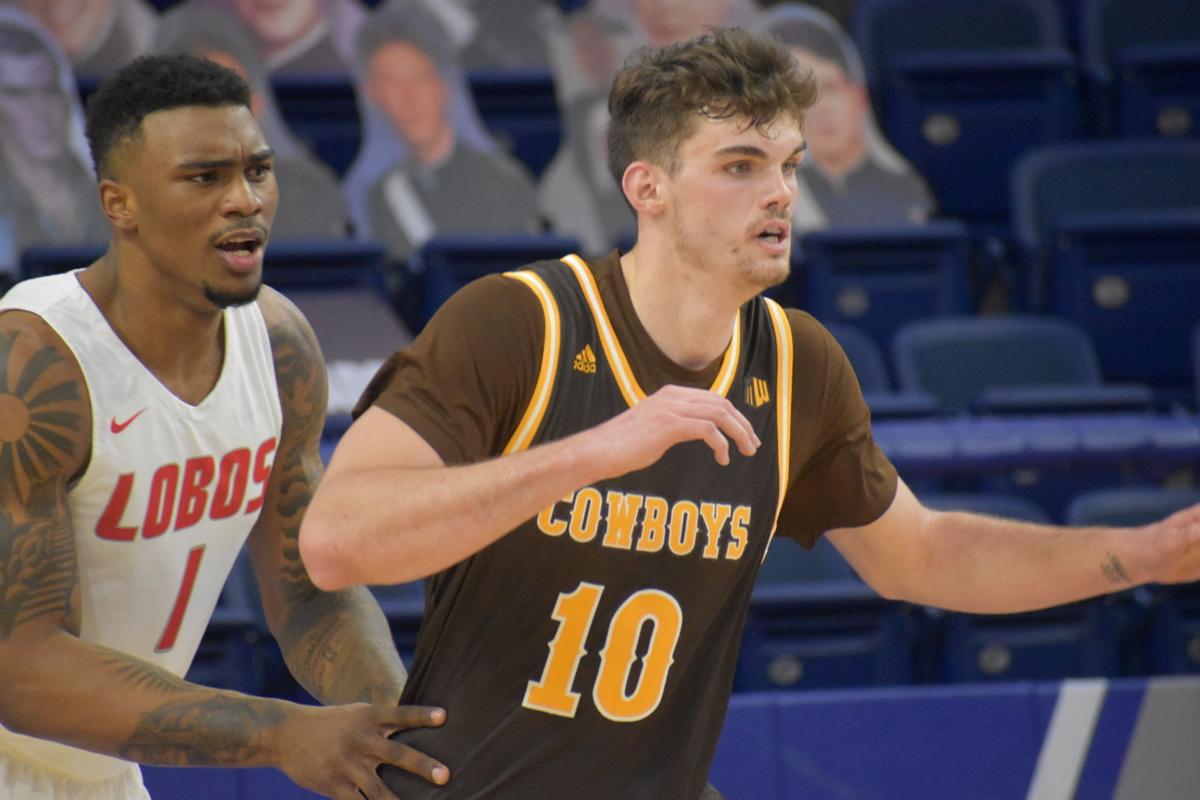 LARAMIE — Since dropping 22 points on Fresno State in Wyoming's conference-opening win on Jan. 2, it's been a struggle for Hunter Thompson.
That night, Thompson sank a career-high seven 3-pointers, an indication of the kind of matchup problem the Cowboys' stretch forward can be when he's on. But those kind of performances have been few and far between for Thompson of late.
Since then, the Pine Bluffs native hadn't scored more than six points in a game. His shooting percentages have dropped below 44% from the floor and 34% from 3-point range, and his scoring average went from 10.8 points to 6.4 entering the Cowboys' series opener against New Mexico on Wednesday.
An ankle injury didn't help. Thompson rolled it against Boise State back on Jan. 11 and missed the series finale two days later. Add the fact that Thompson's game is more offense and less defense and physicality, and UW coach Jeff Linder recently made the decision to replace the 6-foot-10, 230-pounder with freshman big Graham Ike in the starting lineup, a rare bench role for someone who's started 62 of the 72 games he's played at UW.
But Thompson played it well against the Lobos (5-12, 1-12 Mountain West) in a breakout performance that couldn't have come at a better time for the Cowboys (11-9, 5-8).
Thompson looked like his old self in UW's 83-74 overtime win, knocking down four of the Cowboys' 13 3s en route to 14 points. He finished 5 of 8 from the floor, making for his best shooting performance since that 7 of 8 showing in Fresno back in early January.
The combination of Thompson's hot hand and foul trouble for Ike — four of the game's 47 fouls were called on him — resulted in Thompson logging 31 minutes, the most he's played in nearly a month (32 against Air Force on Jan. 18).
"He was excited," UW assistant coach Ken DeWeese said. "And we were excited for him."
Thompson made three of those 3s in the first half to help the Cowboys build a 33-29 lead at the break. After the teams went back and forth in the second, Thompson came up big in overtime to help UW keep its distance.
The Cowboys missed their first shot of the extra period before taking up nearly the entire shot clock on their next possession. Clinging to a two-point lead at the time, UW's patience paid off when Thompson caught the final pass near the top of the key and sank another 3 just before the clock expired to ignite a 10-3 run to end the game.
Thompson was one of six UW players to finish in double figures, but it wasn't just his scoring that made a difference. Thompson also pulled down five rebounds — more than his season average of 3.8 — including three on the offensive end.
Two of those came during a crucial stretch late in the second half with the Cowboys facing a seven-point deficit, their largest of the game. Thompson rebounded Xavier DuSell's missed 3 before DuSell eventually turned the second chance into an old-fashioned three-point opportunity with a hoop and the harm.
DuSell missed the free throw, but Thompson corralled it and eventually found Marcus Williams, whose ensuing layup got the Cowboys within a possession. The sequence sparked a 12-4 spurt that put UW in position to force overtime.
Thompson's effort combined with that of Kwane Marble II (career-high 12 boards) and Hunter Maldonado (five offensive rebounds) helped UW pull down a season-high 13 offensive rebounds that the Cowboys turned into 12 second-chance points. Thompson also took a charge late that "essentially ended the game," DeWeese said.
"That kind of stuff, for him, he's struggled," DeWeese said. "He's had a rough patch right now, but he keeps fighting every day and just keeps coming back for more. That's all you can ask of these guys. It's a make-or-miss game, and sometimes you miss shots. But can you do the other things? Can you take a charge or make a winning play? Can you get an offensive rebound and create an extra possession for us?"
Thompson answered those questions in the affirmative Wednesday. UW could use more of that when the Cowboys go for the sweep in Friday's series finale.
Follow UW athletics beat writer Davis Potter on Twitter at @DavisEPotter.