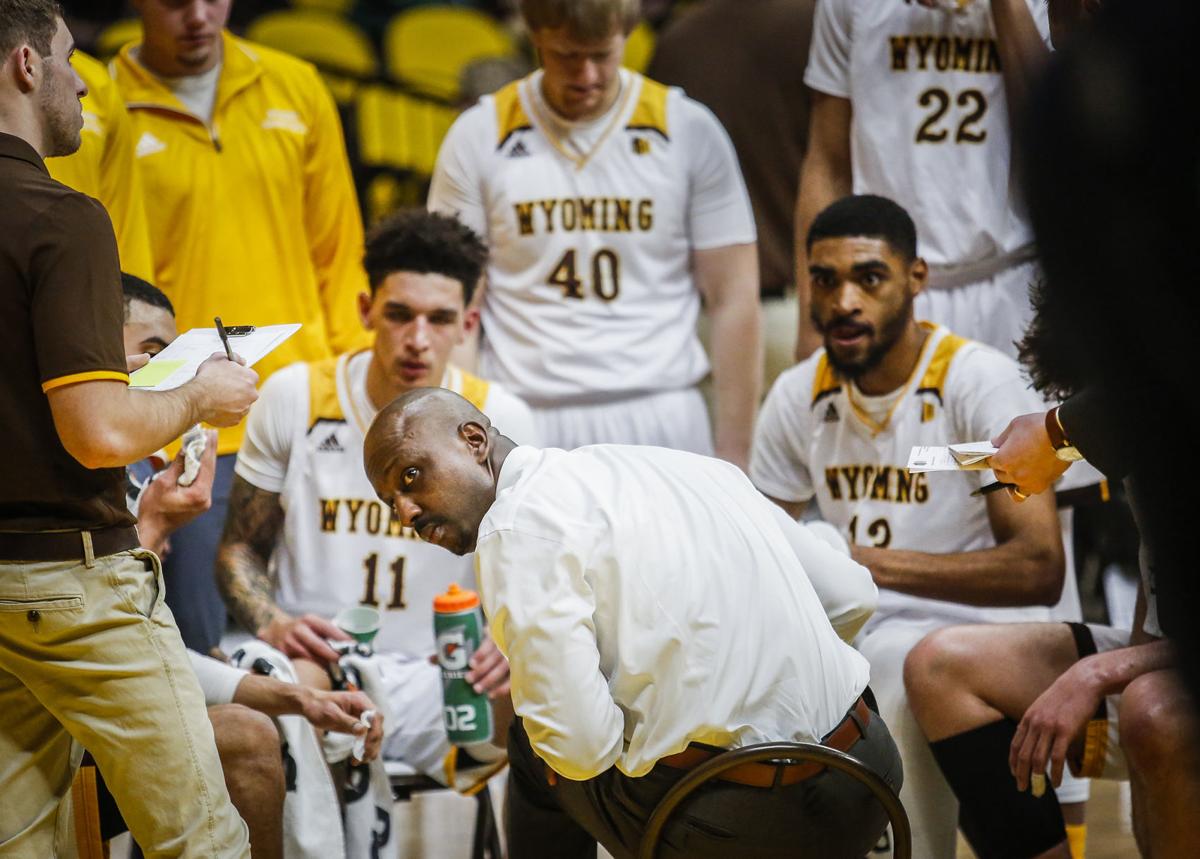 LARAMIE -- Wyoming's men's basketball program is on the clock.
UW's Cinderella run at the Mountain West Tournament -- and its season -- ended late Friday night with an 89-82 semifinal loss to eventual tournament champion Utah State. The question now is did it also mark the end of Allen Edwards' four-year tenure as the Cowboys' coach?
The program is waiting on an answer from UW athletic director Tom Burman, who made it clear after last season's 8-24 campaign -- the Cowboys' worst season in nearly half a century -- that significant improvement needed to be made. Despite UW's upsets of Colorado State and Nevada in Las Vegas, the Cowboys finished with just one more win than they had last season.
Burman has not commented publicly on Edwards' job status. Through UW media relations, the Star-Tribune has requested an interview with Burman to discuss the season and the future of the program. UW hasn't responded to that request.
In the meantime, many of UW's players took to social media less than 24 hours after the season-ending loss to chime in on the situation. All of them offered votes of support for Edwards, who has a 60-75 cumulative record as UW's coach.
"Our future is bright if people give us a chance!" said forward Hunter Thompson, who, like the rest of his teammates who chimed in, voiced his opinion on Twitter. "Coach Edwards is the man, ultimate competitor, and one of the greatest mentors I've had in my life. Can't say enough about what he means to me."
"Couldn't ask for a better coach to lead us into battle," freshman guard Kenny Foster tweeted.
UW lost 10 straight games to start conference play before ending the skid with a win at San Jose State on Feb. 1. The Cowboys finished winless at home in league play with their only conference wins coming at San Jose State on Feb. 1 and at Air Force on Feb. 22, but they became the first double-digit seed to ever win a MW Tournament game when they beat No. 6 seed Colorado State, 80-74, on Wednesday.
"We couldn't have done it without such a great coach to lead us into battle," tweeted freshman guard Kwane Marble II, who was named to the All-Tournament team after averaging 19.6 points for the week.
Marble followed his tweet with another that only consisted of a hashtag: #KeepOurCoach
UW went through the season with a young roster comprised primarily of freshmen and sophomores. Jake Hendricks and A.J. Banks were the only seniors on this year's team. The Cowboys, who finished last in the league in scoring and rebounding, also lost forwards Austin Mueller (knee) and Tyler Morman (concussion) to season-ending injuries.
Hunter Maldonado, UW's leading scorer and rebounder, also is still a believer in Edwards.
"A great leader and even better person," Maldonado tweeted. "All that fight, grit, and togetherness forged upon hours of work that Coach guided us through. Couldn't have done what we did without him. We didn't come out on top but I know he'll have us ready for next year."
Many of the players' tweets came in response to Edwards' own after the Cowboys' MW Tournament run, one that was as emotional for UW's coach as it was improbable. Edwards fought back tears during an interview with CBS's Evan Washburn following the Cowboys' win over No. 3 seed Nevada on Thursday that put them in the semifinals for the first time since winning the tournament in 2015.
"Just kept fighting, man," a choked-up Edwards said then. "They believe in one another. Proud."
Follow UW athletics beat writer Davis Potter on Twitter at @DavisEPotter.
Be the first to know
Get local news delivered to your inbox!