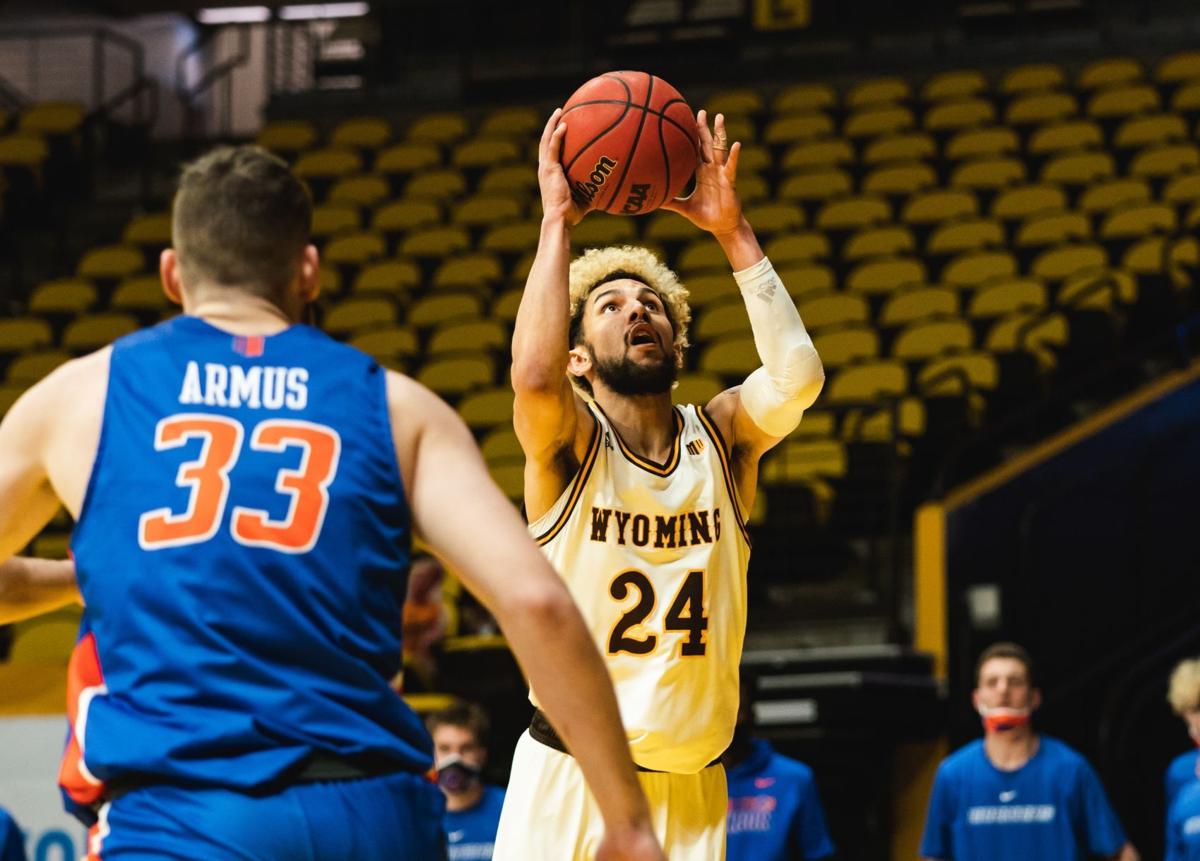 LARAMIE -- Monday provided Wyoming with its first real gauge of how it stacks up against the Mountain West's elite.
The Cowboys showed glimpses of looking like they belonged. But for much of the game, including a decisive final stretch, UW looked more like the young team that still has a ways to go in its rebuild under first-year coach Jeff Linder.
UW made a late push in its biggest test of the season to date, but a final flurry by Boise State ended any chance of an upset for the Cowboys, who suffered their worst loss of the season in an 83-60 setback at the Arena-Auditorium.
"It was a good lesson for our guys," Linder said. "You play against a real team, a team that's won a lot of games in a row, and a team that's been in a lot of big games and understands when they've got to turn it up a notch. And they turned it up a notch in the final 7:43."
Marcus Williams led UW with 16 points, but the highest scoring team in the Mountain West didn't get the kind of balance it's used to against a Boise State team that's riding the longest winning streak in program history. Hunter Maldonado and Xavier DuSell were the only other Cowboys to finish in double figures with 10 points apiece as UW set new season-lows in points and field-goal percentage (38.9%).
Still, with a lift off the bench from DuSell, who scored all of his points in a span of 2 minutes, 37 seconds, UW used a 15-2 run midway through the second half to cut an 18-point deficit to five with 8:19 remaining. But UW went the rest of the way without a basket, and the defensive and rebounding issues that have plagued the Cowboys throughout the season again reared their ugly head down the stretch.
"You've got to be optimistic in the fact that we showed we can hang around with those guys and even beat them at a certain point of the game," DuSell said. "But then also you've also got to be critical of yourself and go back to the drawing board."
The Cowboys, who played their third straight game without injured forward Eoin Nelson, entered Monday's game with the second-worst field-goal percentage defense in the Mountain West and in the bottom half of the league in rebounding margin. Boise State, which got 21 points apiece from Abu Kigab and Devonaire Doutrive, got plenty of second and third chances and cashed in on most of them to shoot 52% from the field.
Boise State's Mladen Armus was the biggest beneficiary of UW's smaller frontcourt, finishing with a 12-point, 14-rebound double-double. The Broncos' 6-foot-10 forward pulled down board after board in the waning minutes to either keep possessions alive that resulted in putbacks or open 3-pointers.
Boise State knocked down four of its seven 3s in the final 3:45, and the Broncos ended the game on a 20-2 run for their program-record 11th straight win. Boise State grabbed 47 rebounds to UW's 23 -- the worst rebounding margin of the season for the Cowboys -- and pulled down 15 of those boards on the offensive end leading to 16 second-chance points.
"It's just about heart really and fight," Williams said. "When a shot goes up, find a body and go get the ball. That's all. We stand around and watch too much as a unit. We could fix that easily. The next game is going to be a lot different."
Williams, the 6-2 freshman point guard, was UW's leading rebounder with five. Forward Hunter Thompson, who briefly left the game in the second half with an injury but ultimately returned, finished with just five points and three rebounds in 34 minutes for the Cowboys, who will take their first losing streak of the season into Wednesday's series finale.
After winning seven of its first eight games, the Cowboys' last two losses have come by a combined 43 points.
"There's just no excuse to get outrebounded by 24. You look at the stat sheet, you get outrebounded by 24, yeah, we should've lost by 23," Linder said. "Now there are some things that we can take away that hopefully it will allow us to do something different things on Wednesday, but ultimately it comes down to real toughness. Not fake toughness, but when it comes down to when you've got to get stops and you've got to find a possession by getting a rebound. You've got to find a way to go get it. That's just part of it."
Boise State was shooting 62% from the field late in the first half and led by as many as 15 in the opening 20 minutes. UW had few answers for Kigab, who made five of his first seven shots from the field en route to 15 first-half points.
But both teams had their share of high-percentage looks on the offensive end, which helped UW stay close. Either by isolating Maldonado on the block or the supporting cast driving the ball to the basket, the Cowboys outscored Boise 24-22 in the paint in the opening half. Maldonado had 10 of those points.
UW also strung together some stops late in the half to cut the deficit to 43-35 at the break. Boise State missed five of its final six shots from the field, and the Cowboys ended the half on a 9-2 run.
But with an offense that was far too streaky and a defense that struggled to hold up against the Broncos' length and athleticism, the Cowboys' first shot at a legitimate Mountain West contender ultimately resulted in another lopsided loss.
"I just think it got to a point where we stopped rebounding and we didn't have enough assertiveness on defense, and it just kind of showed," DuSell said. "They were able to get easy buckets and a lot of points in transition, and I think over the course of 40 minutes, it just built up. And you saw what happened."
Follow UW athletics beat writer Davis Potter on Twitter at @DavisEPotter.