LARAMIE – The Pokes finally had something to celebrate.
Wyoming pulled out a dramatic 58-57 victory over Colorado State on Saturday in front of a crowd of 6,988 at the Arena-Auditorium that witnessed the end of an excruciating eight-game losing skid that dated back to Dec. 10.
The student body stormed the court after the Cowboys (6-13, 1-6) notched their first Mountain West win of the season at the expense of the rival Rams (10-11, 2-6).
"The Border War never disappoints," a relieved UW head coach Jeff Linder said. "And it ages you in dog years every time you play one."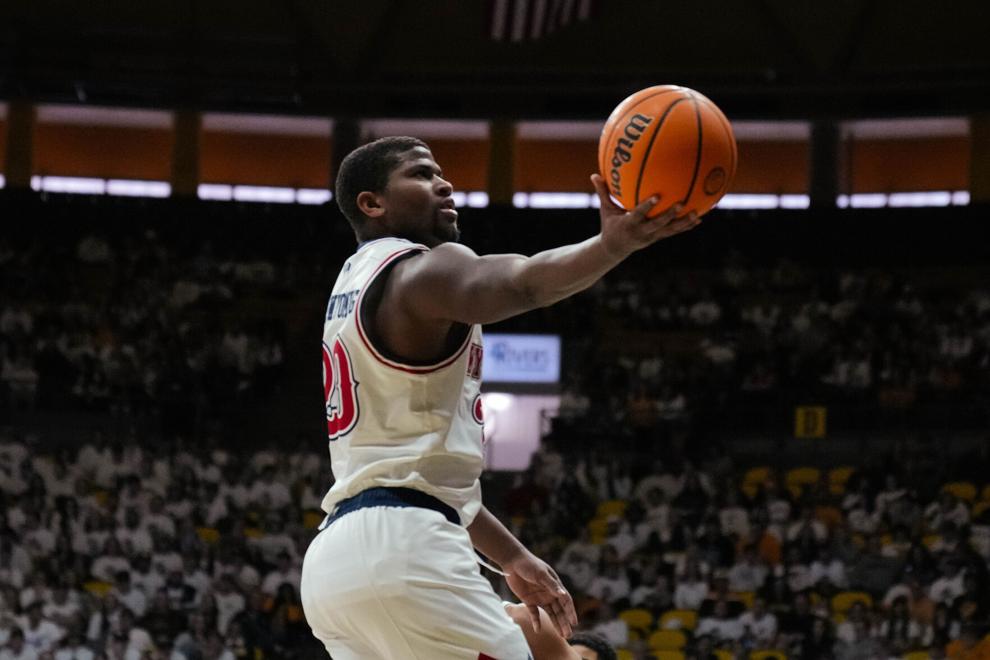 Noah Reynolds drew a foul with 2.6 seconds left and made the first free throw to break a 57-57 tie with 2.6 seconds left. The sophomore guard, who finished with 17 points, missed the second attempt.
Linder said he wanted the ball in Reynolds' hands because "He's a guy that's not scared of the moment."
Reynolds said his late turnover with a chance to beat Santa Clara, which led to an overtime loss on Nov. 30, made him even more determined to deliver a much-needed win.
"I knew once I was in that position again where I had control to take over the game and to secure a win that I'd make sure I got that done," Reynolds said. "I felt really comfortable the second time around. My coach knows I want those situations, I want the ball in my hand."
After a timeout, CSU was unable to get a shot off as Hunter Maldonado had Isaiah Stevens blanketed on the long pass over half court.
Stevens, who made a half-court shot last week to force overtime in the Rams' overtime win at UNLV, finished with 15 points, 10 rebounds and seven assists.
"I asked (Stevens) if he had another one in him," Maldonado said. "I kind of knew they were going to try to get the ball in his hands no matter what. With two seconds they were going to have to throw the ball past half court. So, I tried to time it up right and make a play on that.
"I have pretty good instincts and a feel for that situation, and I made a play."
UW led by 16 points (37-21) early in the second half but allowed the Rams to cut the deficit in half after four turnovers and four fouls.
Xavier DuSell hit a pair of 3s to stop the bleeding and give the Pokes a 43-42 advantage.
Then the Cowboys missed 11 consecutive shots and Maldonado was called for his fourth foul during a 15-0 run by the Rams, who took a 47-45 lead on two free throws by John Tonje.
"Coming out of halftime our energy dropped a little bit, we missed a couple shots, they made a couple shots," Linder said. "That's a team that has some veteran guys and won a lot of guys. We knew they weren't going to quit.
"Give CSU credit, they really flipped the script."
Ethan Anderson made two tough layups to put UW back in front by four points, but Stevens silenced the crowd with a clutch 3.
Tonje blocked a shot by Maldonado at the rim and made two free throws on the other end to CSU a 57-54 lead.
Reynolds tied the score 57-57 with 1:38 remaining but missed a desperation 3 on the Pokes' next possession.
The Rams were unable to get a shot off before the shot clock expired in the final minute before Reynolds' game-winning free throw.
"He's like a little brother to me," Maldonado said of Reynolds. "I really appreciate everything he's done and the work he puts in. To be able to see him in that situation, I completely trust him just to go out there and get us that win."
UW, which used its 14th different starting lineup, also celebrated the return of Maldonado from a scary rib injury that sent him to the hospital a week earlier and Hunter Thompson from a bout with mononucleosis.
The super seniors combined for 13 points, 10 rebounds and five assists.
"It was surreal, but they were all there for me and they helped me get back," Maldonado said. "At the end of the day for me, even if I'm injured, this is going to be my last go, last time playing CSU at home. I was going to give it everything I got."