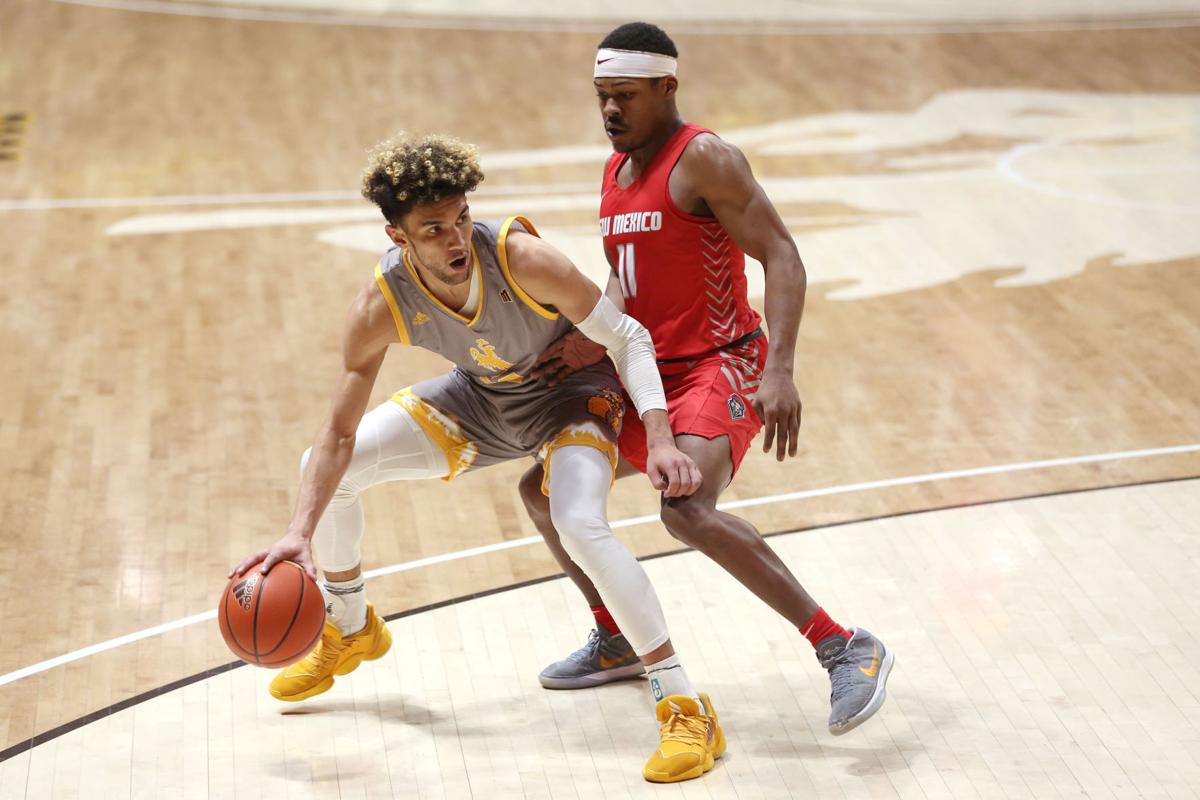 LARAMIE — For now at least, Wyoming's men's and women's basketball teams know they will be playing this year.
Their seasons will just be getting started a little later than expected.
The NCAA has announced the start of the college basketball season will be postponed until late November. The move, which came in response to the coronavirus pandemic, was approved by the Division I Council during its meeting Wednesday.
UW's men's team was originally scheduled to begin the Jeff Linder era against Colorado Christian on Nov. 10 while the Cowgirls were slated to start Nov. 12 against Montana. Now Division I teams aren't permitted to start until Nov. 25.
According to a press release from the NCAA, delaying the start of the season to the week of Thanksgiving allows games to start when at least 75 percent of Division I schools, including the University of Wyoming, will have either finished the fall semester or moved to online-only classes, leaving a largely vacant campus for college basketball players to return to that would minimize the risk of COVID-19 infection.
Having the entire student body off campus would also allow schools to justify their athletes playing tournaments and other multi-team events in more controlled "bubble" environments if needed.
"The new season start date near the Thanksgiving holiday provides the optimal opportunity to successfully launch the basketball season," NCAA Senior Vice President of Basketball Dan Gavitt said in a statement. "It is a grand compromise of sorts and a unified approach that focuses on the health and safety of student-athletes competing towards the 2021 Division I basketball championships."
The delay means the maximum number of regular-season games allowed will be reduced to 24 for teams that are also playing in a multi-team event that nets them up to three games (such as the Wyoming Basketball Classic) or 25 for those that aren't. Since Mountain West teams play an 18-game conference schedule, that would leave the Cowboys to play as many as six non-conference games.
The earliest event now on UW's schedule is the Wyoming Basketball Classic, which is set to be played at the Arena-Auditorium Nov. 27-30. Linder told the Star-Tribune last month that three teams are scheduled to play UW in the event, though he declined to identify the opponents.
But UW's games against Colorado Christian and Southeastern Louisiana (Nov. 13) are now off. The Cowboys' Nov. 20 trip to Arizona had already been canceled this season following the Pac-12's decision to postpone all sports competitions until the new year.
UW is also supposed to make the trip to Fullerton, California, to play the final game of a home-and-home against Cal State Fullerton, though a date hasn't yet been determined, according to a copy of the game contract obtained by the Star-Tribune. Other non-conference tilts still on the Cowboys' slate are Jackson State at home on Dec. 1, a trip to Utah Valley State on Dec. 12 and a Dec. 5 home matchup with Duquesne as part of the inaugural Mountain West-Atlantic 10 Challenge.
Whether or not UW plans to reschedule its early-November games or add more non-conference games to the schedule is unclear.
Women's teams can schedule up to 23 regular-season games if they're also participating in a multi-team event or 25 if they're not. The Cowgirls have not announced their non-conference schedule.
As part of the decision to postpone, teams will be allowed to officially start practicing Oct. 14, but no scrimmages or exhibition games will be held. Teams can begin working out for up to 20 hours per week at that time.
The council also approved a transition period beginning Monday during which players can participate in strength and conditioning, meetings and skill instruction for up to 12 hours each week until the start of practice.
Follow UW athletics beat writer Davis Potter on Twitter at @DavisEPotter.