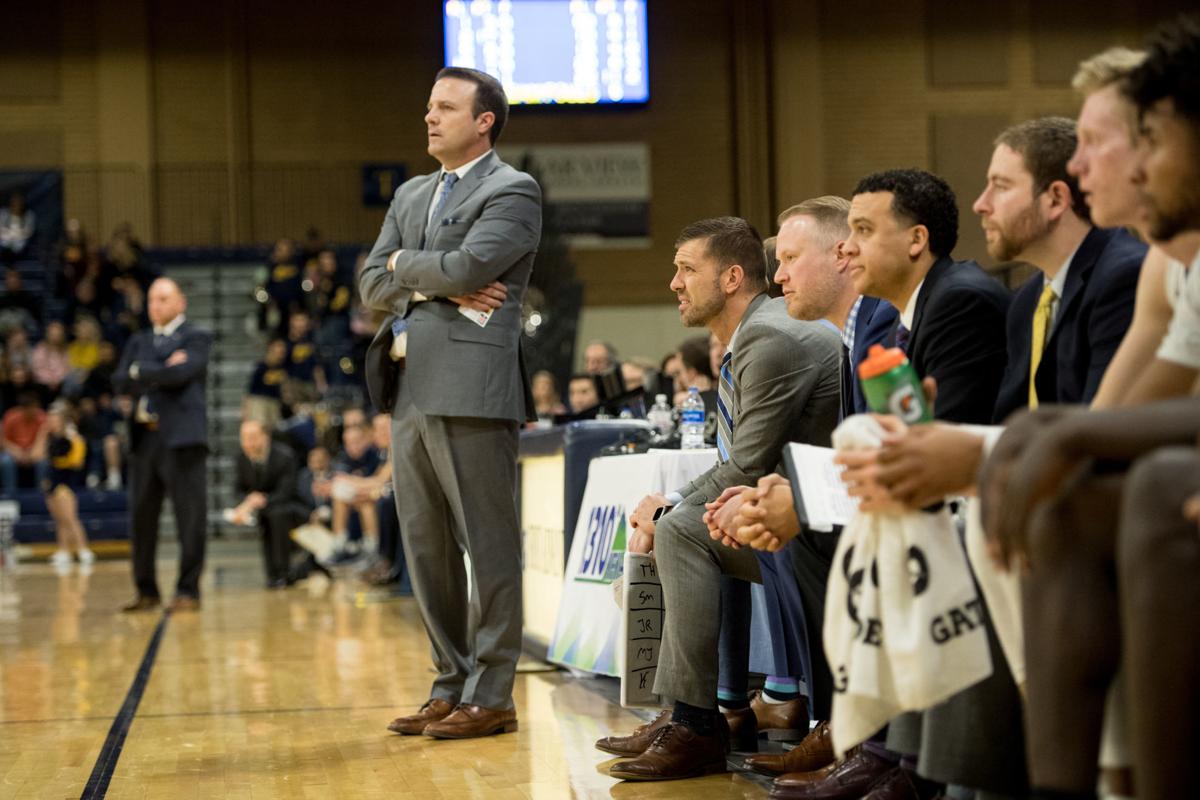 LARAMIE — Ken DeWeese figured the most recent college basketball season might be his last at Northern Colorado.
As an assistant on Jeff Linder's coaching staff at UNC, DeWeese helped revitalize the Big Sky program, which put together back-to-back 20-win seasons after an 11-win campaign in Linder's first season at the helm. That included a program-record 26 wins during the 2017-18 season.
Linder's stock as one of the hottest names among mid-major coaches continued to rise after UNC went 22-9 this past season and earned the No. 2 seed in the Big Sky Tournament before the coronavirus outbreak ended the Bears' run at an NCAA Tournament bid before it started. Meanwhile, Wyoming, which lost to Linder's teams each of the last three seasons, was looking for a new coach after parting ways with Allen Edwards following the Mountain West Tournament in early March.
DeWeese said it wasn't until after the Big Sky Tournament was canceled that Linder informed him he'd talked to UW athletics director Tom Burman about the possibility of taking over as the Cowboys' next head men's basketball coach, but DeWeese wasn't surprised. He'd heard rumblings that UW was interested in the highly successful coach located less than 100 miles south of the school's Laramie campus.
"Obviously it's kind of an easy person or an easy direction to look at if you're Tom Burman just right down the road and the fact we'd beaten them for three seasons," DeWeese said. "We were prepared. I knew there was a good chance something was going to pop if we had another good year and had a really good chance to go to the NCAA Tournament. I was just kind of keeping it in mind and looking at stuff."
And if Linder was going to be on the move, DeWeese had every intention of tagging along if given the opportunity. He could've stayed on as Steve Smiley's associate head coach at UNC after UW made Linder's hiring official on March 17, but once Linder knew he wanted to bring DeWeese with him to UW, there wasn't much of a choice for DeWeese to make.
DeWeese has known Linder since the latter's days as an assistant at Midland (Texas) College from 2004-06. At the time, DeWeese was an assistant under his father, Ken DeWeese Sr., at Mary Hardin-Baylor, and the two often crossed paths while recruiting in Texas.
Linder eventually moved on to be an assistant at Boise State while DeWeese took a job as an assistant under Tim Floyd at UTEP, though the two continued to recruit in many of the same circles. Linder was heavily involved in Boise State's offensive scheme and targeted stretch bigs that could step away from the basket and shoot just as well as perimeter players, a positionless style of play that was first popularized overseas.
"They were trying to recruit in Texas. I was primarily recruiting in Texas," DeWeese recalled. "We kind of recruited against each other, but he was a guy, when you're on the AAU circuit and you've got to sit there for six hours and watch the game, if I saw him at a game, I'd go sit next to him, visit with him and kind of pick his brain on stuff."
***
DeWeese became infatuated with Linder's forward thinking. So much so that he said he took a $50,000 pay cut to make the move to Greeley, Colorado, to join Linder's staff once Linder took his first head coaching job at UNC in 2016.
It's also the reason DeWeese always knew he'd follow his boss wherever he went next. DeWeese officially joined Linder's staff at Wyoming on March 24.
"I knew how smart he was, and I just wanted a little bit more modern basketball and progressive thinking about the game and how you run a program than where I was at," DeWeese said. "I worked for Tim Floyd and I was super appreciative, but with Jeff, it was just a chance to be on the cutting edge. He's so smart and knows where the game is going, where it's at right now and how to coach it. ... It was really a no-brainer for me to go."
DeWeese said he'll likely be coaching the Cowboys' wings and forwards, though specific coaching duties have yet to be assigned among DeWeese and fellow assistants Shaun Vandiver and Sundance Wicks. But he knows he'll continue to primarily recruit Texas and surrounding states such as Oklahoma and Louisiana. His recruiting territory will also include Canada.
Signing UW's first recruiting class under Linder came with a unique set of challenges amid the coronavirus shutdown, which meant UW couldn't have recruits on campus before April's signing period. Linder, DeWeese and the rest of the Cowboys' staff made their recruiting pitches through phone calls, text messages and virtual campus tours, but DeWeese's Texas connections helped UW land Dickinson (Texas) three-star guard Marcus Williams, who originally signed with UNC before Linder and DeWeese made the move to UW.
UW signed six more players to finish with the Mountain West's top-ranked recruiting class in the 2020 cycle, according to Rivals. All seven signees inked with the Cowboys after Linder and his staff were hired.
Once the new and returning players can actually make it to campus, they'll be integrated into a system that's more than just a shooter-friendly offense. Linder's belief in having 3-point threats at every position on the floor gets most of the attention — UNC shot the second-most 3s in the Big Sky over the last two seasons and finished in the top 10 nationally in 3-point field-goal percentage last season — but Linder's teams haven't exactly been liabilities defensively, something DeWeese doesn't believe Linder gets enough credit for.
UNC finished in the top 5 in the conference in scoring defense each of the last three seasons and allowed the second-fewest points this past season (62.7 per game). The Bears were also fourth nationally in 3-point field-goal percentage defense (28 percent) and finished third in the Big Sky in rebounding margin (plus-1.8).
"(The offense) is not probably what people think it's going to be. It's just going to be smart, logical, efficient," DeWeese said. "And it's all about making people think you can make 3s because if they have to guard you there and they have to go over your ball screens or have to sag off guys that are rollers. It's about creating advantages and putting the defense in a bind and in tough spots.
"We're going to play tough, we're going to play physical, we're going to defend, and we're going to try to really rebound," he added. "And obviously we're not going to be one of those teams that goes crazy on the offensive glass, but we're also not going to be dead last in the country. I can tell you that."
***
UW's new coaching staff has some experienced holdovers from the Edwards era to help execute the system, including junior guard Hunter Maldonado, the Cowboys' leading scorer and rebounder a season ago. Combo guard Kwane Marble, who averaged more than 12 points over the last half of his freshman season; and Pine Bluffs native Hunter Thompson, a stretch big who's shot nearly 34 percent from 3-point range during his UW career, are among other current players who've decided to return to the program following the coaching change.
"If you took a Jeff Linder frontcourt player and tried to make him in a test tube with all the ingredients, you'd come out with Hunter Thompson," DeWeese said. "Now there's clearly some stuff he's got to get better at. He's going to have to rebound better and be more physical, but with the ability and the weapon that he is, he's exactly what we want."
The blend of what's coming back and what's coming in is just part of the reason DeWeese believes UW is capable of repeating the kind of turnaround he helped oversee at his previous stop.
"Honestly, I think we can do it quickly," he said. "Does that mean going to the NCAA Tournament or finishing top 2 or 3 in the league? I couldn't tell you that, but I do think based on what's coming back, based on what we've added, based on some of the changes we're going to make, I just think we'll be able to be significantly more competitive.
"I think we'll surprise a lot of people."
Follow UW athletics beat writer Davis Potter on Twitter at @DavisEPotter.
Be the first to know
Get local news delivered to your inbox!