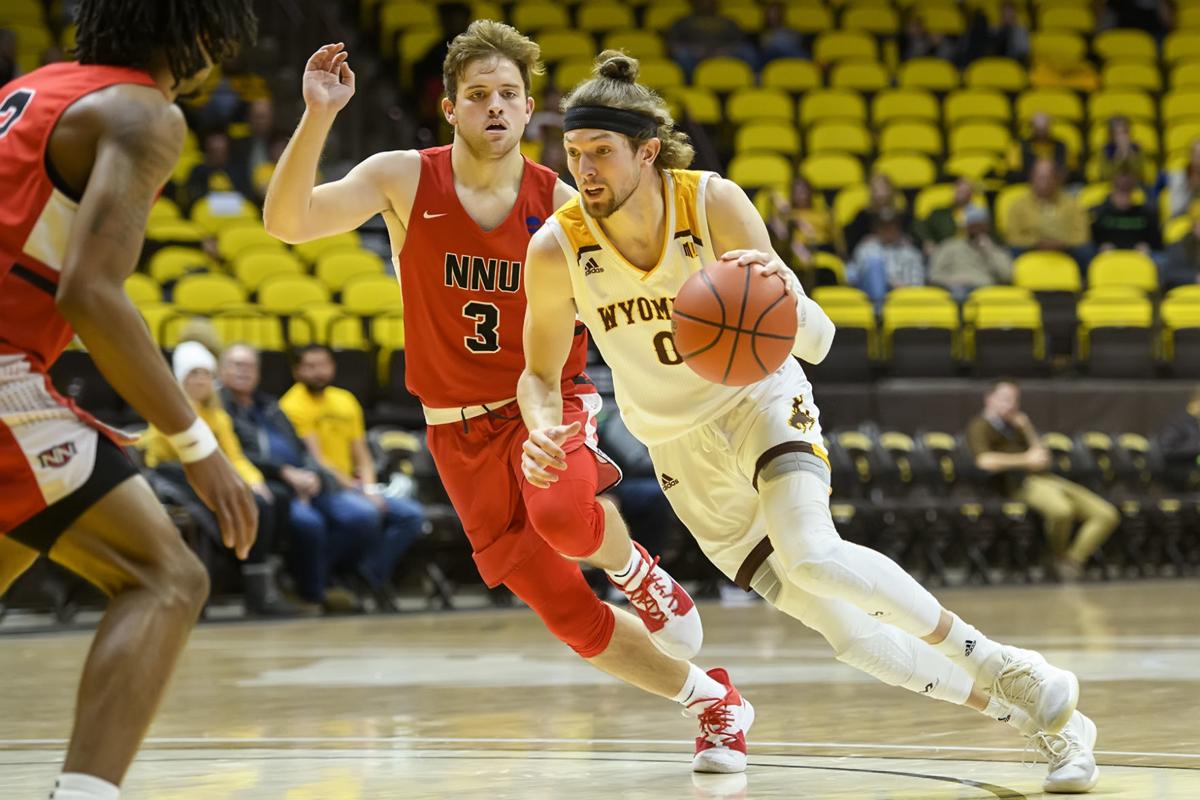 LARAMIE — Wyoming men's basketball coach Allen Edwards said he had to take a "unique route" to scout Idaho State.
Edwards didn't detail exactly what those methods were, but there are plenty of unknowns when it comes to Wyoming's opening opponent. For starters, the Bengals are entering a new era under head coach Ryan Looney, who led Point Loma (California) Nazarene to a Division II national championship game appearance last season but will coaching at the Division I level for the first time this season. Looney has revamped ISU's roster with a handful of junior college transfers, but Edwards said he hasn't been able to see film of the Bengals because neither of their exhibition games were televised.
One tendency Edwards said he has learned about Looney's teams is a desire to pound the ball inside to bigs and even bigger-bodied guards. But when ISU visits the Arena-Auditorium on Tuesday for both teams' season opener, Edwards said the Cowboys' focus will be primarily on themselves.
"To be quite frank, it's more about us and our principles and the things we've been working on since the summer and fall," Edwards said. "I think the guys are just excited to start a new season."
There was a lot to like in Wyoming's exhibition win over Northwest Nazarene on Wednesday. Senior guard Jake Hendricks, whom the Cowboys are counting on to be one of their primary scorers after averaging 10.8 points last season, sank all but one of his five 3-pointers on his way to a game-high 23 points.
In his first game back since being shut down for the season with back and knee injuries last December, Hunter Maldonado notched a double-double with 11 points and 11 rebounds. Wyoming shot 62.5 percent from the field in the first half while holding Nazarene to 33.3 percent shooting for the game and outrebounding the Nighthawks 42-35.
But the Cowboys' shooting clip dropped to 30.8 percent in the second half as they settled with some of their shot selection. Wyoming made just two of its last 12 3-pointers. And then there were the turnovers.
You have free articles remaining.
The Cowboys committed 20 in all, including a handful in the waning minutes that helped Nazarene cut an 18-point deficit to five with 26 seconds left. Many of those came against the Nighthawks' full-court press. Wyoming didn't practice its press break leading up to the exhibition, but Edwards said the Cowboys have repped that as well as their own press the last handful of days.
"It kind of goes hand in hand," Edwards said. "But watching us, I thought we looked good on both sides of it. Better job of taking care of the basketball but at the same time understanding what we're trying to get out of the press."
Edwards said he's specifically looking for more from senior A.J. Banks, who's taking over as Wyoming's full-time point guard after transferring in from junior college last season. Banks had three points and seven rebounds but as many turnovers as assists (2) in 22 exhibition minutes.
"He's been in the system for a year now," Edwards said. "His energy, his effort, the ability to affect the game on both ends, I just didn't think it was there. And I encouraged him to give us more."
Morman, Foster out
Junior forward Tyler Morman won't play Tuesday as he goes through concussion protocol. Morman had two points and two rebounds in 14 exhibition minutes before leaving the game in the second half after hitting his head.
The same goes for freshman guard Kenny Foster, who will have to wait to make his Wyoming debut. The highest-ranked signee in the Cowboys' 2019 recruiting class, Foster missed the exhibition with a concussion, though Edwards said he is expected to clear protocol Wednesday.
Edwards said he plans to get minutes Tuesday for sophomore wing Brandon Porter and freshman big Javier Turner in order to keep Wyoming's rotation at nine or 10 players.
Follow UW athletics beat writer Davis Potter on Twitter at @DavisEPotter.