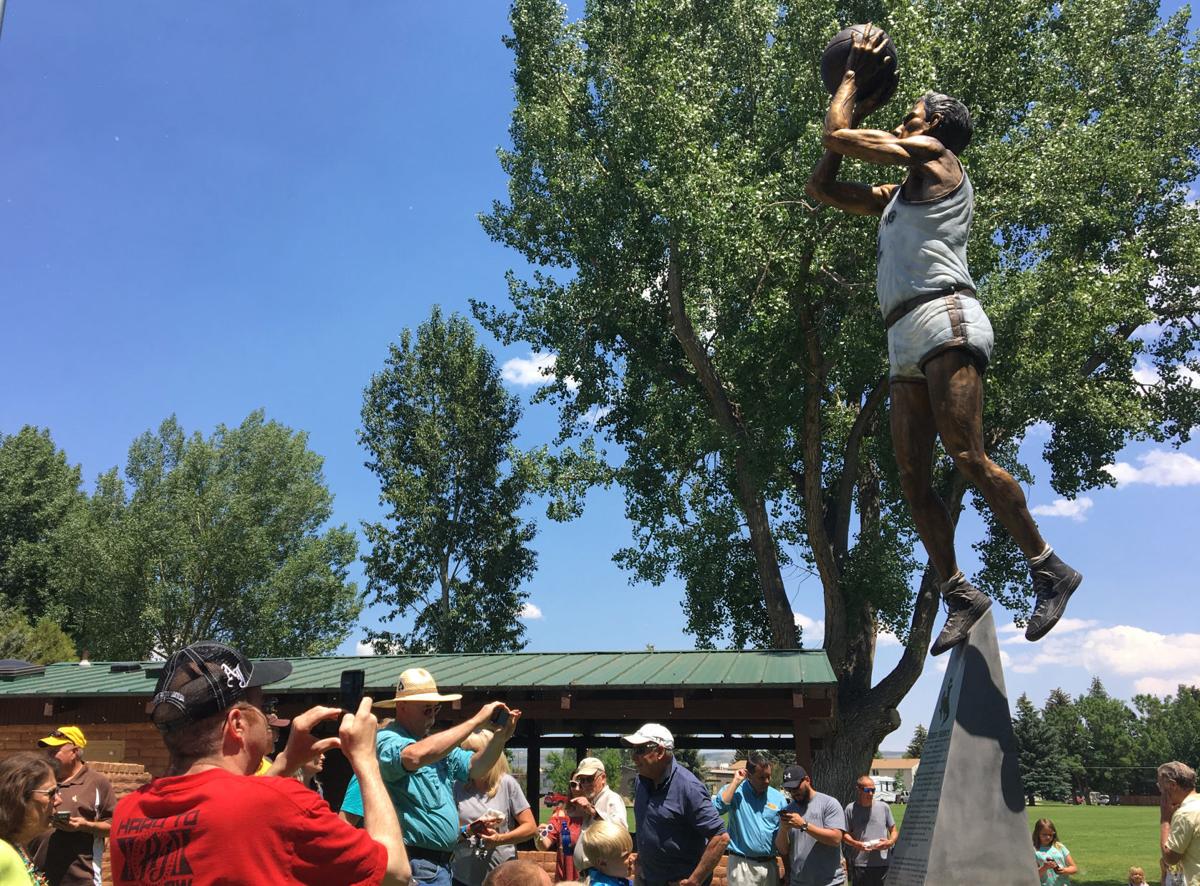 LARAMIE — Through the years, Rudy Gunter's statue of basketball legend Kenny Sailors will have to endure the inescapable hazards of Wyoming weather.
When the statue appeared from beneath its gold sheet Friday, though, all it had to handle was a bath of unrelenting sunshine, a snowfall of cotton wisps and a round of applause.
At long last, Gunter's statue has seen the light of day.
The 15-foot statue's path to Washington Park, three blocks south of the University of Wyoming campus, has been a challenging one, both literally and otherwise. The statue was initially, mistakenly commissioned as part of a renovation of UW basketball's Arena-Auditorium. A different statue was eventually installed at the venue, and the athletic department's handling of the situation has been harshly criticized by the Gunter family.
But controversy was not the topic of conversation Friday. The statue's original destination was, at most, a brief allusion as Laramie Mayor Andi Summerville, city council member Pat Gabriel and Rock Springs-based donor Bruce Pivic spoke before the unveiling.
Instead, the focus was on the statue. Yes, on Sailors, heralded as the inventor of the modern-day jump shot, star of Wyoming's most successful basketball team. But primarily Gunter, the sculptor who suffers from amyotrophic lateral sclerosis, or ALS, and whose contributions to his community and state were championed alongside his final work of art.
"It's been a good experience, a good part of my life, to have a sculpture of somebody that was not only my basketball hero, but he was a good friend," said Gunter, a former teacher, coach and bus driver at Green River High School. "I'm glad I got chosen to be the sculptor."
A sizable crowd was in attendance for the ceremony; one guest said they stopped counting after 150 people had arrived. Wyoming head men's basketball coach Allen Edwards was there, as were assistant coaches Jeremy Shyatt, Jermaine Kimbrough and Shaun Vandiver, and senior associate athletic director Kevin McKinney. Laramie city council members Joe Shumway, Klaus Hanson and Dave Paulekas were there along with Gabriel, as was Laramie parks and recreation director Todd Feezer. A contingent of Gunter family members also made the trip, as did Mary Shaw, the Green River artist who helped Gunter finish the statue when his disease progressed.
"He lost it," Gunter's wife, Sandee, said of the moment the statue was unveiled. "And what Bruce said is true. He's a great man. We believe he walks on water. Maybe everybody else doesn't, but we do."
Pivic, who paid for the statue, addressed the crowd for more than 10 minutes, emphasizing that the ceremony was in honor of Gunter as much as Sailors. Pivic remarked upon Gunter's status as a founding member of Green River's Art on the Green contest and as the namesake of the Rudy Gunter Classic, a Wyoming Amateur Wrestling Association tournament.
"It was emotional when we set it down," Pivic said of the statue afterward. "Obviously, you can imagine it was a tough day for me, because I knew how long it was to get to this point. And I also knew what it would mean to Rudy. Because we weren't so sure that we were ever going to get to display this thing.
You have free articles remaining.
"But today was hard for me, because I didn't want to make today about Kenny Sailors. Today was about Rudy and his contribution to the youth. And I think I did that. It was tough, I'm not going to lie to you, because my friend is ailing."
Gunter has lost the use of his hands. Next week, he will receive further treatment in Salt Lake City.
"I'm glad that he was alive to see it," Sandee Gunter said. "I was beginning to wonder if that was going to happen."
The foot of the statue commemorates Sailors, who grew up in Hillsdale, Wyoming, as well as Gunter, who was friends with the basketball legend before Sailors died in 2016, helping him organize the Wyoming Senior Olympics.
Pivic oversaw the installation Tuesday. Domino Construction drilled the hole, U.S. Engineering Company placed the statue and GE Johnson Construction Company did the rest.
"So the challenge obviously is the wind, right?" Pivic said. "Because you think about Laramie, Wyoming, even though we have all these nice trees around us, they can still get hit by about 40 or 50 mile-an-hour winds. So when we engineered the base, we engineered it to be able to take 120 mile-an-hour wind and to be able to take the load every of everything around.
"So we designed it out, and the guy from GE Johnson says, 'Five feet in the ground's not enough. We're going 8.'"
Gunter's statue has proved durable thus far. It fell off a truck on the way to the Eagle Bronze foundry in Lander and had to be reworked by Gunter and Shaw. Pivic has provided a fund to help pay for future maintenance on the statue.
His donation was accepted through the Laramie Public Art Plan.
"(That) really laid the groundwork for donations like this to be installed into our community so we can enhance our entire community," Mayor Summerville said.
The statue sits near the basketball courts at Washington Park, which is home of Laramie's Freedom Has a Birthday celebration each Independence Day. The site, aided by a picturesque backdrop of blue sky and a canopy of cottonwoods, was clearly well-received by family and friends. And while their frustration about the university's involvement lingers, the statue finally has a home.
"I think the spot is unbelievable," Sandee Gunter said. "And as far as I'm concerned, the University of Wyoming — you snooze, you lose. And they lost.
"Because it'll be more visible to more people. They estimate 200,000 people are in and out of this park in a year for graduation parties, for all the different things. And it's there."
Follow University of Wyoming athletics reporter Brandon Foster on Twitter @BFoster91