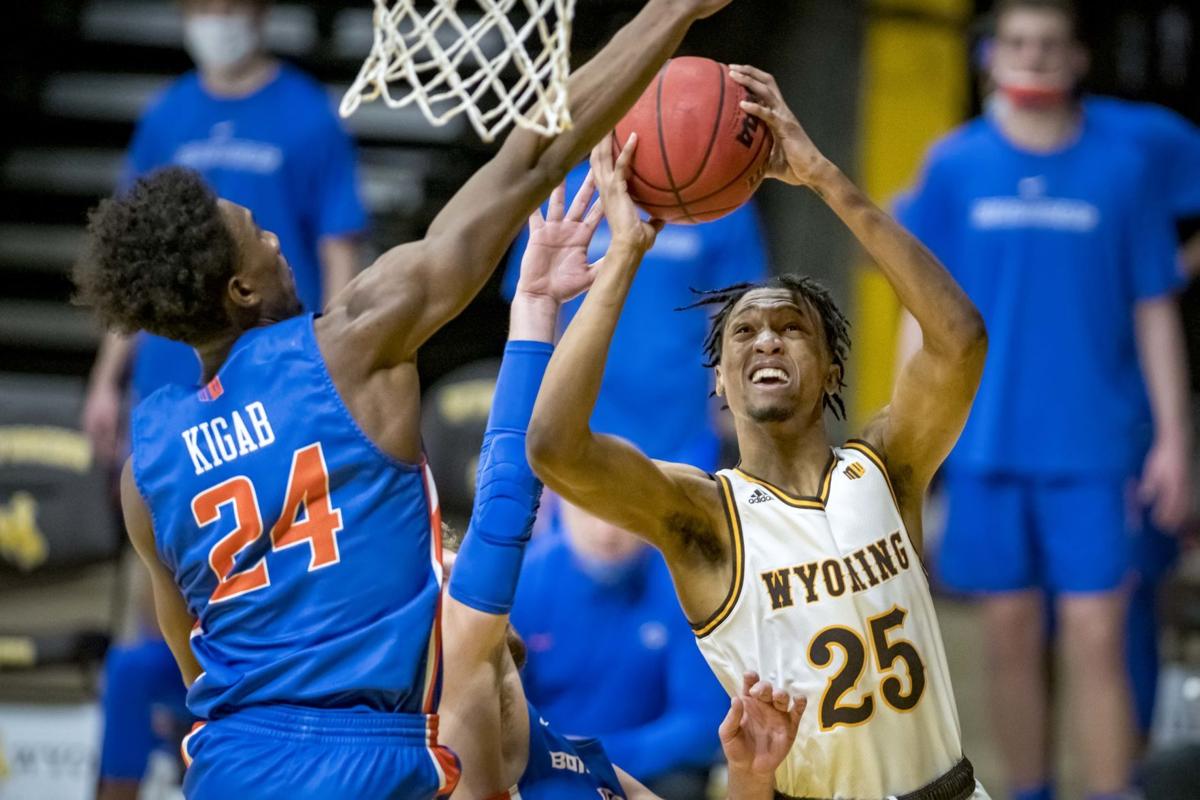 LARAMIE — Wyoming entered the Mountain West portion of its schedule having won six of its first seven games, but the Cowboys' fast start didn't come without its deficiencies.
As the level of competition has increased in league play, one in particular has only been magnified.
Despite having its worst shooting performances of the season in its last two games against Fresno State and, most recently, Boise State, UW still ranks top 3 in the conference in scoring (79.8 points per game) and field-goal percentage (45.7). But keeping opponents from putting the ball in the basket and keeping them off the glass continue to be problematic.
In falling to Boise State 83-60 on Monday, UW (7-3, 1-2 Mountain West) allowed the Broncos (11-1, 7-0) to shoot nearly 52% from the field. But with eight newcomers on the roster, UW first-year coach Jeff Linder has conceded there may be nights like that as his young team works to form its consistent man-to-man defensive identity.
It's the lack of rebounding when teams do miss shots that's becoming a crippling issue.
The Cowboys entered Monday's game already in the bottom half of the league in rebounding margin, and it only got worse by the time Boise State got through with them. The Broncos wore out UW on the boards, finishing plus-24 (47-23) on the glass. The Cowboys' worst rebounding deficit of the season included a 15-3 advantage on the offensive end for the Broncos, who scored 16 second-chance points to UW's zero.
"I just think it got to a point where we stopped rebounding and we didn't have enough assertiveness on defense, and it just kind of showed," freshman guard Xavier DuSell said.
Having a thin frontcourt on an already smaller team hasn't helped. UW has gone three straight games without forward Eoin Nelson, who will be out an indefinite amount of time with an injury to his lower left leg. The Cowboys are also waiting for freshman center Graham Ike (ACL surgery recovery) to be cleared for competition later this season.
But regardless of the personnel, cleaning up the glass isn't something Linder's teams have struggled to do in the past. Linder also had smaller teams at Northern Colorado, but the Bears never rebounded fewer than 76% of their opponents' misses during Linder's four years at the helm. Last season, UNC ranked 23rd nationally in defensive rebounding percentage (78.5).
Heading into Wednesday's series finale against Boise State, UW is rebounding opponents' misses at just a 70.3% clip. That's down from 73.4% last season when the Cowboys finished last in the Mountain West in rebounding margin.
"Granted, we were playing in a smaller league (in the Big Sky Conference), but rebounding is about habits," Linder said. "And we do all the same things we did when I was at UNC, and we were a top-25 defensive rebounding team in the country. We were almost above 80% in defensive rebounding percentage, so it's not like we don't work on it. We emphasize it. That's a big part of our program is the ability to limit teams to one shot."
Linder and his players said some of it comes down to sheer want to. Boise State big Mladen Armus finished with a game-high 14 rebounds to go along with 12 points Monday, but guard Max Rice, known more for his shooting acumen, was the Broncos' second-leading rebounder with eight boards.
UW's leading rebounder was its 6-foot-2 freshman point guard, Marcus Williams, who finished with five. No other Cowboy had more than four rebounds, and forward Hunter Thompson, the closest thing UW has to a real inside presence for the time being, pulled down just three boards in 34 minutes, all of which doomed the Cowboys when they had a puncher's chance down the stretch.
UW ripped off a 15-2 run midway through the second half to cut an 18-point deficit to five. But the Cowboys went the rest of the way without a field goal and only got off eight shots in the final 8 minutes, 18 seconds in large part because Boise State outmuscled and outhustled Thompson and the rest of the Cowboys for most of its misses.
Armus pulled down 11 of his rebounds in the second half, and the Broncos had six offensive rebounds in the final eight minutes to give themselves second chance after second chance. Boise State ended the game on a 20-2 run to start UW's first losing streak of the season.
"It's just about heart really — and fight," Williams said. "When a shot goes up, find a body and go get the ball. That's all. We stand around and watch too much as a unit. We could fix that easily."
Thompson, a 6-10 stretch forward, is far more comfortable operating on the perimeter than he is in the paint. The junior from Pine Bluffs is grabbing 3.7 rebounds per game this season and hasn't averaged more than 4.4 in his career, but Linder said the Cowboys need more from Thompson in that department until they can get some reinforcements back on the front line.
"Thompson is going to have to find a way, and I don't know if he can," Linder said. "And if he can't, at some point, then we're going to have somebody that can. If you can't go rebound, you can't play. If you can't guard the ball, you can't play."
The Cowboys have been outrebounded seven times this season and have found a way to win more of those games than they've lost, though three of the four games they've won came in the non-conference when the points were easier to come by and the teams weren't as long and athletic as what UW is seeing now.
UW has finished a combined minus-41 on the glass in its last two games. Not coincidentally, those have been the Cowboys' two most lopsided losses. The Cowboys dropped their series finale at Fresno State by 20 points before suffering their worst loss of the season Monday.
The Cowboys have shown they don't always have to be the better rebounding team in order to win, but it's going to be hard to do so against their Mountain West counterparts if UW doesn't start putting up more of a fight on the boards.
"You're going to end up getting beat by 1,000 paper cuts. That's ultimately what you end up getting beat by," Linder said. "That's where the young guys don't know, but it's something that we've just got to continue to show them on film, continue to harp on in practice and continue to build that discipline and effort that allows us to be a team that can compete at the higher end and win games like this."
Follow UW athletics beat writer Davis Potter on Twitter at @DavisEPotter.