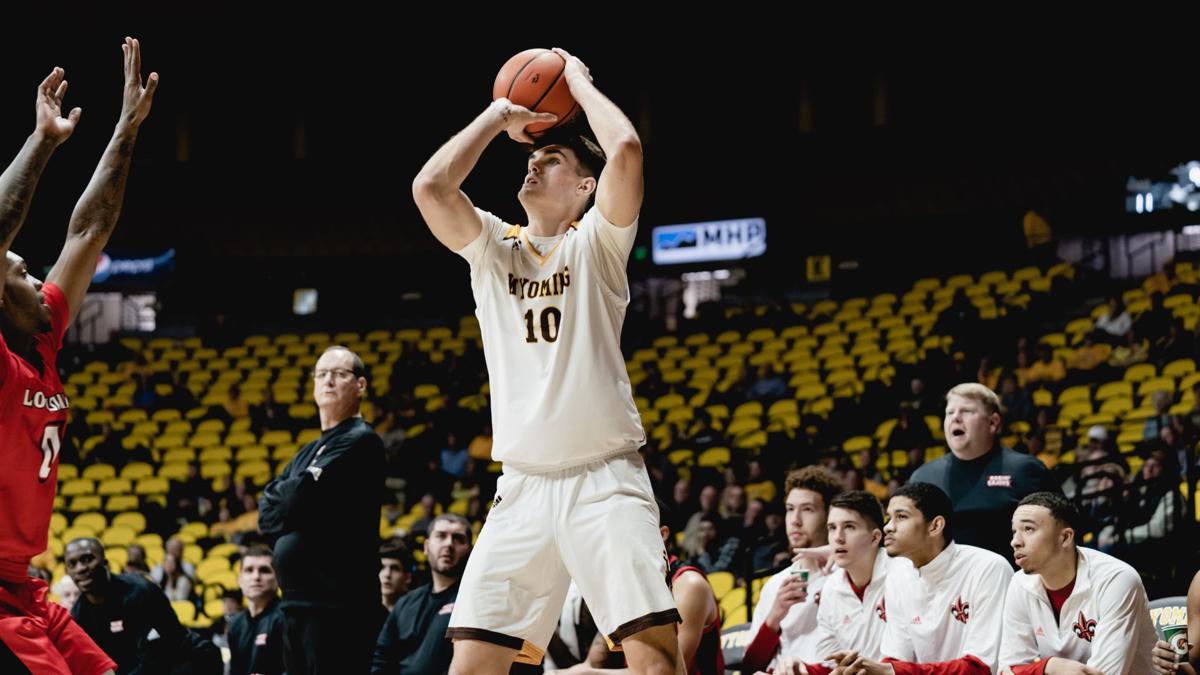 LARAMIE — Shooters shoot.
That's essentially what Wyoming coach Allen Edwards and Hunter Thompson's teammates had been telling him early this season. It might've been rough for the Cowboys' third-leading scorer a season ago heading into the final game of Wyoming's four-game homestand, but one thing Thompson hasn't been this season is timid.
"It's not a lack of confidence," the Pine Bluffs native said. "It's just still trying to get the lid off the rim. My teammates find me in good spots, and it's my job to knock them in."
That mission was accomplished Thursday.
Thompson scored a season-high 22 points, helping Wyoming grind out a 69-61 overtime win over Louisiana at the Arena-Auditorium. His final shot was a dagger that gave the Cowboys some breathing room late, and Wyoming held the Ragin' Cajuns to their lowest point total of the season in its second straight win.
"To be able to fight, go through overtime and come away with the win was a growth step for us," said Edwards, who's 8-2 in overtime games during his four-year tenure.
TJ Taylor and A.J. Banks each added 12 points while Hunter Maldonado chipped in 11 for Wyoming, which had four double-figure scorers for the second straight game. Kobe Julien paced Louisiana with 15 points, but the offense was largely hard to come by for both teams.
Two nights after having its highest scoring output of the season, Wyoming led by as many as seven in the second half but had just three field goals the final 12 minutes, 46 seconds of regulation. The Cowboys made things equally as tough for Louisiana, which shot 38.6 percent from the field for the game and just 33.3 percent in the second half.
You have free articles remaining.
Wyoming made it particularly difficult for Jalen Johnson, the Ragin' Cajuns' leading scorer coming in at 21.3 points per game. He finished with just eight points on 3 of 6 shooting.
"Just executing our game plan," Banks said. "We had a few things we keyed in on as far as personnel and how we defended certain actions and our principles. Just as a collective unit, we stayed true to that. And it worked in our favor."
But the Ragin' Cajuns made three of their final four shots of regulation, including Cedric Russell's bucket with 24 seconds left to send it to overtime tied at 54. Wyoming led 62-59 when Thompson drained a corner 3-pointer with 1:21 left in extra time for just his second field goal after halftime. The Cowboys maintained at least a two-possession lead the rest of the way in starting their first winning streak of the season.
"I'm not going to shy away from shooting," said Thompson, who also grabbed seven rebounds. "I didn't make a lot in the second half until that one big one, but it's not anything to do with a lack of confidence."
Guard Jake Hendricks pulled down a game-high 11 rebounds — his second straight game with double-digit boards — as Wyoming finished plus-2 on the glass (39-37) and shot 63.6 percent (14 of 22) from the free-throw line to overcome 16 turnovers. The Ragin' Cajuns were just 13 of 28 from the charity stripe.
Thompson, the Cowboys' stretch forward, came in shooting just 24.3 percent from the field and 18.2 percent from 3-point range — a significant drop from the 37.5-percent clip he shot from deep last season. He finished 7 of 13 from the field, 4 of 9 from deep and 4 of 6 from the free-throw line, nearly matching his point total for the season coming in (27).
"We've just stayed the course with him," Edwards said. "We understand what type of player he is, and him shooting the basketball is a big part of it. Not only that, but I thought he did some other things well tonight also."
Wyoming went to the half tied with Louisiana at 33 behind Thompson's hot hand. Thompson had 14 of his points in the first half, including a personal 8-0 run as part of a 20-6 spurt for the Cowboys that turned a seven-point deficit into a 31-24 lead with 4:23 left in the half.
Wyoming shot just 36.4 percent from the field in the second half and went 0-for-12 from beyond the arc in the final 20 minutes, leaning on its defense and the timely shot to give itself some momentum heading into Sunday's game against Colorado in the MGM Main Event in Las Vegas.
"At the end of the day, we lace them up and they lace them up," Edwards said. "The only thing I can tell you is we're going to go out there and compete. Our guys are working, and I like what we have."
Follow UW athletics beat writer Davis Potter on Twitter at @DavisEPotter.