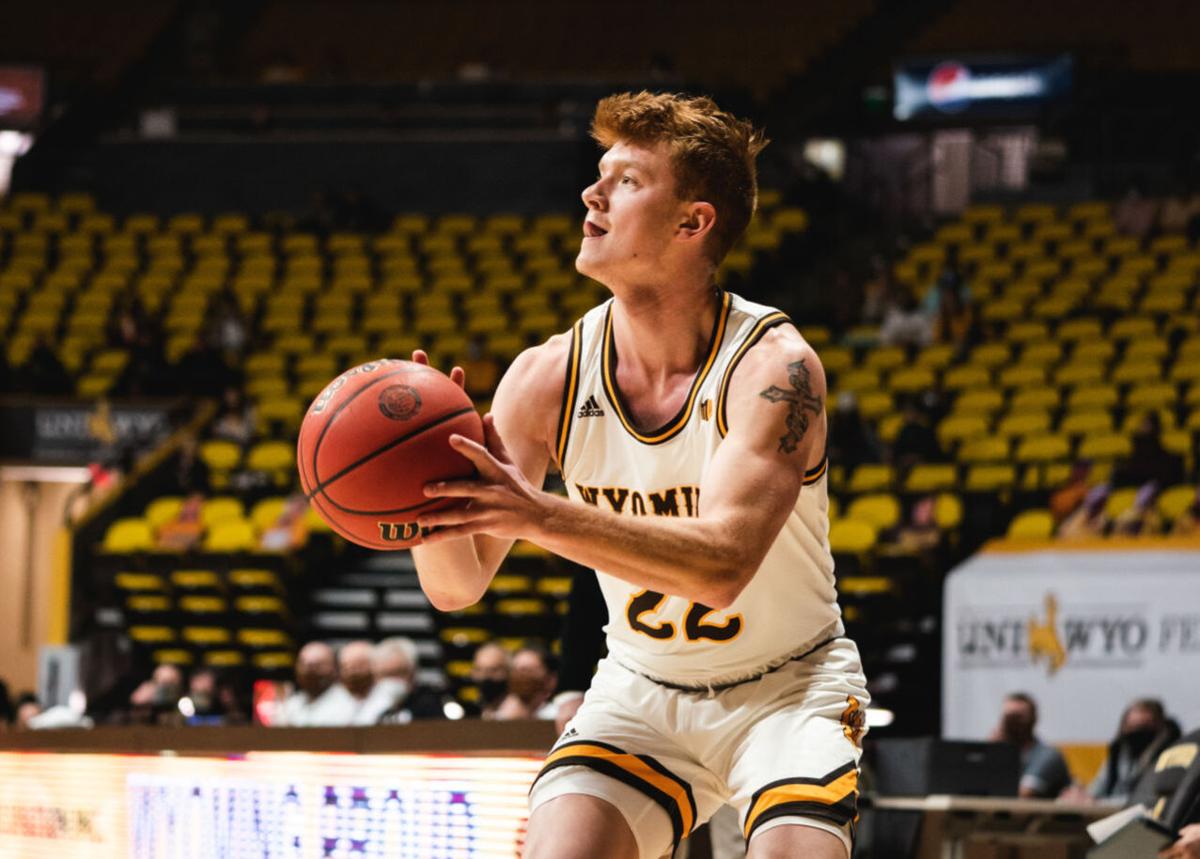 LARAMIE — Kenny Foster and Eoin Nelson have likely played their last minutes for Wyoming's men's basketball team this season.
It's "highly unlikely" the Cowboys' two injured players will suit up again before the end of the season, UW coach Jeff Linder said Tuesday. UW (12-9, 6-8 Mountain West) entered the final week of the regular season sitting in the bottom half of the Mountain West standings with just two games left before the conference tournament.
"We're not planning or preparing for them to play as of right now," Linder said. "Something would have to happen, but there's no reason right now to rush those guys back or get those guys back unless they're 110%, not 100."
The Cowboys have played some if not all of the league season without Foster and Nelson, who are both dealing with injuries to their lower extremities.
Nelson was the first to go down, playing all seven non-conference games before suffering an injury to his lower left leg that's had him in a protective boot for most of the season. The 6-foot-10, 225-pound forward played at least nine minutes in each of those games and averaged 3.6 points and 3.6 rebounds before the injury.
Foster missed the first two games of the season because of coronavirus-related protocols before being inserted into the Cowboys' rotation and eventually the starting lineup, but the sophomore guard has missed the last six games after sustaining a knee injury in UW's series finale against Nevada on Jan. 24. He had been averaging 10.4 points and 4.0 rebounds while shooting 43% from 3-point range.
UW enters its final two games of the regular season in eighth place in the conference standings after sweeping New Mexico in its most recent two-game series, though that was two weeks ago. The Cowboys, who had their series against San Jose State canceled last week because of COVID-related issues within the Spartans' program, are scheduled to play their first game in 13 days Thursday when they travel to Utah State (16-7, 13-4).
UW is slated to return to the Arena-Auditorium on Saturday to face UNLV before the Mountain West Tournament begins March 10 in Las Vegas. Without Nelson and Foster, freshmen Xavier DuSell and Graham Ike have seen their roles increase to the point that both are starters.
DuSell is averaging 8.7 points per game and has become the most consistent deep threat in the Cowboys' rotation, shooting 42% from beyond the arc. The 6-9, 245-pound Ike, who's given UW a much-needed frontcourt boost since joining the rotation eight games ago, is averaging 9.1 points and 5.0 rebounds while shooting 55% from the floor.
Freshman point guard Marcus Wlliams continues to pace the Cowboys in scoring at 15.9 points per game while junior guard Hunter Maldonado leads UW in rebounds (6.6) and assists (4.6). The Cowboys will need to continue getting all those contributions as they look to finish strong down the stretch without any reinforcements.
Follow UW athletics beat writer Davis Potter on Twitter at @DavisEPotter.