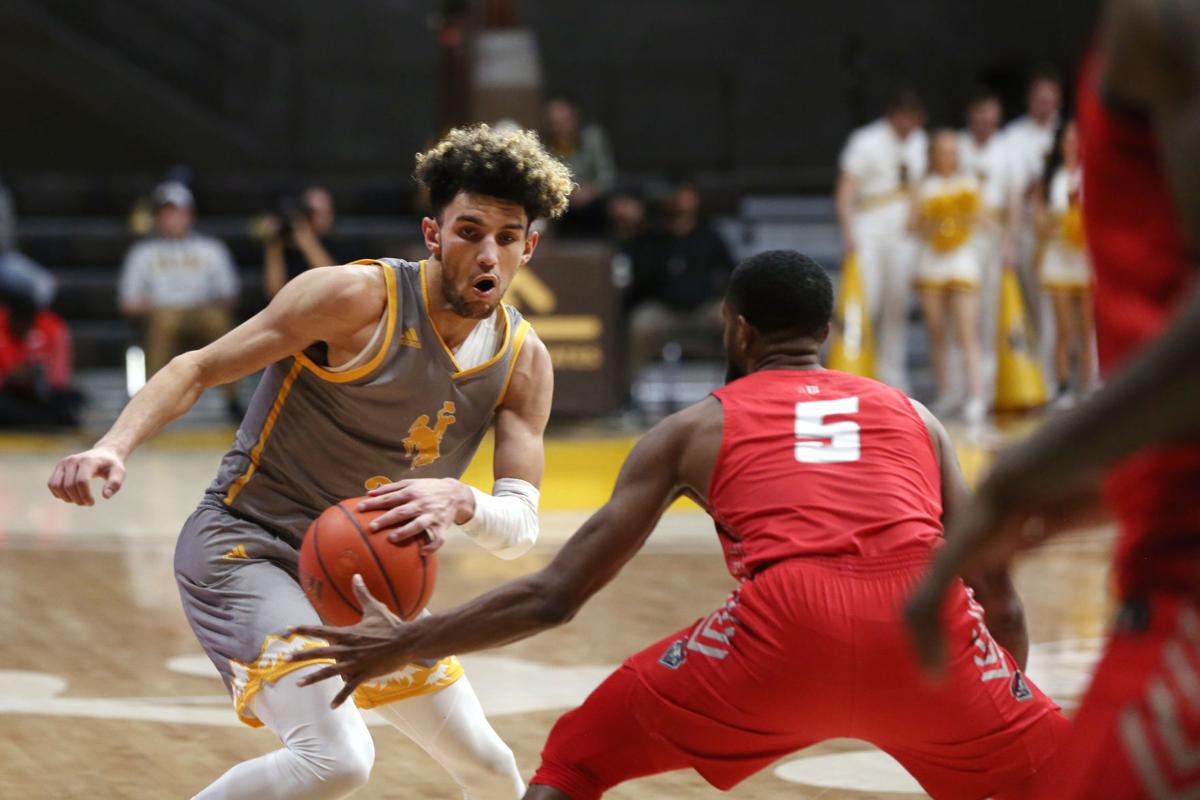 LARAMIE — Jeff Linder took a moment to appreciate it.
Wyoming's first-year men's basketball coach walked around the concourse level of the Arena-Auditorium earlier this week and peered down at all the staff members helping get the court ready. It's an annual routine that's usually far from noteworthy, but ahead of this particular basketball season, it's not something Linder took for granted.
"It was good to be in an environment where it felt like a big-time college basketball environment just stepping into that arena," Linder said. "I know our guys are excited to be in that environment having not been in there for a long time."
The Cowboys have practiced in their arena when they've been able to, but the wait for games is almost over. UW will officially start the Linder era Saturday when the Cowboys host Mississippi Valley State.
At least that's when it's scheduled to begin.
"Knock on wood," Linder said. "You never know what could happen between now and Saturday."
Like every other college basketball team, UW has spent months navigating the coronavirus pandemic, which kept a team with four returners and eight newcomers from fully practicing together until July and eventually forced the start of the season to be postponed until after Thanksgiving. UW even had to temporarily suspend team activities the first week of this month after one player tested positive for COVID-19.
But it's the only break the Cowboys have had to take leading up to the season. UW is testing its players three times per week. Assuming the Cowboys have the majority of their 11 available players cleared to go, UW will play its first game since its loss in the Mountain West Tournament semifinals back on March 7.
"It's going to feel pretty good just to play basketball again," junior forward Hunter Thompson said. "That was our ultimate goal. It's been kind of a rollercoaster ride."
As for who will make up the starting five, Linder said that will largely depend on which players are available Saturday and beyond. But the Cowboys plan to rely heavily on what little Division I experience they do have in Thompson, sophomore guards Kenny Foster and Kwane Marble II and junior guard Hunter Maldonado, who led UW in scoring and rebounding a season ago.
But Maldonado is the Cowboys' only double-digit scorer back from last season, and Linder said the plan is to get more players minutes than he normally prefers since the Cowboys are behind on their conditioning as a result of the pause earlier this month. So UW is going to have plenty of youth on the floor at times, too.
Drake Jeffries, Drew LaMont and Eoin Nelson bring UW some seasoning from the junior college ranks, but true freshmen Marcus Williams, Xavier DuSell and Jeremiah Oden are going to play "significant minutes," Linder said. Williams and DuSell will provide depth in the backcourt while the 6-foot-8, 180-pound Oden will help on the wing after averaging 10 points and five rebounds last season at Sunrise Christian Academy.
Freshman big Graham Ike is working his way back from ACL surgery and won't be available until the latter part of the season.
"The harsh reality is we're going to have a lot of young guys playing, and so they're going to be basically thrown into the fire," Linder said. "We've just got to be patient in terms of letting some of these young guys kind of learn through playing. They're going to have to play through some mistakes, and we're going to have to allow them to play through mistakes because we're not going to have a lot of players. But the beauty of that is, over time, that's how they do get better."
They will all be operating in a more free-flowing system under Linder, whose positionless style emphasizes pace, spacing and the ability to shoot from all five spots on the floor. Linder helped Boise State finish in the top 3 in the Mountain West in scoring most of his six seasons as an assistant there, and it translated over to Northern Colorado, where Linder coached the previous four seasons. The Bears ranked in the top 10 nationally in 3-point field-goal percentage last season.
Linder will try to keep it going at UW in his effort to reinvigorate a program that's combined for just 17 twins the last two seasons. The Cowboys finished at or near the bottom of the league in scoring and efficiency during that span, though it's not just the offense UW is hoping to improve under its new coach. Northern Colorado ranked among the top 25 Division I teams in points allowed and 3-point field-goal percentage defense a season ago.
The Cowboys have waited more than eight months to show what they've been working on behind closed doors. The moment is finally here.
"I think it's going to be something fun to watch," Maldonado said. "A lot of our guys are able to shoot the ball, so we're going to be shooting a lot of 3s. It's going to be fun.
Follow UW athletics beat writer Davis Potter on Twitter at @DavisEPotter.