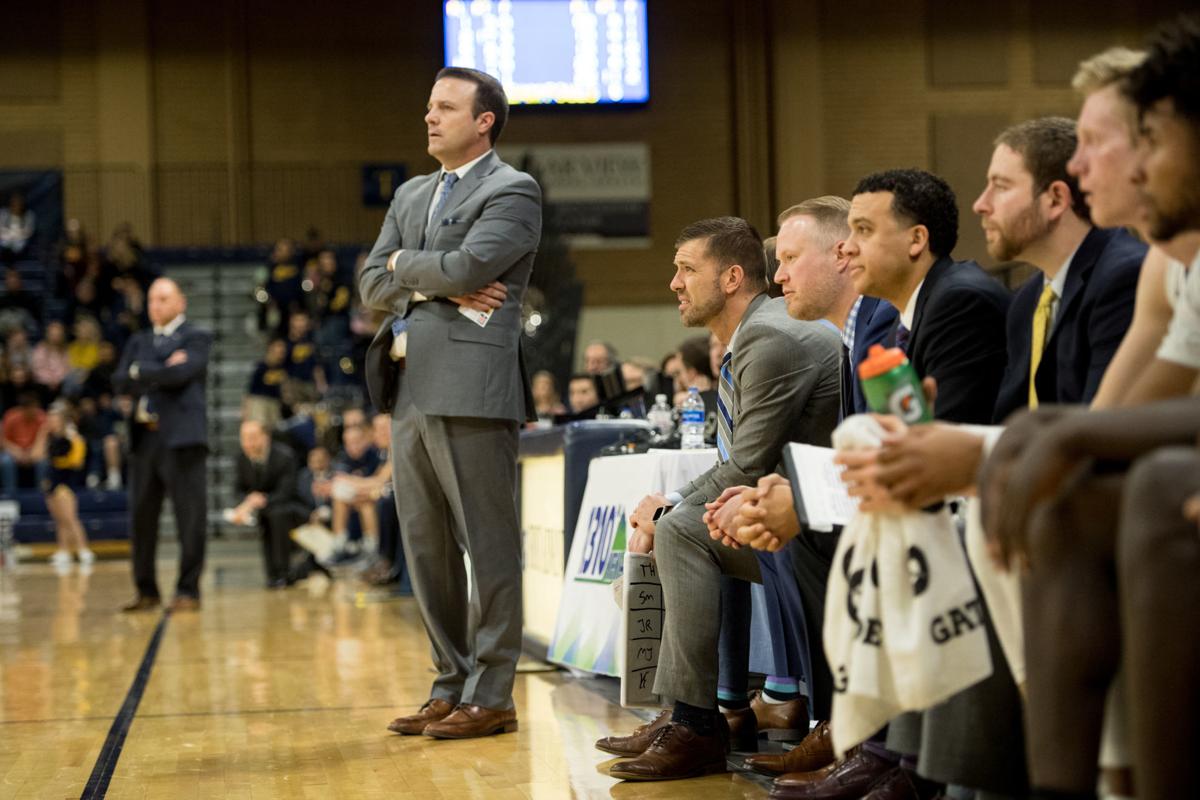 LARAMIE — For Wyoming athletic director Tom Burman, there was a lot to like about Jeff Linder.
For one, Linder grew up in nearby Colorado and has spent the majority of his coaching career in this part of the country. He also won — a lot — in his first stint as a head coach, inheriting a losing Northern Colorado program that was put on probation for the sins committed by the previous coaching staff and turning the Bears into one of the Big Sky Conference's premier programs.
Linder won 80 games in his four seasons at the helm, including three straight 20-win campaigns before being hired as Allen Edwards' successor at UW on Tuesday. How Linder went about tallying all those wins convinced Burman even more that he was the right man for the job.
"I believe that one of the ways in today's world of Wyoming basketball that we can be successful is we've got to have a very good-shooting team," Burman said. "We've got to be able to knock down 3-point shots at a high clip, and obviously his history has shown they can do that."
Among UW's deficiencies the last two seasons has been a lack of outside shooting. The Cowboys have finished in the bottom half of the Mountain West in 3-point field-goal percentage during that span, including a 32.1-percent clip this season that was second-lowest in the league before they caught fire from deep during their surprise run to the MW Tournament semifinals.
Meanwhile, Linder's UNC teams not only shot more 3s than just about anybody else in the Big Sky the last two seasons but were efficient doing it. The Bears shot the sixth-best percentage in the league from deep during the 2018-19 season (36.2) before leading the conference with a 38.4-percent clip from beyond the arc this season — 10th-best nationally.
Five players in UNC's rotation this season shot better than 40 percent from 3-point range, including regular starters Jonah Radebaugh (44.3) and Matt Johnson (43.1). Trent Harris, who shot the most 3s of anybody on the Bears' roster (242), made 40.1 percent of his attempts.
Linder's shooter-friendly offensive system is one of the reasons the Cowboys' new coach believes he can get things turned around instantly. UW won a combined 17 games the last two seasons.
"Walking into (the current players') homes (Tuesday), I said, 'Hey, we're not going to lose. We're going to win next year. You've got to believe that. I believe that,'" Linder said. "I wouldn't have left my situation there (at UNC) if I didn't feel like we could have a winning team here from Day 1."
Of course, being a more formidable team from the outside means Linder will have to add more shooters to UW's roster. The Cowboys' biggest 3-point threat, Jake Hendricks, is out of eligibility, but with he and fellow guard A.J. Banks being the only seniors UW is losing, UW has three scholarships available for the spring signing period.
Players will be asked to do a lot more than shoot the 3 in Linder's system. UNC led the Big Sky in 3-point field-goal percentage defense (28 percent) this season while finishing second in points allowed (62.7) and third in rebounding margin (plus-1.8), but connecting from deep with regularity is a big part of it.
"I really value shooting," Linder said. "Shooting is something I will not sacrifice in recruiting, so that will be something we look for going forward."
Moving parts
Exactly how many pieces Linder will be able to add to the roster for the 2020-21 season still has to be figured out. Sophomore wing TJ Taylor has entered the transfer portal, though he has the option to withdraw his name and return to UW if he wants.
Linder said he visited guards Hunter Maldonado, Kwane Marble II and Kenny Foster in their homes in the Denver area Tuesday. The plan, he said, is to meet with each current player face to face before making any decisions about their future with the program, though exactly how long that will take is uncertain given the social distancing being urged nationwide in response to the coronavirus pandemic.
UW's spring break begins next week and has been extended an additional week, a precautionary move recently made by the school to help control the spread of the virus.
"At the end of the day, I don't expect them to just tell me right then and there what they're going to do," Linder said. "I think they felt like they know they're a big part of what we're going to do. They're a big part of what I want to do, and I'm letting them know how they fit into what I want to do from an offensive standpoint."
As for his coaching staff, Linder said he's only made one decision so far. He will retain current assistant Shaun Vandiver, who was on UW's staff the past two seasons and also worked with Linder on Leon Rice's staff at Boise State from 2010-11.
Steve Smiley, Linder's associate head coach at UNC, spent six seasons as the head coach and athletic director at Sheridan College in Wyoming, posting a 153-43 overall record with the Generals. Smiley could be added to UW's staff if he's not chosen as Linder's successor at UNC.
Follow UW athletics beat writer Davis Potter on Twitter at @DavisEPotter.
Be the first to know
Get local news delivered to your inbox!